Younger generations are saving more for retirement than their parents and grandparents, according to a new survey by TD Ameritrade Holding Corp.
Investors as a whole are making steady progress toward their long-term financial goals, despite a turbulent stock market and economy, but many older Americans are missing out on opportunities to position themselves for further success, the report found.
According to the survey, 85 percent of working Americans have an Individual Retirement Account or a 401(k)/403(b) plan. More than a third have both. But it's the younger generation of workers who are more diligently saving: 25 percent of Gen Y and 23 percent of Gen X are funding both their 401(k)/403(b) plans and their IRAs, compared to 16 percent of Boomers and 9 percent of Matures. The survey also found that 74 percent of Boomers are not completely confident that they will reach their savings goal by the time they retire.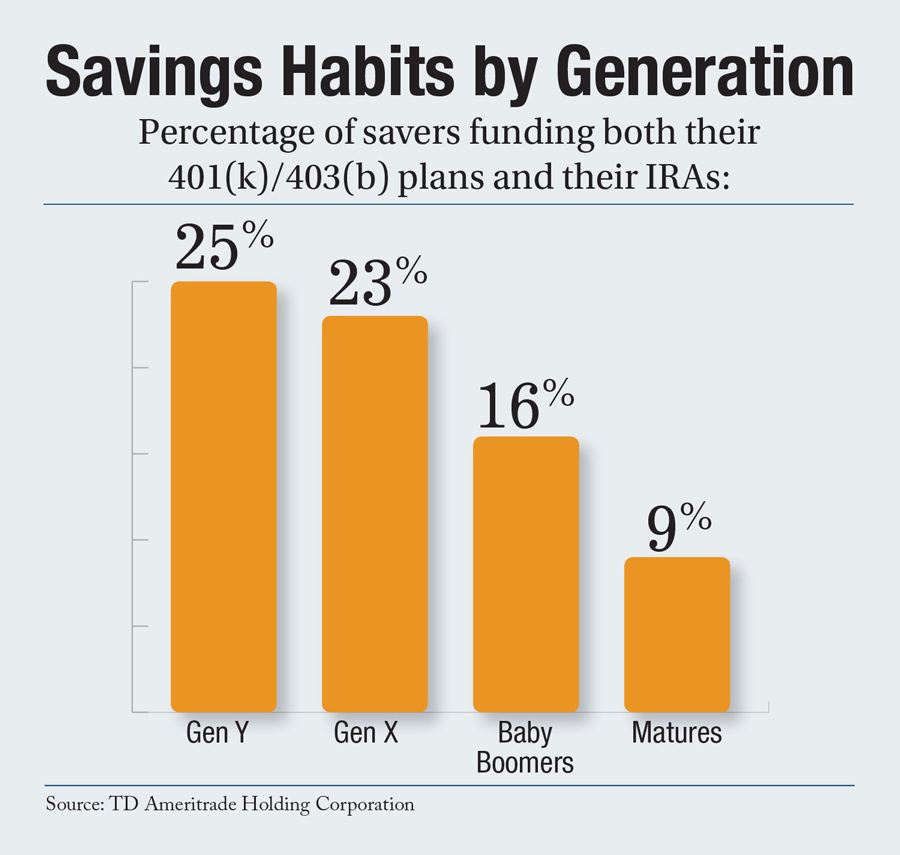 "The good news is that many working Americans, especially those who are young, are taking advantage of saving for retirement in a tax-free environment through options like an IRA, despite a tough economy," said Carrie Braxdale, managing director of investor services for TD Ameritrade, Inc., a broker dealer subsidiary of TD Ameritrade Holding Corp. "But funding these accounts on a regular basis is the key – even if it's a small amount. Every year that you don't fund your IRA is lost opportunity for tax deferral to help with growth."
Many individuals over age 50 also are missing out on the catch-up contribution, which allows them to contribute an additional $5,500 to an employer-sponsored retirement plan. The survey found that 68 percent are not taking advantage of the opportunity. Half of them are skipping out because they can't afford it and 21 percent said they never heard of it.
"We have uncovered a tremendous educational opportunity for many Americans – whether you are approaching retirement or have more time to plan. In these difficult economic times, more and more Americans are finding that they are not prepared for retirement," Braxdale continued. "We encourage investors of all ages to have a candid discussion with their broker or financial advisor about opportunities, like catch-up contributions, that might make sense for their retirement saving and investing plans."
The survey of 1,509 adults between 22 and 81 years old was taken via telephone from July 20 through Aug. 17, 2011. It was conducted by Maritz Inc. on behalf of TD Ameritrade Holding Corp.
St. Louis-based Maritz is a sales and marketing services company, which helps companies achieve their full potential through understanding, enabling, and motivating employees, channel partners, and customers.