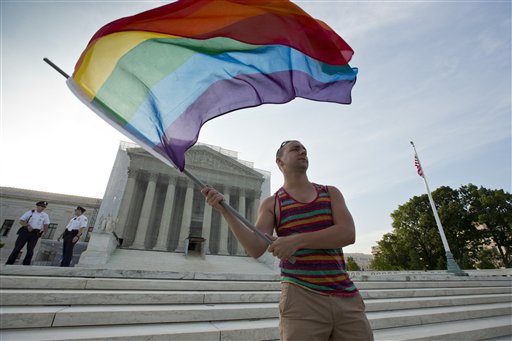 The Supreme Court's decision to declare unconstitutional key provisions of the Defense of Marriage Act is expected to mean a major overhaul of federal rules affecting employee benefits administration and payroll operations.
But for benefits managers, the decision – striking down a key section of the hotly contested 1996 law that prohibits federal recognition of same-sex marriages – also means more confusion while they wait for more legal rulings and IRS rules to come.
Under the ruling, same-sex couples legally wed where allowed by various states now must be treated as spouses under the U.S. tax code, ERISA, and more than 1,000 other federal laws.
The ruling in the DOMA case as well as in California's Proposition 8 battle take effect immediately and, according to Mercer, possibly even retroactively.
The firm issued a series of recommendations for HR managers. Among them: If marital status affects the delivery of benefits to an employee's same-sex spouse or that spouse's child, employers may need to amend the plan's "spouse" definition.
They also will likely need to reprogram tax reporting systems; update enrollment forms, distribution election packages, tax notices, beneficiary designation forms and the like.
One of the first big changes likely to be seen nationwide: Employees who are legally married to same-sex partners will want to amend their W-4 forms, updating their tax filing status as "married."
"Things are a lot more complicated now than they were yesterday," said Todd Solomon, an employee benefits attorney with the Chicago office of McDermott Will & Emery and author of "Domestic Partner Benefits: An Employer's Guide."
"You could say a lot of things about the Defense of Marriage Act, but there was clarity. Now it is kind of a giant mess, at least tentatively."
Even those who praised the ruling acknowledged the challenges ahead.
Striking down DOMA "frees employers from a number of financial and administrative burdens, and we applaud the court's ruling," James A. Klein, president of the Washington-based American Benefits Council, said in a statement. "Of course, this ruling brings new challenges, as employers now must be mindful of significant variations in state laws regarding same-sex couples."
DOMA, of course, is a federal law, and only 12 states now recognize same-sex marriages. The Supreme Court struck down only one section, which stated that marriage is between a man and a woman.
But as J.D. Piro, who leads the health and benefits legal consulting group of Aon Hewitt in New York City, pointed out, the part that says states can refuse to recognize same-sex marriages performed in other states remains operative. The court did not do anything about the 38 states that do not recognize same-sex marriages.
"It's really not confusing provided you never move," Piro said." But if you move from a state that recognizes same-sex marriage, like New York, to one that doesn't, like say, Texas, that's where there's confusion."
What happens if that couple moves and one of them dies? In their previous state, the survivor would be entitled to Social Security and 401(k) survivor benefits. In Texas, they might not.
The answers to those questions and others are going to have to be sorted out.
For the moment, legal advice for benefits managers varies, depending on the state in which they do business, as well as how accommodating they have been of same-sex couples so far.
Those with more progressive and inclusive policies governing COBRA eligibility, retirement plan beneficiaries, imputed income for same-sex marriage health benefits, eligibility for health benefits and a host of other issues, will have less post-ruling paperwork to do. Attorneys also said they expect IRS guidelines to be developed and more lawsuits that deal with the state-to-state gray areas to be filed.
In the meantime, Iris Tilley, a benefits attorney with Barran Liebman in Portland, Ore., said plans that cover domestic partners should revisit those policies and decide whether to extend benefits to someone now wishing to get married.
She also suggested that retirement plan sponsors revisit beneficiary designation forms, which may now require changes to recognize a legally married same-sex spouse.
The New York-based Medicare Rights Center issued a statement addressing the challenges ahead.
"Today's landmark decision … represents a tremendous step forward," its president, Joe Baker, said. "Now is the time for swift action by the administration to put in place new rules to implement the ruling of the court and break down the barriers to these benefits.