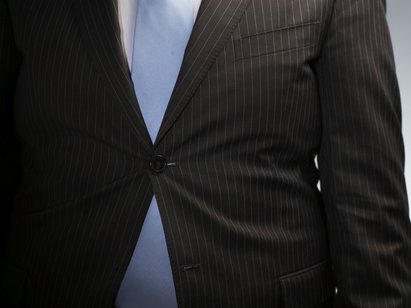 From the office cubicle to factory assembly lines, accommodating bigger workers has become a constant consideration for the country's employers.
It's not just the health of workers that has employers worried. Studies estimate compensating for obesity costs them upward of $70 billion a year.
Possibly further upping those costs and complicating the issue is a decision this summer by the American Medical Association to classify obesity as a disease, elevating it from a condition.
The Equal Employment Opportunity Commission has also considered obesity brought on by medical conditions, such as an underactive thyroid, to be an impairment under the Americans with Disabilities Act. The EEOC looks similarly at morbid obesity, which is defined as 100 percent more body weight over normal.
At the moment, roughly one-third of American adults are classified as obese, and another one-third is considered overweight. The U.S. obesity rate jumped nearly 50 percent from 1997 to 2012, according to the Centers for Disease Control and Prevention.
"Recognizing obesity as a disease will help change the way the medical community tackles this complex issue," AMA board member Patrice Harris said in a statement at the time obesity was reclassified.
While the reclassification is not legally binding, legal experts like Myra Creighton, an attorney at Fisher & Phillips in Atlanta, said it likely will make it easier for obese employees to claim they are disabled.
The EEOC already has brought two lawsuits involving morbid obesity as a disability since the passage of the ADA Amendments Act. The first was against Resources for Human Development in September 2010 and the second was against BAE Systems, in September 2011.
The commission secured consent decrees in both cases. EEOC Commissioner Chai Feldblum said in an interview last month with Bloomberg News that these decrees provided monetary relief for the charging parties and imposed training and reporting obligations on the companies at issue. In addition, she said, prior to settlement in the Resources for Human Development case, the district court released an opinion finding that severe obesity is an impairment within the meaning of the ADA and that the plaintiff could be viewed as a person with a disability under the ADA Amendments Act.
"The AMA's official recognition will certainly not hurt plaintiffs," Feldblum said. "But it does not change the (already in place) basic legal framework." Under that "framework," in order to qualify as a disability under the ADA, a physical or mental impairment must substantially limit one or more major life activities or major bodily functions. "That was the standard plaintiffs had to meet before the AMA recognition and it is the standard they will need to meet after it," she said.
But Creighton said with the classification of a disease, "it will be difficult for employers to argue that any level of obesity is not an impairment."
The ADA defines an impairment as something that affects a major life activity or body function, which could include walking or sitting.
Employers are stepping up and making changes to their offices and workspaces so activities like walking and sitting are easier for overweight employees. They are buying Big and Tall office chairs, purchasing bigger company cars, widening common areas and even installing sturdier toilets.
"I take great pains to create a comfortable and ergonomic office environment for my employees," said Alex Rogers, who runs Aspire Solutions, a small software development company in Bethesda, Md. "We spend a lot of hours at our desks, and there are employees who stand up and work, sit on balls or need wider chairs and taller desks. It costs more, but I think it's worth the investment."
Stand-up desks and specialized chairs certainly carry larger price tags. But the biggest cost related to obesity is in health care.
"Obesity contributes to many medical conditions that drive up health care costs for everyone. I believe that nearly 10 percent of our corporate health care costs are due to obesity and its complications. Diabetes, high cholesterol, high blood pressure, bad knees, hip replacements," said Dan Olsen, a health and welfare plan management consultant based in Detroit. "In many cases, we begin to see immediate health benefits with the loss of just a few pounds."
To help combat obesity and improve the overall health of their workers, more and more employers offer wellness programs as part of their health care plans and benefits programs. They typically view them as ways to contain health care costs and retain their workforce.
According to the Kaiser Family Foundation, 94 percent of employers with over 200 workers and 64 percent of small employers offer some sort of wellness program.
Overall, legal experts said it's important employers understand overweight employees might be protected under the ADA. Employers are encouraged to evaluate accommodation requests on an individualized basis.
Even if employees aren't morbidly obese and aren't limited in life functions, they still might qualify as protected by law if the employer "regards" them as impaired.
In this scenario, workers who believe they were not hired or promoted because of obesity can argue the employer regarded them as impaired. Employers must be careful in the assumptions they make about obese individuals.
"My understanding is that discrimination against persons who are obese frequently stems from perceived as opposed to actual limitations," Feldblum said. "So what obese employees will often want is simply the chance to show they can perform a job."