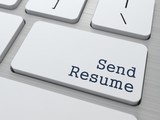 "Selfies" are all the rage and the do-it-yourself crowd is bigger than ever, so it's hardly any surprise that the "pre-verified" background check is now gaining currency.
Simply put, background screening companies now increasingly sell their services directly to job applicants. The screening company checks the same type of information employers would look at – education, work history, criminal records. The applicant can then present the pre-verified results to prospective employers.
According to a Society for Human Resource Management survey, 96 percent of HR professionals say their companies perform background checks on potential employees, so it makes plenty of sense for screening companies to try to market themselves directly to job-seekers. But does it really make sense for job-seekers?
With the job market picking up, there's no doubt employers are sifting through piles of resumes. Someone offering pre-screened credentials can pehaps hope for a slight edge.
Brad Landin, president and chief compliance officer Employment Screening Resources, Novato, Calif., says his company has a website aimed directly at job applicants. So far, he said, "the amount of people interested in doing it and spending the money is small …. 99.5 percent of our business is working with employers."
But, again, as the pace of hiring resumes, the demand for pre-verification is expected to grow.
"It sounds like a really good idea," Talesa Flenniken of Producers Cooperative Oil Mill in Oklahoma City told SHRM. But Flennikan had some reservations: "How would I know the legitimacy of the person checking and the standards used?"
The advantage for job applicants who do choose self-screening, Landin said, is that it allows them to find out if an incident from the past is likely to resurface and also what prior employers might be saying about them.
Jason Morris, a partner with TransparentMe in Cleveland, noted that identity theft can be a huge problem for job applicants.
With TransparentMe, a job applicant can get a "scaled-down" version of what the firm offers employers to help them identify potential problems.
Perhaps ironically, the biggest problem for job candidates, according to Mike Coffey, president of Imperative Information Group in Fort Worth, Texas, is not identity theft but the sloppiness of many screening companies.
Many of the mistakes are the result of "not verifying that it's really the right person. It could be a similar name or date of birth. The computer just spits out a record."
Or it may be that "somebody gets a (criminal or civil) case dismissed and it is expunged, but it's still out there, incomplete or inaccurate," he says, haunting the applicant.
Coffey notes that in some cases job applicants can ask for copies of their background report from the employer or third-party screener. Under federal law, if an employer uses information from a background screening for an "adverse action" such as not hiring an applicant, it must give the individual a "pre-adverse action disclosure" that includes a copy of the report and an explanation of rights under the Fair Credit Reporting Act.
Chris Dyer, founder and CEO of PeopleG2, a Brea, Calif., firm that does screening, is a big believer in candidates running background checks on themselves so that they know what is out there. On the other hand, he's not sure of the value of "offering a pre-certified resume."
In general, he said, "employers are skeptical of pre-verified resumes because it is widely known that they can be forged."
Landin countered that Employment Screening Resources can assure employers that the applicant's pre-screening is genuine.
But, he said, "if a company does background check A from provider B and someone shows up and says, 'I have background check C from provider D,' a lot of times the company is not going to accept it."
Also, Landin noted, the U.S. Equal Employment Opportunity Commission "wants to see that employers have targeted screenings that fit the roles and responsibilities of the job and not a one-size-fits-all. That's another reason an employer might not use an outside screening."
That's why T.J Radtke, founder of Acertiv, based in Dulles, Va., has a different vision of pre-screening. Acertiv sells "a resource for confirming specific claims about professional accomplishments that job-seekers make on their resumes."
"This is different than a background check; it's more granular data," Radtke explained. Prospective employers receive what Acertiv calls a ProofSheet that drills down to specific candidate accomplishments and claims, so that employers can get a "clearer understanding of the fit" for the job.
In the future, Radtke said, his company wants "to open this up for candidates. … Eventually we will allow people to make custom versions of resumes."
"If you (the applicant) go to the trouble of getting past supervisors to verify information" for Acertiv, he said, "you should own that. I, as candidate, should have a right to the data. … I compare it to medical records. I feel the same should be true with employment data."