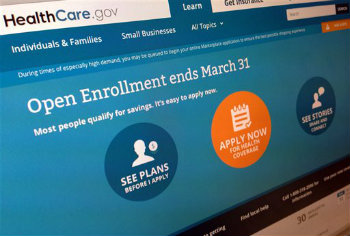 With just two weeks remaining before Obamacare's big deadline, more than a third of uninsured Americans (34 percent) say they don't plan on buying health insurance, despite the law's requirement to do so, according to a Bankrate.com report out Monday.
The enrollment deadline is March 31.
Though cost was cited as the primary reason for forgoing health insurance (by 41 percent of the uninsured), 17 percent of uninsured Americans say their opposition to PPACA is the reason for not obtaining coverage, while 13 percent said they don't need insurance because they're healthy.
Though past reports have found similar findings, the latest from Bankrate is concerning as it reveals little-to-no progress has been made in uninsured interest over the past few months.
Also startling, researchers say, is the survey's findings that education is still falling short despite the administration's continued outreach and enrollment efforts.
More than half of people without insurance are unaware of the March 31 deadline — and even more (70 percent) are unaware of subsidies that could make their policies more affordable.
"This is a staggeringly high percentage," said Bankrate.com insurance analyst Doug Whiteman. "The government has spent over half a billion dollars promoting the Affordable Care Act and more than two-thirds of uninsured Americans still don't know about the subsidies."
Those who miss the March 31 deadline will pay a tax penalty under the law and be forced to wait until next year's enrollment window to get insurance — unless they experience a qualifying event such as marriage in the interim.
In 2014, the penalty is $95, or 1 percent of a person's income, whichever is higher. The penalty escalates in subsequent years.
In slightly better news for the administration, though, Bankrate found that more uninsured young adults said they plan on buying health insurance. More than 60 percent of adults 18-29 said they will sign up for health insurance this year, while 28 percent say they'll stay uninsured. Of those who plan to remain uninsured in that age group, 31 percent said they'll do so because they're healthy and don't need it.
The poll of 3,005 adults was taken from Feb. 20 to March 9. It had a margin of error of 6.1 percentage points.