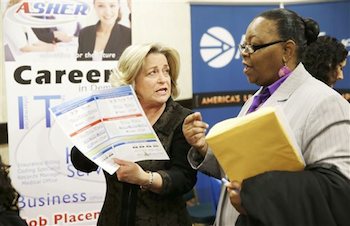 July 2 (Bloomberg) — Employment at companies climbed in June by the most since November 2012, a sign the job market is strengthening along with demand, a private payrolls report showed today.
The 281,000 surge exceeded the most optimistic forecast in a Bloomberg survey and followed a 179,000 increase in May, data from the ADP Research Institute in Roseland, New Jersey, showed. The median estimate of economists called for a 205,000 advance.
Businesses are taking on more workers and limiting dismissals, bolstering economists' projections that the economy will strengthen after a first-quarter contraction. A Labor Department report tomorrow may show private payrolls climbed by 213,000 workers last month, according to the Bloomberg survey.
"It all points to a relatively optimistic outlook," said Lewis Alexander, U.S. chief economist for Nomura Holdings Inc. in New York, who projected a gain of 240,000. "Businesses are seeing demand and the fact that they're hiring supports that."
Estimates of 47 economists in the Bloomberg survey ranged from gains of 169,000 to 250,000.
Stock-index futures held gains after the report, with the contract on the Standard & Poor's 500 Index expiring in September rising 0.1 percent to 1,968.1 at 8:46 a.m. in New York.
Manufacturers, builders and other goods-producing industries increased headcount by 51,000. Employment in construction rose by 36,000, while factories added 12,000 jobs, today's report showed.
Broad-based gains
"Job gains are broad-based across all industries and company sizes," Mark Zandi, chief economist at Moody's Analytics Inc. in West Chester, Pennsylvania, said in a statement. Moody's produces the figures with ADP. "Judging from the job market, the economic recovery remains fully intact and is gaining momentum."
Payrolls at service providers climbed by 230,000.
Companies employing 500 or more workers added 49,000 jobs. Medium-sized businesses, with 50 to 499 employees, took on 115,000 workers and small companies increased payrolls by 117,000, the most since February 2012.
Tomorrow's data may also show overall payrolls, which include government agencies, rose by 215,000 workers in June after climbing by 217,000 the prior month, according to the survey. The unemployment rate probably held at an almost six- year low of 6.3 percent, economists' predictions show.
Federal Reserve
Federal Reserve policy makers are counting on an improving job market to help spur the economic expansion and reduce the jobless rate.
Industries from construction to autos to oil and gas are increasing jobs as growth accelerates after a first-quarter setback.
The economy contracted at a 2.9 percent annualized rate from January through March, the biggest drop-off since the same three months in 2009, the Commerce Department reported last month. Consumer purchases grew at the weakest pace in five years.
Help-wanted signs at concrete company Kent Cos. is one indication of a hiring rebound. Warren Buffett's BNSF Railway Co. plans to grow by 2,100 positions in 2014. SolarCity Corp. is adding 400 people a month at the rooftop power-system installer. At Ford Motor Co., hiring is so strong that the automaker predicts it may beat a 2011 plan to bring on 12,000 new workers by 2015.
Vehicle sales
Demand for automobiles remains a bright spot for spending. Cars and light trucks sold at a 16.9 million pace in June, the strongest since July 2006, after a 16.7 million rate in May, based on data from Ward's Automotive Group. Deliveries last month at General Motors Co. and Ford, the two largest U.S. automakers, exceeded analysts' estimates.
Gross domestic product probably bounced back in the second quarter and will expand at an average 3.1 percent rate in the remaining two quarters of 2014, according to the median forecast in a Bloomberg survey conducted June 6 to June 11. Household purchases are also expected to improve, it showed.
Recent data corroborate that outlook. Factories, propelled by the strongest orders of the year, sustained gains in June and are poised to be part of the rebound, the Institute for Supply Management's manufacturing report showed yesterday.
The ADP report is based on data from businesses with almost 24 million workers on their combined payrolls.
With assistance from Alex Tanzi in Washington.