The surveys, and industry anecdotes, speak for themselves: The voluntary market is continually growing. Eastbridge Consulting Group's annual U.S. Worksite/Voluntary Sales Report, released in pieces this year, paints a clearer picture of the market and opportunity.
Read: 5 benefits of voluntary benefits
The firm analyzed data from more than 60 carriers. Here are eight important takeaways from its research and analysis you need to know.
$6.6 billion in sales
Voluntary sales increased again in 2013, reaching $6.644 billion, up from $6.03 billion in 2012.
Eastbridge president Gil Lowerre said they are "very pleased" with the findings, adding that "over $6.6 billion in new sales is an outstanding achievement."
Determining the actual percentage increase, however, was difficult, Eastbridge said, due to several new companies and other companies changing the way they report voluntary sales. That being said, they estimated the annual industry sales increase at about 4.3 percent.
The average increase for the top 15 carriers was 8 percent.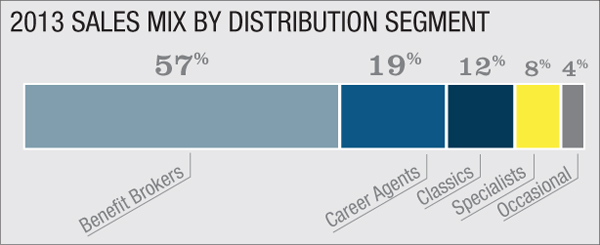 Brokers are leading sales
Increased voluntary sales this past year were mostly fueled by benefits brokers.
According to Eastbridge Consulting Group, the benefits broker segment generated almost $3.8 billion in new sales in 2013.
Benefits brokers continued to generate the largest portion of voluntary/worksite sales, increasing their share to 57 percent in 2013, up from 56 percent in 2012.
Career agents had the second-highest share, as they did last year (at 19 percent). But the 19 percent is down slightly from 21 percent in 2012. Classic brokers also decreased their share of voluntary sales in 2013 from 14 percent to 12 percent.
Worksite specialists accounted for 8 percent of 2013 voluntary sales, while occasional producers accounted for the remaining 4 percent.
Read: Driving voluntary sales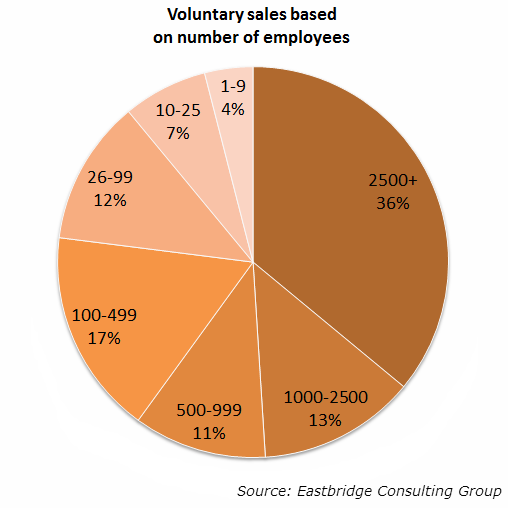 Who's accounting for the most sales
Employers with more than 2,500 employees reported the largest volume of voluntary sales in 2013, accounting for 36 percent of sales. That's up from 33 percent in 2012.
Employers with 100-499 employees accounted for the second-most sales, with 17 percent, followed by 1,000-2,500 employees with 13 percent; 26-99 employees with 12 percent; 500-999 employees with 11 percent; 10-25 employees with 7 percent and those with less than 10 employees at 4 percent.
Employers with 500-999 employees, however, has the highest ESI (sales divided by the employee population), according to the breakdown. That group is closely followed by the 1,000-2,500 segment, "indicating both have good penetration," the report finds.
The least penetrated segments are the two smallest ones — under 10 lives and 10 to 25 lives — which Bonnie Brazzell, Eastbridge vice president, says is no surprise "since many carriers and brokers do not write in these smaller segments."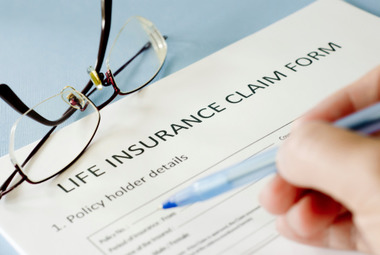 Life insurance is No. 1
Life insurance accounted for the most voluntary sales, accounting for 28 percent of all sales in 2013. It generated $1.8 billion and a 22 percent increase over 2012. Term accounted for 76 percent of the total life new business annualized premium, up from 72 percent in 2012, and had a 29 percent increase alone.
Universal and whole life sales were also up with a small increase of 3 percent over 2012 sales.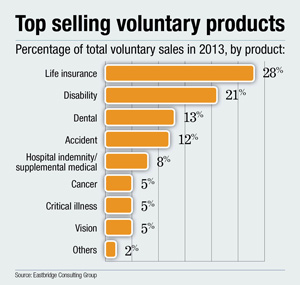 Other top products
Disability insurance was the second top voluntary product in 2013, accounting for 21 percent of all voluntary sales. Rounding out the top five were: dental (13 percent), accident (12 percent), and hospital indemnity/supplemental medical (8 percent).
See: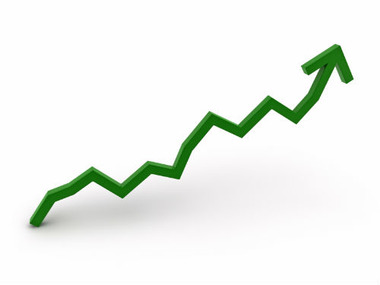 Takeover sales are increasing
Takeover sales now account for 50 percent of new sales premium in the voluntary market reported in 2013, up five percentage points from 2012.
It's the highest percentage of new business achieved profit since 2006 when Eastbridge Consulting Group began tracking takeover sales — where one carrier's plan is replaced with a similar plan issued by a different insurance carrier.
In 2006, takeover sales accounted for just 12 percent.
Eastbridge said the increase in takeover sales was due to more group insurance carriers selling voluntary products and benefit brokers being responsible for a higher percentage of voluntary product sales. Brokers accounted for 57 percent of all voluntary sales in 2013.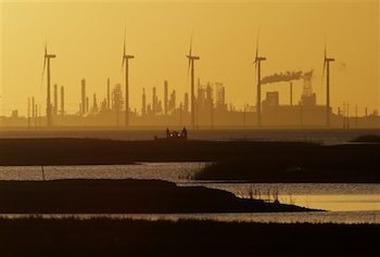 States with the highest sales
Texas and Florida led the country in voluntary sales for 2013, as they have for the past several years. California, New York and Georgia rounded out the top five states for voluntary sales. All in all, there were few changes to the states leading voluntary sales since 2012, the report found. Overall, the top 15 states accounted for almost 70 percent of the total voluntary sales in 2013.
According to the firm's "Eastbridge Sales Index"— which gives a truer representation of the sales penetration by dividing the sales in the state by the employed population — the states with the highest ESI (indicating higher penetration) are: Arkansas; Louisiana; Delaware; Tennessee and Georgia.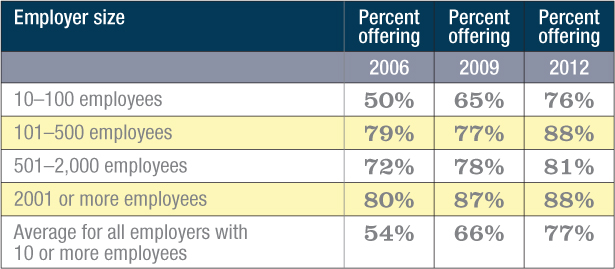 Opportunity is knocking
In addition to reaching the 71 million employees who don't have any voluntary products today, Eastbridge said there's opportunity for selling other voluntary products to the 43 million who already own at least one. Among employees owning voluntary, the percentage of employees who own just one voluntary product has declined over the last decade. Only 15 percent of the voluntary product owners have just one product, Eastbridge said.
"The bottom line for brokers and carriers is that you do not have to be satisfied with just replacing an existing plan," Lowerre said. "There is tremendous opportunity for new premium dollars in the market."