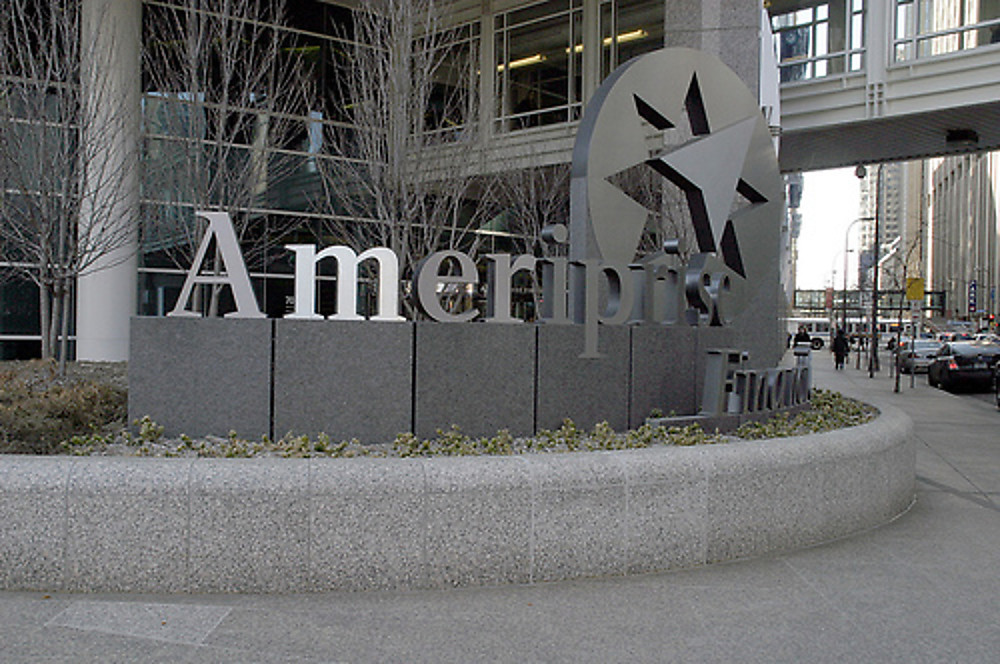 Ameriprise Financial has agreed to settle a 401(k) excessive fees claim for $27.5 million.
The settlement – the latest in a string of 401(k) cases in which the plaintiffs were represented by St. Louis-based Schlichter, Bogard and Denton – will affect about 24,000 current and former employees.
The case had been set to go to trial next month. In settling the claim, Ameriprise denied wrongdoing, contending that the fees to the plan were reasonable and that the plan complied with all aspects of ERISA and that it did not commit any fiduciary breaches.
Also read: Supreme Court taking interest in fiduciary cases
The plaintiffs in Krueger vs. Ameriprise Financial, filed in federal court in Minnesota in 2011, alleged otherwise, noting that Ameriprise's 401(k) plan invested "hundreds of millions of dollars" in mutual funds managed by RiverSource Service Corp. and Columbia Management Investment Services Corp., both Ameriprise subsidiaries.
About 25 of the subsidiaries' proprietary mutual funds and target-date funds were offered to participants, who contributed an average of $500 million in assets a year between 2005 and 2012, according to court documents.
Those funds generated millions of dollars in fees for the subsidiaries, all of which "ultimately provided a financial benefit to Ameriprise," the plaintiffs alleged in their first amended complaint, filed in 2012.
The plaintiffs also claimed that the plan's fiduciaries chose Ameriprise Trust Co., Ameriprise's recordkeeper subsidiary, as trustee to the plan without exercising a competitive bidding process, providing a financial benefit to Ameriprise. ATC was sold to Wachovia in 2006.
The proprietary funds Ameriprise offered were "significantly higher (in cost) than the median fees for comparable mutual funds in 401(k) plans," and were "significantly higher than the fees available from alternative mutual funds, including Vanguard Institutional Funds," argued the plaintiffs.
According to the court documents, the cost of one of the proprietary funds was 94 basis points higher than a comparable fund offered by Vanguard.
Moreover, the proprietary funds had "poor or nonexistent" performance history when fiduciaries selected them, the plaintiffs alleged.
In one specific case, the plaintiffs' complaint shows that the RiverSource Balanced Fund had a 1-star rating from Morningstar in 2005, when the fund was added, while an equivalent Vanguard fund held a 4-star rating.
MyPlan IQ, a web-based investment analytics tool, rated Ameriprise's 401(k) in the bottom 2 percent of plans with respect to fund quality, the plaintiffs' attorneys said.
"Prudent investors also fled RiverSource Funds. In 2005 RiverSource stock and bond funds had outflows of $9.3 billion. In 2006, an additional $6.9 billion in assets were pulled from RiverSource funds," they argued.
Ameriprise's motion to dismiss the case was denied in November 2012.
In agreeing to settle the suit, the Minneapolis-based firm agreed to make some changes in the way it runs its 401(k) plan.
It will re-bid its plan to recordkeepers and investment consultants. Also, recordkeeping fees will now be set on a flat-fee or fee-for-participant basis, and those fees will be disclosed more thoroughly, along with performance benchmarks for each fund offered in the plan.
The plan is also required to consider lower-cost collective investment trusts or separately managed accounts.
And the plan's fiduciary committee will no longer be able to include executives from Ameriprise's investment management subsidiaries.
In a statement, company spokesman John Brine said Ameriprise has "a strong 401(k) plan that is administered for the sole interests of participants."
"The settlement does not require any changes to our plan, which will maintain the existing broad and competitive selection of investment options and features. The plan has always included funds we manage, as well as funds from other companies and a brokerage window that offers participants additional choice."
The Supreme Court last month heard arguments in another Schlichter case, Tibble vs. Edison, a dispute that that may give investors more power to sue over excessive fees.
Eight of the 13 lawsuits brought by Schlichter's firm have settled so far, with Bethesda, Md., defense firm Lockheed Martin paying the biggest amount, some $62 million.
Also read: Monitor your 401(k) investment menus or else
Correction: An earlier version of this story wrongly reported Ameriprise would redesign its 401(k), rather than changing the way it runs its plan.