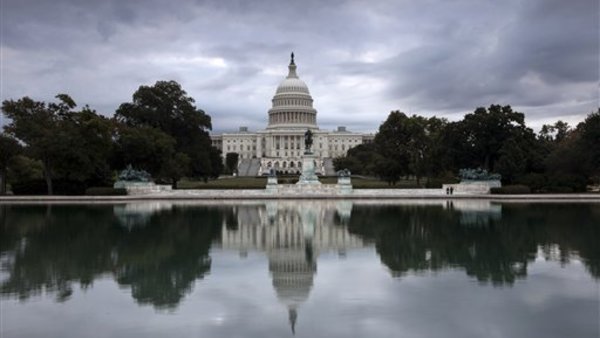 Editor's note: This story is developing
Republicans are finally on the brink of achieving a major symbolic victory by passing a bill to repeal major portions of the Patient Protection and Affordable Care Act. They're anticipated to pass the bill today, reports NPR. It's a moment Republicans have hungered for since the landmark health law was passed five-and-a-half years ago with not one GOP vote.
Although an Obamacare repeal bill has been in the works for months, until recently it was only expected to target several of the law's important funding mechanisms, notably the insurance mandate for individuals and businesses as well as the Cadillac tax.
But that narrowly-focused bill's passage was threatened by a trio of conservative senators, including presidential candidates Ted Cruz and Marco Rubio, who said they would not support anything short of a full Obamacare repeal. At the same time, three Senate Republicans who support abortion rights signaled they could not be counted on to support a bill that included a provision to cut federal funds from Planned Parenthood.
Senate leadership appears to have resolved any concerns about getting the bill passed by appealing to the conservatives. The bill now includes provisions to eliminate subsidies for the PPACA insurance exchanges and to kill the federally-funded Medicaid expansion. Tea party Sen. Mike Lee, one of the three conservatives who threatened to defect, has signaled he will likely support the bill, and Rubio and Cruz also appear poised to vote yea.
"The reason the Senate is not voting on the flawed House reconciliation bill is precisely because of Sens. Cruz and Lee's ongoing and uncompromising adherence to principles and fighting for the American people," one conservative aide told Politico.
With the apparent support of conservative lawmakers, Republican leadership no longer has to worry about getting the votes of the three pro-choice Republicans. In the wake of a recent shooting rampage at a Planned Parenthood in Colorado Springs, GOP leaders are emphasizing that the party will not force a government shutdown over Planned Parenthood funding, but that it still intends to include a defunding provision in the PPACA repeal bill.
"Individuals who speak out for the life of children shouldn't suddenly be silenced by being screamed down because an insane person does a shooting in a clinic," said Republican Sen. James Lankford of Oklahoma on Wednesday, according to NPR.
Some Republicans are also clearly nervous about the political implications of throwing millions of Americans off of their insurance, which is why GOP leadership has said that both provisions would be implemented gradually, to give time for Republicans to design an "alternative" health law.
These debates are purely academic, since President Obama will undoubtedly veto any bill that repeals large portions of his most notable domestic policy. Democrats have dismissed the repeal effort as vapid political theater.
"So the fact that we blow off a day, two or three in the closing hours of this session for this political posturing, which is doomed to a presidential veto, is a waste of the time of the Senate," said Democratic Sen. Dick Durbin of Illinois.