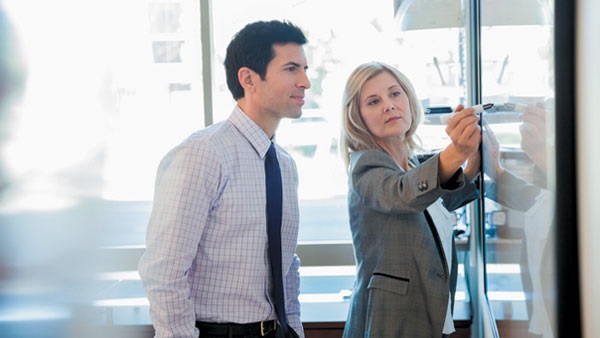 When a rare and positive coincidence occurs, it's often described as an alignment of the stars.
Such an alignment is taking place with greater frequency in the workplace universe as employers focus on preparing employees to retire on their own terms by ensuring retirement savings and benefits plans work as effectively as possible.
Employers are recognizing the need to help employees attain financial wellness, especially as more Americans find they cannot afford to retire. Every day, approximately 8,000 Americans reach age 65, according to the U.S. Census Bureau. While 65 is the traditional retirement age, nearly four in 10 workers say they plan to continue working longer, the Employee Benefits Research Institute reports, and one in 10 say they expect to never retire.
Now consider that EBRI estimates that 32 million Baby Boomers (ages 50-68) – a population the size of California — are unprepared for retirement. Suddenly, the effectiveness of employer-sponsored retirement plans in helping employees retire on their terms becomes incredibly important. The viability of an employer's benefits package becomes critical – both to the employees as well as the employer's financial wellness.
The ability to explain these issues with appropriate metrics and analysis – particularly at the employer level – has to date been lacking. It's been difficult if not impossible for many companies to measure the impact of their retirement and protection benefits on their bottom line. Until now, that is.
The Viability Advisory Group, a unit of Massachusetts Mutual Life Insurance Company (MassMutual), has developed a patent-pending analysis program to help companies evaluate their own hard-dollar cost of under-utilized retirement savings and other employee benefits programs. The analysis underscores the underlying value of retirement savings plans and other employee benefits that help promote financial wellness, as well as the significant cost to companies when employees fail to make the most of them.
Helping prepare employees to retire at age 65 can potentially save employers tens of thousands of dollars annually for each employee in higher costs for salary and benefits such as healthcare, disability and workers' compensation insurance, according to projections by Viability. Now imagine the potential savings if an employer has several employees who are nearing retirement. How about dozens of employees who want to retire but can't afford to stop working? The costs, which vary by employer, can easily mushroom.
Of course, the bottom line does not always tell the entire story as many older employees are highly valued for their hard-to-replace business and operational knowledge, skills and experience. And many remain engaged in their work and derive great satisfaction from it, according to a 2014 study by MassMutual. The research indicated that 48 percent of retirees who worked longer than they planned did so because they simply enjoyed working.
The ultimate goal of the Viability program is to ensure more employees can control their own destiny. Both the employee and the employer benefit when workers are in position to choose when they want to retire, and that can only happen if they are taking the right steps throughout their working years. Viability is designed to help educate employers on the value of an effective retirement savings plan and benefits package, enhance overall financial wellness, and help more employees retire on their own terms.
By pinpointing the costs of ineffective retirement and benefits programs, benefits brokers and other advisors can help prescribe improvements. For instance, incorporating automatic enrollment and automatic escalation provisions in a retirement plan can increase participation in a plan and contribute to greater retirement readiness. Matching employee contributions can not only incentivize employees to save more but also enhance savings and help employees prepare to retire sooner rather than later.
On the benefits front, helping employees assess their personal financial circumstances and needs ultimately helps them prioritize their benefits. The inability of many employees to choose benefits that make the most sense for their personal situation and budget is a huge problem, bigger than many employers may suspect.
On the surface, most people seemingly have their financial house in order, saying they prioritize understanding their personal finances (77 percent), having enough medical insurance (74 percent) and being on track to retire comfortably (65 percent), according to the 2015 MassMutual Employee Benefits Security Study. Yet 38 percent of American workers say they know little or nothing about their employer-provided benefits such as healthcare, life insurance, 401(k) retirement plans and other benefits. Two in five respondents (42 percent) say they are clueless about whether or not they are on track to retire comfortably, the study found.
So what does an employee's personal financial life have to do with his or her life on the job? A lot it turns out, because while many people assert they do just fine managing their finances, 37 percent find doing so "somewhat" or "very difficult" and 40 percent say personal financial problems are a distraction at work, according to the MassMutual study.
It's the reason why MassMutual introduced MapMyBenefitsSM, a free, online tool that enables employees to prioritize their benefits choices, making the most of each benefit dollar based on their life stage, financial goals and personal finances. The holistic approach of providing financial education and guidance at the workplace combines retirement readiness, healthcare coverage and preparation for life's unforeseen events. MapMyBenefits is available to employers through financial advisors and benefits brokers.
Increasingly, employers are coming to grips with the impact of personal finances on their workforce and are taking steps to make a difference. Financial wellness programs and new financial tools are being introduced at the workplace with the goal of helping employees better manage their financial lives with less distraction in their work lives.
Financial wellness is fast becoming the buzz in business as more companies come to grips with the associated financial liabilities of more workers who remain on the job past their traditional retirement age because they can't afford to retire on their own terms. It's the perfect alignment between what is in the best interest of employees and how that benefits the employer's balance sheet.
Hugh O'Toole is Senior Vice President and Managing Director of the Viability Advisory Group, a unit of Massachusetts Mutual Life Insurance Company (MassMutual).
RS-39600-00