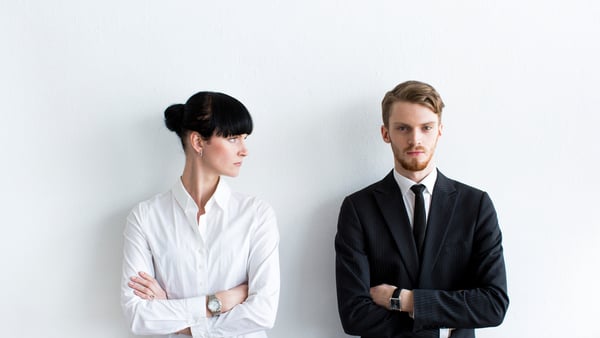 Women have more issues around trust in the workplace than men, and they also feel less empowered and have greater concerns over pay, according to Aon's report, "The Gender: Gap Why Men and Women Experience Work Differently."
The professional services firm reviewed a subset of Aon's global employee engagement and culture data collected in 2016, representing nearly 400,000 employee responses to 60 items commonly asked on employee engagement surveys.
The review found that overall, 63 percent of men and 62 percent of women are engaged. But digging deeper into the drivers of engagement — such as career opportunities, perceptions of pay and perceptions of leadership — as well as additional demographics such as tenure, age, and organization level, Aon found "significant and critical differences in how men and women experience their work."
"We contend that the issue of gender and engagement is an important one, since differences help illuminate unknown areas of opportunity within organizations to positively affect morale, culture, and potentially firm performance," the study says. "Although it's impossible to take action on every possible demographic slice of your organization, taking a 'one-size-fits-all' approach could be missing critical nuances that could significantly enhance your employees' time at work."
The review of the responses on engagement surveys found that women are less likely to feel that action will be taken on issues of workplace fairness (57 percent for women versus 62 percent for men), and also less likely to think that organizational leadership is worthy of trust (61 percent for women, 66 percent for men).
To improve trust in leadership, Aon writes that managers must be willing to listen to employees, and look for opportunities for reverse mentorship programs.
"Adhere to impeccable moral codes, particularly with regard to women's issues," the authors write. "Have a zero-tolerance policy for sexist attitudes and remarks, as well as any and all forms of sexual harassment."
The review found that women feel less challenged at work (66 percent for women versus 71 percent for men), and feel like they have less influence in decisions than their male counterparts do (57 percent versus 62 percent).
To improve perceptions around opportunity, employers should plan for regular one-on-one meetings to discuss career developments for one, two, and five years out. Employers should also ensure that workers understand their role in articulating goals, building skills, and managing their own trajectory.
"Help employees understand their career paths and make sure HR is communicating internal job postings clearly," the study says. "Similar to pay, it may not be — and likely isn't — possible to promote everyone right away. A focus on personal development, such as learning new skills, in addition to career can help demonstrate that you value your employees."
To improve perceptions around decision-making, Aon recommends that employers ensure their decision-making process is clear, and loop employees into the process as soon as it's appropriate. Managers should meet regularly with their teams to discuss new ideas and provide feedback on decisions, while encouraging them to share their opinions.
"Engage both men and women actively in discussions of their work, and about how and where to make improvements," the authors write.
Women also feel that the results they get at work are not as connected to their pay (47 percent of women agree with this statement, compared to 52 percent of men).
Related: The gender pay gap
To improve perceptions around pay, Aon recommends that employers examine internal and external pay-fairness issues with HR, and review pay levels and ranges where appropriate.
"Until pay parity is achieved, sentiments of lower engagement may persist for women who are skeptical they are receiving equitable treatment in the workplace," the authors write. "However, changes to pay structures take time, and sometimes are not possible in the short term depending on the organization's health. We find that clarifying expectations around performance goals and pay structures with employees, so they're clear on how their compensation is calculated, goes a long way."
The review also found that in the first two years after taking a new job, engagement drops 13 percentage points for women and 9 points for men. Their perception of being fairly paid drops significantly as well: 16 percentage points for women compared to just 10 percentage points for men. Moreover, when looking at an employee's intention to stay at a company, the percentage of women who agree that it would take a lot for them to leave their organization dropped 12 percentage points in their first two years, compared with just 4 percentage point for men.
To avoid the quick drop in engagement among new employees, Aon recommends that employers update their onboarding programs and career paths to make sure they're meeting the needs of new hires as well as long-term veterans.
"Take time to understand the challenges that employees are facing both at work and at home," the study says. "Help them navigate life changes and reduce stress by offering support in various forms, such as flexibility, time off, and remote work. This is particularly important for supporting female leaders, since they often experience more stress than men when managing home and work responsibilities."
Aon reminds employers that cultural and societal biases can influence engagement even when employers don't want them to.
"However, a mature view of engagement at your organization, which allows for you to understand the work experience of different segments of your workforce, will put you in a position to more effectively address disparities or inequalities to make your workplace an engaging one for everyone," the authors write. "A failure to take diverse perspectives into account, however, will create a significant drag on your ability to differentiate from competitors and fully utilize your organization's potential."