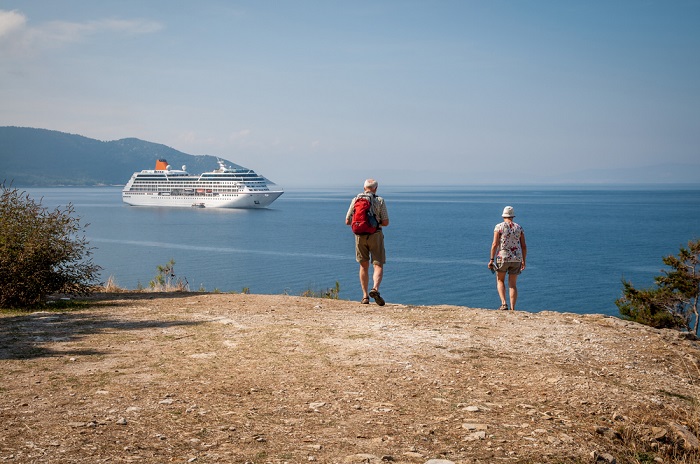 Retire on the high seas? Why not? In fact, for some, it might be a way to stretch retirement savings, a cheaper alternative than going into an assisted living facility—and probably a whole lot more fun.
A USA Today report finds that when it just gets too tough to maintain a household, keeping up with cooking, cleaning, and maintenance, it might be worthwhile to throw your troubles overboard and head for open water.
Not only could living on board a cruise ship offer excitement and travel, it doesn't come with the stigma of loss of independence, as assisted living facilities often do, and it can also be just plain cheaper.
Then there are all the added benefits, like all-you-can-eat buffets, on-board pools and gyms for what exercise you do want, companionship, entertainment and on-board doctors.
So how does it break down? According to the report, as of 2017's Genworth Cost of Care survey, an assisted living facility can run you $3,750 per month, coming to about $45,000 a year. Cruises, on the other hand, tend to average $100 per night or even less.
For example, a 12-night cruise of the southern Caribbean, available for an average cost of $779 per person, is just $65 per night—and for a senior couple traveling together, discounts of 50 percent for the second passenger lower combined costs dramatically.
Then there are senior discounts, points for frequent cruising, and booking with a rewards credit card—all can keep costs down even further, especially if you opt out of pricey extras like alcoholic drinks or shore excursions.
While not all ships accept full-time residents, many cruise lines do make accommodations for seniors who want to become long-term passengers and remain on the same ship for months or even years at a time. Such options as Oceania's Around the World Voyage could also beckon—it's a 180-day cruise happening annually from January to July.
You can save even more by moving from ship to ship to see different parts of the world, embarking from different ports, and simply putting your things in storage till you return — combined annual costs of around $38,900 for ship accommodations and storage are more than $6,000 cheaper than assisted living.
Cruise ships have onboard pharmacies as well as medical staff and infirmaries, and what with housekeeping, prepared meals, entertainment and transportation services, you're pretty much where you'd be at an assisted living facility.
Medical care isn't covered, but then it isn't at most assisted living facilities either — and Medicare pays for covered services provided on cruise ships if those services are obtained within six hours of a U.S. port.
So if you're still pretty active but just can't deal with the heavy stuff any more, you might be better off at sea. Bon voyage!