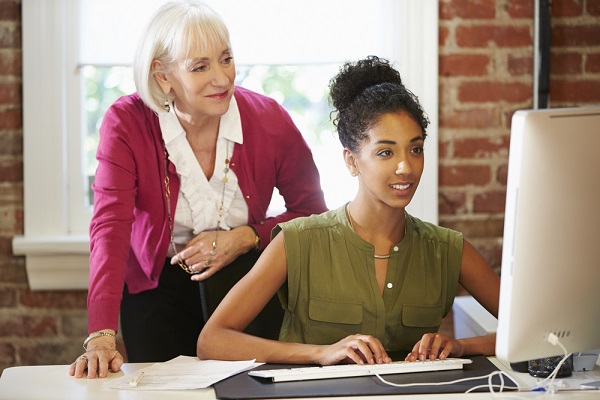 In my decades of experience in the insurance industry, I've cultivated many important relationships — with colleagues, clients, vendors and, of course, friends.
But one of the most important relationships I've developed is the one with my mentee, my partner's daughter at CBS Coverage Group, Jill Rosenblum, and a young woman who shadowed me for five years at our insurance agency before I founded my business, Work At Home Vintage Experts (WAHVE).
It was because of my collaboration with this thoughtful and bright young woman that I felt confident leaving my full-time position at an insurance agency to start my business. I knew my clients were in good hands, and I'd learned a lot from her about how the next generation thinks and how to manage them.
Suffice to say, mentoring a millennial helps both the mentor and mentee, as well as the organization at large. In addition to transferring knowledge — no small issue considering baby boomers are increasingly approaching retirement and millennials account for nearly half the employees in the world, according to some figures — the mentorship relationship can lead to better outcomes and new innovations, improving the company's bottom line.
Here are three ways mentoring a millennial can benefit you:
1. Sharing the knowledge
What can older generations pass on to the younger ones? The list is seemingly endless. First, of course, there's the knowledge and wisdom that come with experience. In addition to knowing how to do things, vintage workers have often developed effective methods for handling situations that come up regularly.
For example, Sandra Masters, who works for WAHVE as a commercial lines bookkeeper, has been a mentor to more than a dozen younger employees over her 30-year career. Masters recalls a specific instance when, as the operations manager for a large independent agency, she shared her time-tested approach with less-experienced employees — and it helped them down the road.
"When hiring someone new, part of the onboarding process was to take the Personalysis, a personality test," she explains. "When I received the results, I spent time going through it with the employee and explaining each section and what their reaction could be in any situation. Everyone had their charts on their desks so they could see each other's results.
When a new employee had issues with someone, I usually sat down with the people involved and we processed each person's reaction [using the charts]. It was extremely helpful as they then knew how to present an issue without putting the person they were speaking with in their negative mode. After I left the agency, I heard from several people that when they had an issue, they would stop, think 'What would Sandra do?' and remember how they should proceed using the charts. This certainly helped them respond in a positive manner without it becoming personal."
Equally as important as this transfer of know-how is the fact that vintage workers have built up networks of relationships — friends, colleagues and acquaintances upon whom they can rely for advice, insight or help with tackling a specific project. By working with millennials, a more experienced colleague can not only share their network but also help the millennials develop their own, creating an invaluable resource for their professional success.
Masters points out that in her experience, mentees also benefit immensely from feeling that they have someone in their corner at work and knowing they can test things out with their mentors without the fear of recrimination or failure. Having a mentor also speeds up younger workers' success at work, which is particularly important to millennials, according to a poll by "Harvard Business Review."
2. A two-way street


Mentoring goes both ways: Millennials can pass along helpful skills to their more-experienced counterparts, too. First and foremost, millennials are digital natives. Not only do they have their fingers on the pulse of what's hot when it comes to the latest apps and gadgets, but, having grown up with technology, they also have a level of competence that's unmatched by older generations.
Need help with your social media tools? They're on it. Struggling to figure out how to plug your laptop into presentation equipment? They're your resource. And their tech savvy isn't limited to in-office business: I once made it to an important appointment on time by using the handy traffic app Waze, which a younger colleague had recommended to me and shown me how to use.
Fresh eyes and alternative methods also come with youth. Millennials aren't hamstrung by decades of doing things a certain way. By looking at a scenario from a new perspective, a younger colleague might produce a different —and, dare I say, even better — approach for tackling it.
They are experts at problem-solving and this can often produce better outcomes for both the mentor and the mentee alike. Further, a mentorship relationship can help shed light on how the next generation thinks, helping the mentor stay relevant, nimble and innovative.
Finally, don't underestimate the benefit of helping a colleague grow and being able to participate in their success. Paying it forward feels great!
3. What's good for the gander is good for the goose
Fostering mentorship relationships between older generations and millennials is also decidedly good for the organization they serve. According to the "Harvard Business Review" poll, millennials want mentorship opportunities and value them highly as an investment in their professional happiness and success. In fact, a 2016 Deloitte survey found that millennials who indicated they intended to stay with their organizations for more than five years were twice as likely to have a mentor (68 percent) than not (32 percent).
With more than half of hiring managers reporting that it's difficult to find and retain millennials, offering mentorship opportunities can help by making your organization more attractive to prospective millennial workers, making millennial workers happier once they're on board and, as a result, keeping those employees for longer.
Finally, when it comes to implementing mentorship programs in your organization, I highly recommend job shadowing. Allow younger workers to participate in the day-to-day activities of a seasoned pro. Let them listen in on calls and attend client visits. When I was a mentor, I would regularly discuss each of these experiences with my mentee and answer any questions she had about how things went.
Not only is this a great way to bring the millennial up to speed on best practices and offer firsthand experience, but it also affords the younger worker the opportunity to suggest alternative solutions in a safe environment. It's a win-win-win for mentor, mentee and the organization.