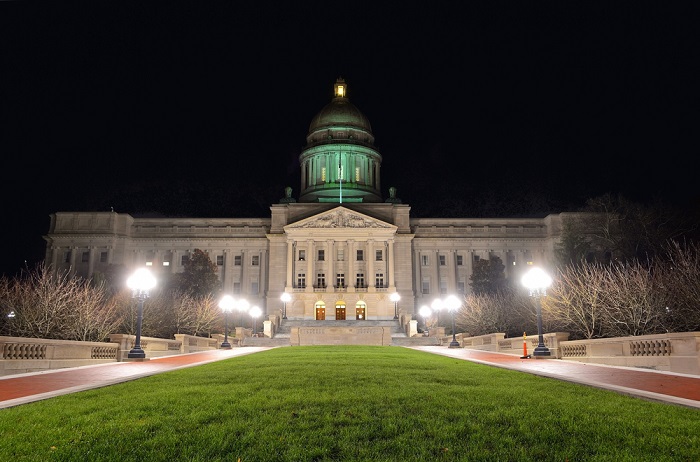 A move proposed by Kentucky's Republican governor, Matt Bevin, last year to transition the state's public employees from defined benefit to defined contribution plan appears to be losing support—especially after a controversial e-mail sent by business leaders in the state urged lawmakers to end DB plans.
The Lexington Herald-Leader reports that while no pension bill has yet been introduced in the Kentucky legislature—state workers are already suing retirement system officials and asset management firms over losses sustained by the state's pension fund—the letter has definitely set teeth on edge.
According to the report, House Education Chairman John "Bam" Carney, R-Campbellsville, has said he is "leaning against" moving public employees from a DB system to a DC system, adding that he's not sure such a move would save the state money—as advocates of the plan have claimed.
He's quoted saying, "We just may be better off to stay with defined benefits and fully fund them."
Rep. Jason Nemes, R-Louisville, agreed with Carney, and is quoted saying, "We do not need to be going to defined contributions. If we are building a system from scratch, let's have that conversation. We're not building a system from scratch, and it would cost a great deal more money to close down the defined-benefit plan. So I don't think we should do that."
Nemes also said in the report that the House Republican caucus "is not favoring going to a defined contribution plan."
The letter that caused so much uproar was signed by 19 individuals including national anti-tax activist Grover Norquist; Mac Brown, state chairman of the Kentucky Republican Party and retired vice president of Brown-Forman Corp.; Larry Cox, retired state director for Republican U.S. Senator Mitch McConnell; Bill Samuels Jr., chairman emeritus of Makers Mark; Jim Stuckert, former chairman and chief executive of investment firm Hilliard Lyons; Terry Forcht, banking and nursing home magnate; Ed Glasscock, chairman emeritus of Frost Brown Todd; and Ann Wells, chairwoman and co-chief executive of Commonwealth Bank & Trust.
It said that any pension changes made during the 2018 legislative session must include "moving all future employees from a defined-benefits system to a defined-contribution system," adding that any pension bill that does not cut this benefit "willfully ignores the inherent structure problems at the heart of the crisis" and "is a disservice to the people of Kentucky."
"The letter was insulting and offensive to all public employees," Brian O'Neill, a Louisville firefighter who is spokesman for the Kentucky Public Pension Coalition, is quoted saying in the report.
The group says it represents about 350,000 Kentuckians, including firefighters, police officers and teachers.