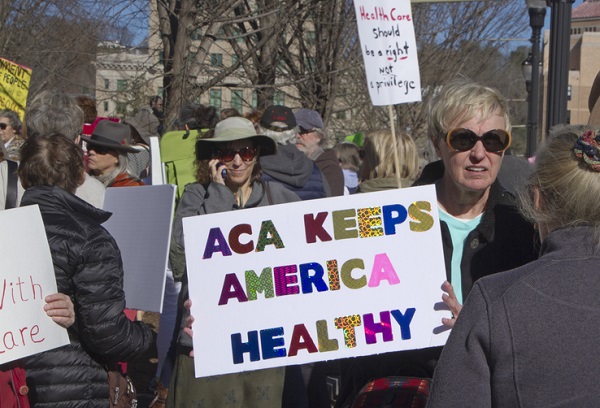 Additional changes to the Affordable Care Act issued by the Trump administration have further diminished the individual mandate by creating new exceptions to penalties and have also shunted coverage standards from federal requirements to the states.
The Washington Post reports that there are two new exemptions to the individual mandate requiring coverage. Not only can would-be purchasers of coverage who live in areas where only a single insurer offers plans on the marketplace qualify for a "hardship exemption," so can people who oppose abortion living in places where the only coverage available provides abortion coverage.
According to the report, data from federal health officials and private researchers indicate that about half of the counties in the U.S. have a single ACA insurer this year.
In addition, the new regulations provide retroactive protection from penalties, going back two years, despite the recent tax law that ends such penalties completely beginning in 2019.
But that's not the only change the administration dictated on Monday. It also gave states the authority to cut back on the 10 essential health benefits mandated by the ACA for policies sold on the marketplace—for example, the report says, letting policies cover fewer doctor visits or cut down on the number of prescription drugs covered.
In addition, the 39 states that use HealthCare.gov rather than their own state marketplaces will now be responsible for making sure that marketplace plans have enough doctors and other care providers in their networks. That job used to be the responsibility of the federal government. Also, the administration has relieved insurers of the responsibility to provide a standardized set of benefits, ending the Obama administration's rule which was intended to help consumers comparison shop for coverage.
The changes take effect for ACA health plans to be sold this fall for 2019 coverage. This is the first time the Trump administration has been responsible for laying out the rules for insurers participating in marketplaces in the year to come—and it's a dramatic departure from Obama-era rules, which were upgrades designed to help consumers shop for coverage and get better information on doctors and drug lists.
Instead, the Trump administration has not only done further damage to the network of navigators—those who help people get through the marketplaces and decide on coverage—by reducing the number of navigator groups required to help consumers, but also removed the requirement that insurers have to devote at least 80 percent of their income to consumer care.
The Hill reports that other changes include new income checks, which the administration says are necessary to crack down on people who wrongly qualify for the law's subsidies, as well as the potential for additional changes, such as elimination of "silver-loading"—a practice that limits premium increases to certain plans. CMS administrator Seema Verma said the latter was a possibility and was "under review."
In the report, while Verma characterized some of the changes as creating flexibility, relaxing regulations for insurers and bringing plan prices down for some consumers, former acting CMS administrator Andy Slavitt had a different view altogether. He's quoted saying that the Trump administration "is making it clear that they're implementing a law that they have no intention of making succeed." Slavitt also termed the revisions "a gift to the insurance companies by finding lots of ways for them to get around the standards Americans have come to expect."