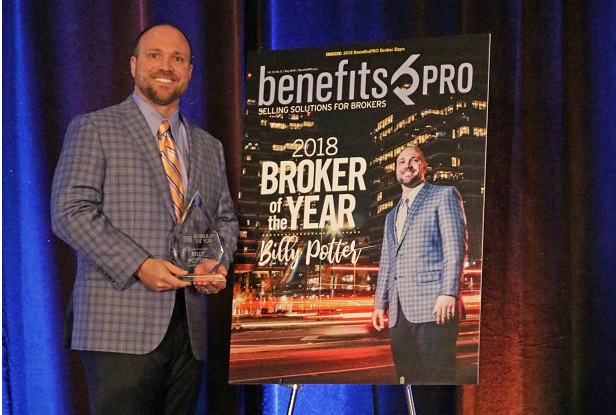 Billy Potter, a principal with Snellings Walters Insurance Agency in Atlanta, may have been destined to be a broker from an early age. Bill Snellings, an owner of the agency, coached the Pirates, the tee-ball team that Potter played on while growing up in suburban Dunwoody, Georgia.
"Bill told me that I would work for him someday," Potter says. "I was interested in the company back in 2003 or 2004, but it wasn't the right time then. I eventually joined the company near the end of 2011. It turned out to be providential on a lot of levels."
That decision has worked out well for Snellings Walters, its clients and Potter, the 2018 BenefitsPRO Broker of the Year. Potter is highly regarded as someone who listens before he speaks, and then delivers efficient, cost-effective solutions. Monica Hembrick, vice president of human resources and corporate services for Zelis Healthcare in Atlanta, has worked with Potter for the past five years.
Related: 2018 Broker of the Year: Meet the finalists
"Billy is a good listener and note-taker," she says. "He has a consultative approach to identifying your needs by learning your business, talking through what is working well and what areas have an opportunity for improvement or a total overhaul. He takes what he has learned from the conversation and crafts a custom solution for your current state as well as future needs."
Potter's coworkers also respect his can-do attitude.
"He has passion for what he does and drives every day with purpose and intention," says Eric Levine, president and principal with Snellings Walters. "In addition, he has the ability to ask great questions to understand the root of a company's issues. In lieu of merely solving and treating the symptom, he gets to the root cause and helps his clients solve the problems with measurable results. He is also extremely knowledgeable and helps clients achieve things they didn't think were possible for their companies and their employees."
Picking the career lock
All in all, it's been a great run for someone who admittedly used some creativity to get his foot in the door of the insurance industry. After graduating from St. Mary's College, Potter borrowed a friend's University of Georgia student ID to get into a career fair. He was interested in about a dozen companies, including Sun Life Financial.
"When they found out I didn't go to school there, they set up a meeting with their regional manager," he says. "They must have figured I picked the lock to find a job, which can be a good attribute in sales. Working for Sun Life was one of the best decisions of my career. I got to experience the totality of the industry, from sales to underwriting."
Potter's only frustration was not being in a position to influence decision-makers. But during a business trip, a more senior coworker gave him some career-changing advice.
"He took me aside and told me my career could go one of several directions from there: I could remain a sales rep for the rest of my career; I could become a manager in the company—so far I am thinking 'nope'—; I could leave the industry; or I could become a broker," he said. "I was attracted to that as soon as he said it."
He joined Snellings Walters at an ideal time for both him and the company. Although Snellings Walters had built a strong reputation in the insurance industry since 1952, employee benefits had been almost an afterthought. Potter embraced both the challenge and the potential.
"I felt there was an incredible opportunity here," he said. "I had no book of business and nothing to lose. When I got here, the benefits department was about 5 percent of total revenue for the agency. Today, it's about 24 percent, and we see 30 percent to 40 percent growth every year."
In fact, the agency's employee benefits revenue has increased sevenfold since 2010.
"Before I started here, our average group was around 10 members," he says. "Today, our target market is small to middle-market businesses, with 100 to 1,000 employees. Our market is companies that want to take more control over their destinies."
Cultivating a culture of success
Potter does not believe the agency's growth—nor his own as an advisor—happened by accident. He credits a culture that focuses first on people and then on results.
"We have a unique culture that would be successful in any industry," he says. "Everybody in our company has a life statement, which is the reason they get out of bed every day. Mine is to pursue feedback in the pursuit of truth, because that's the most meaningful part of the process."
Creating this culture begins with hiring the right people.
"We don't hire according to experience," Potter explains. "If you look around our company, we have people from insurance and accounting backgrounds, but also from businesses like roofing. It's far more important that your core values are aligned with the position. For example, if you hired me as an accountant, it would be a mistake, since I'm not that detail-oriented.
"We ask prospective employees why they want to come to work here," he continues. "If it's just for a paycheck, this is probably not the best place for them to work. Is this the place that is going to help you become a better spouse, parent, son or daughter? A lot of people can make money in this industry, but if that's your motivation, you will miss out on a lot."
Potter says an outside consultant once summed up the Snellings Walters approach best: "You work in a place that exploits your strengths and invests in your weaknesses."
Blocking and tackling
What lessons can other brokers learn from the Broker of the Year? The secret to success in an increasingly complex industry really is pretty simple, Potter says.
"It's just basic blocking and tackling. We attribute a lot of our success to identifying the right issue within an organization. If you identify the issues, the rest of the process becomes easier. A lot of companies are just looking at the wrong issues."
Implementation of the Affordable Care Act has been the biggest change Potter has had to confront as a broker.
"The impact of the ACA is twofold: what is being done to employers and what they can do," he notes. "There is a wedge between people who are progressively changing for the better, actively not going with the flow, and those who have decided to keep doing things the way they have been doing them for a long time."
One cost-control option is partially self-funded medical plans, which Potter has worked with since 2002. Another, he says, is scaling back or eliminating well-intended but expensive initiatives, such as wellness programs.
"If you're doing it to boost company morale, that's a phenomenal reason to do it," he says. "But most companies have been loose about managing this budget item. I think clients are relieved when we tell them that less can be more. I had one client that was spending $120,000 annually on wellness strategies. I'm not against them—they can be valuable—but I am against prematurely investing in them."
He encourages clients to ask themselves hard questions and expect tough answers.
"Stop focusing on things you can't control and focus instead on what you could be doing differently," Potter says. "If a company gets a 26 percent premium increase, they may like to think their agent or carrier is the reason. You can't control agents or insurance companies, but you can look at your processes and control things that may cause the high renewal rates."
Brokers also must clearly communicate health care options, their cost, and the potential return on investment. "If I asked you to pay $27 for a gallon of milk, would you buy it?" he asks. "Of course not, You understand your consumption of milk and know how much a gallon should cost. We lack that in health care consumption. There is a cost, and we can quantify it, both for individuals and businesses."
Emerging technology can be a double-edged sword in this effort, streamlining many processes but also potentially creating confusion.
"First, we make sure our house is clean by looking at how we track prospects internally," Potter says. "Our priority is to manage our book more efficiently and stay ahead of the curve on renewal information.
"Second, when it comes to health care, people managing this budget item are stressed in so many different ways. The problem with administrative software packages isn't that there aren't enough options, but that there are too many. There is no right or wrong answer; we help them find what works best for them."
Keeping the "H" in HR
Potter has never lost sight of the human touch in a high-tech industry. This may be the most important reason why Zelis Healthcare continues to rely on Snellings Walters for comprehensive employee benefits.
"Billy goes the extra mile every time—it's part of his DNA," Hembrick says. "If there is a hiccup in a process, he owns it, takes the lead and gets it remedied. Several projects come to mind; Billy and his team play a huge role with onboarding new associates onto our benefits platform after Zelis acquires other companies. They conduct webinars and travel out of town to meet the new associates for Q&A sessions, as well as making themselves available around the clock. Acquisitions and mergers can be daunting for all parties involved, but to have an external resource to help navigate the people and the culture is a value-add that Billy provides."
Potter agrees wholeheartedly with Stephen Covey's sixth habit of "Seek first to understand and then to be understood." "Listening and watching are both important," he says. "Our process is to evaluate what they say and what they don't say. We don't want to be in the business of convincing. If I have to convince them of the process, it's a waste of time. I have a lot of data that proves everything we are doing. We look for someone who says, `lead me; where do we go?' "Hear what they are saying but also see if their actions reflect what they say. If a prospect says, `We are doing X, Y and Z,' I ask, `Where can I see that?'"
Simply put, communication may be the one indispensable attribute of every successful broker.
"There are countless times when Billy is presenting a new concept or new way to look at a company's benefits program," Levine notes. "His patience with his clients to make sure they understand and are understood is remarkable. In addition, he has an ability to take the complex and make it easy for people to understand."
Family first
People who know Potter say that family is everything to him. That begins with his wife, Allie, and four children, but it also extends to his church, clients and coworkers.
"Billy is an outstanding man, broker, friend and family man," Levine says. "He operates his business and daily life with the highest integrity."
Away from the job, the best place to find Billy is on the golf course or playing with his kids. And who knows—like Bill Snellings before him, he may just discover the next great future employee along the way. Being a person who others trust, respect and enjoy spending time with turns out to be another key ingredient in the formula for success.
"Billy Potter has a moral compass that he lives by," Hembrick says. "He is a man of faith, principle, character and an endearing sense of humor. He strives to be the best version of himself daily for his family and for the firm he represents."