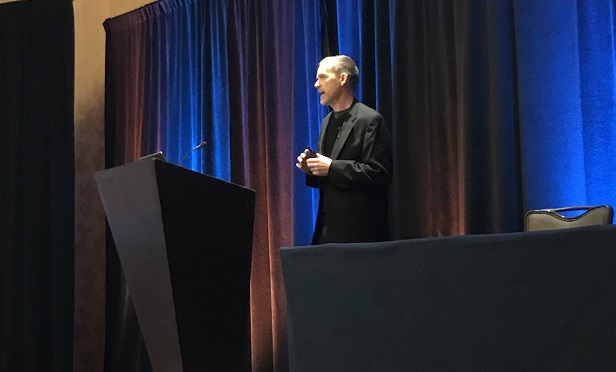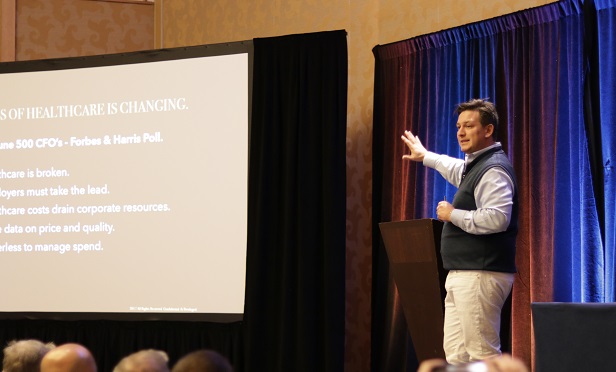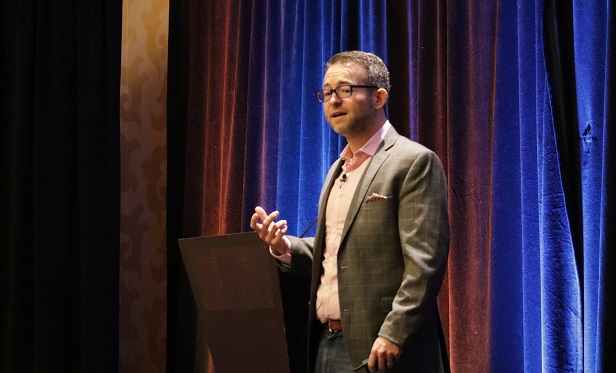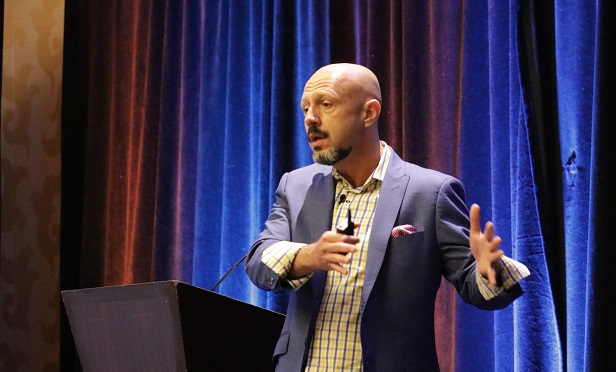 Continuing a theme of innovation common throughout this year's conference, the BenefitsPRO Broker Expo's closing keynote was "unlike anything we've ever tried before," editor-in-chief Paul Wilson told attendees. The next hour and a half would be devoted to four "speed round" TED-Talk-style speakers, aka, "Ben" Talks.
As everyone in the industry already knows, fixing the health care system is a monumental, complicated task. Each of the four speakers addressed a different piece in the puzzle, from what's being done to contain costs on the supply side to the need for brokers to redefine their role in the benefits process.
Health care killed the American dream
First up, David Chase, author of "CEO's Guide to Restoring the American Dream" and cofounder of the Health Rosetta Institute. He painted a brutally honest picture of the current health care industry, including the ways it had failed friends close to him, its indirect toll on public education, its role in the opioid epidemic, and overall impact on the economy.
---
Download a complimentary copy of the CEO's Guide to Restoring the American Dream here. Already read it? Please write an Amazon review - only takes a minute or two.
---
"If you look at more than two decades of wage stagnation and decline in the middle class, it's overwhelmingly driven by health care," Chase said. "Sixty percent of the workforce makes less than $20 an hour. Half the workforce has more than a $1,000 deductible and less than $1,000 in savings. And these are the people who have insurance.
"It's going to be even worse for millennials," he continued. "Over half of their lifetime earnings are slated to go to the health care system if we don't change what we're doing."
But Chase wasn't just there to further illuminate the problem with today's health care system; he was there to inspire action. "The absolute best way to slash health care costs is to improve benefits," he said. "The people in this room have the most underestimated role in the health care system."
After two days of learning about the latest tools, ideas and proven solutions being used to lower health care costs, it was up to brokers to go home and put them into action. "There are a lot of places you have influence," Chase told his audience. "Share with them that the best way to slash health care costs is to improve benefits. Start with one organization, one tactic.
"For too long, we've let health care crush the American dream," he finished. "We can't take 20 more years of an econonomic depression for the working middle class. Whether we knew it or not, we all contributed to this mess, so it's on us to fix it."
Disruption won't come from big companies
Stepping up next to share his message was Dutch Rojas, CEO of Sano Surgery. He started with a few interesting statements to put his speech into context: The world's largest taxi service doesn't own any taxis (Uber). The most popular media outlet creates no content (Facebook). And the world's largest movie house owns no movies (Netflix).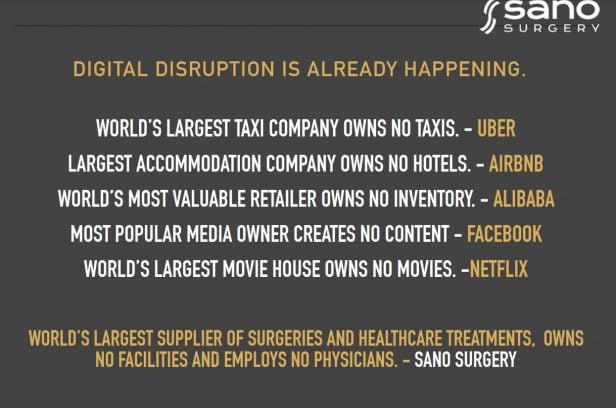 "My whole goal is to be the world's largest supplier of health care treatments," Rojas explained. But "I don't want to own any facilities."
Innovation doesn't come from major businesses, but from small companies, he said. Big companies often just don't have the luxury to experiment with new ideas: they're beholden to stakeholders and a business model focused on ROI. "Employers must take the lead, which means you have to take the lead," Rojas said.
He went on to outline five changes to the supplier side of health care that can dramatically cut costs.:
1. Don't have surgery. According to Rojas, 35 percent of surgeries are not necessary, noting a line between "clinical indication" and "appropriate" when it comes to defining "necessary" surgery.
2. Make second opinions mandatory. This was, of course, met with a collective groan from the audience, but Rojas pressed on. "You work for the employer; we have a fiduciary obligation to the employer. What are we doing with that?"
3. Get out of the hospital. Or perhaps more accurately, don't go in. "Half of our cases shouldn't be in the hospital in the first place," Rojas said, noting that even needed procedures can often be done in a non-hospital setting, usually more efficiently and cost-effectively. "We need to help people understand where the appropriate place is to get care. Hospital outpatient departments are your enemy. Don't go to them."
4. Get direct primary care. Moving to a managed medical program and direct primary care can have a major impact on how consumers utilize health care, Rojas explained.
5. Get data. "It's really important that you know how to review your data," Rojas said, using an example of MRI billing. "If the MRI side comes out to $4,400 average, you've paid too much. It should never be over $1,000."
To pay less for health care…
"My goal is to take some of these things and show you how to get the employer to start to think differently and bring them together," David Contorno, president of Lake Norman Benefits/The Hilb Group of North Carolina, told the audience, building on the scene laid out by his peers.
To start, make sure you're talking to the right people. "In order to reduce costs, you have to make the benefits better," he reiterated. "This is a financial decision. You need to speak to the finance people. One of the things we lose sight of is the incredible financial burden that the products we bring put not just on the companies, but the employees."
While over the past three years, premium increases have been held down, out of pocket costs and medical bankruptcies have increased, Contorno said. "We've got to change the way we approach this. There's only one way to pay less for health care: pay less for health care."
It sounds trite, but the current health care system is rife with opportunity to cut costs. It's just been a lack of people willing to take up the sword and start slashing. Contorno noted the myriad competing interests within the system.
Brokers. Historically, being paid on comission or a flat fee has not created much incentive for brokers to keep costs down. While moving to a flat-fee model is a start, Contorno noted that it still isn't enough. "It doesn't give you incentive to lower costs," he said. "If you have confidence in your ability to lower costs, isn't that the number one thing employers want from us? If you save the employer a couple million dollars, do you think it's hard to get them to pay you an extra $50k? They do it gratefully."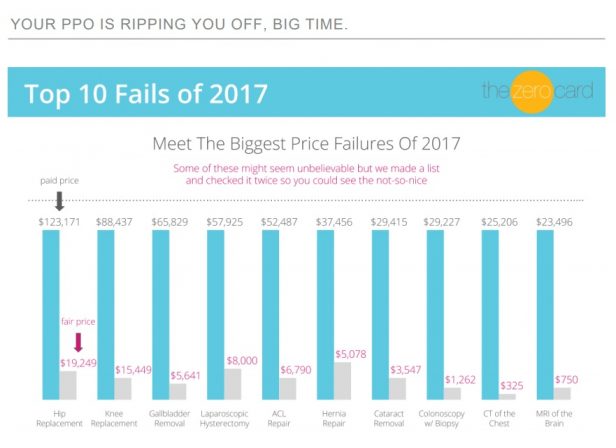 The PPO network. Contorno wasn't the first to compare PPO networks to Kohl's Cash at the conference: "You know that even with the sale price, the scratch off coupon and your Kohl's Cash, you know they're still making a profit. Americans love getting a discount." But discounts on astronomically inflated prices are no help to anyone.
The insurance carrier. The carrier, of course, is a business looking to turn a profit. There's nothing wrong with that, but it's a fact that consumers and clients shouldn't overlook, Contorno said. "Every business is designed to max revenue and profit," he noted. "I blame the employers for blindly trusting an entity when they should know that's the motivation. They manage their office supply chain closer than health care."
The PBM. "This is the mafia of the health care system," Contorno said, bringing up the practice of clawbacks, where a member's copay is more than the actual cost of the drug. Where does the difference between payment and cost go? Back to the PBM.
"That is illegal in most industries," Contorno said. "Two-thirds of CVS's revenue and profit is from the PBM, not retail stores."
Take control of your business
Q4intelligence founder Kevin Tokey took the stage to round out the session, and asked audience members to put on their "entrepreneurial hat" for a moment. Imagine being a business owner, but having no control over what you sell, the cost or how much you get paid for selling it.
"If you're connecting the dots, you know what I've just described is the same basic model of every agency today," he said, going on to explain how brokers have become overly dependent on their carriers and thus are at the mercy of their business model. "You've aligned yourself more closely with the carrier than the client, because of a broken compensation model."
Their hands seemingly tied, brokers instead have tried to make non-health-insurance products their differentiator. But that's changing, Trokey said. "We as advisors are starting to catch onto strategies that others have been promoting for a decade or more. Now we're focusing on how to more efficiently bring in these new solutions, new cost-containment strategies."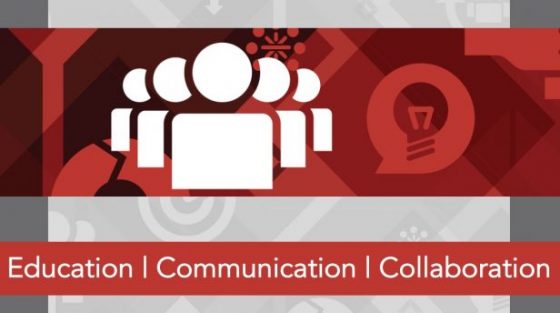 Trokey's message to brokers: Take control of your business; redefine what you do. "You have to look at the different roles you play with your clients. The broker role is focused on transactional activity. Your value is to identify the right product for a particular situation. The more ways you position yourself to give advice and results, the more valuable you're going to be to your clients."
The health care system is broken, he reminded the audience, but there are ways to fix it, from tried-and-true solutions to untested but promising ideas. It's the brokers and advisors, who, recognizing their own role in the broken system and redefining themselves, are able to help their clients break free.
"Most of these ideas have been around for a long time. It's a matter of creating awareness that these are options," he said. And employers are ready; they want these solutions. "Now is the time where we have to make a push to get these mainstream. You have to commit to levels of communication, education, collaboration that you've never been challenged to reach before. Your clients are going to depend on your advice, your counsel. And your survival depends on your ability to deliver that."
Trokey urged brokers and advisors to set aside their competitive mindsets and embrace a more collaborative, creative outlook. "We have to work together to make sure the industry survives. Push through the discomfort and commit to collaborating with like-minded individuals.
"When you leave, can I ask you to take one thing with you?" he asked, "When you get up and go through these doors, take with you an absolute commitment that the brightest days are ahead of us and that we will all rise with that new tide."