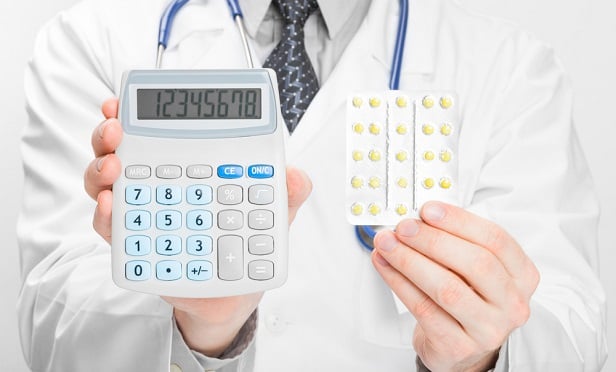 Could the dawn of a new era is health plan drug purchasing mean the sun will soon set on the pharmaceutical benefits management (PBM) industry? New research on reference-based pricing (RBP) suggests that may be the case. And the CEO of a consulting firm that developed RBP technology says it will definitely be the case—although he's not saying just when that will happen.
RBP will be "the disruptive force" in the employer plan pharmaceutical cost model, says David Henka, CEO of ActiveRADAR, maker of a technology that sets reference prices for commonly prescribed drugs. The technology was used by researchers to set reference prices for drugs in the study.
Related: Curbing specialty drug spending: Where to start?
"There will be a new disruptive benefit delivery system that will be available within a period of time," Henka says, when asked about RBP's future as part of an employer plan. "Early adopters will latch on to it. It will eventually catch fire and be readily available. There will be regulatory pushback, and then it will become the dominant model. PBMs may become the Fotomats of the future."
This rather bold prediction is one certain to cause a stir among employer health plan managers. It comes from a recent Commonwealth Fund analysis of a 2017 University of California/Berkeley study on the use of reference based pricing for pharmaceutical cost management. The study examined the experience of RETA, an employer group composed of employers of those working for various Catholic institutions, mainly in education. In 18 months, after switching from a traditional tiered drug formulary plan, RETA saved 14 percent on drug spending.
Reference-based pricing for pharmaceuticals used by plan members creates a reference price for certain commonly used drugs. It may be an average price, or lower or higher than the average for the various drugs on the market designed to treat the same condition. Plan sponsors agree to pay most of the cost for the reference drug, usually a set amount with a set out-of-pocket that plan members pay. Members are then able to choose which drug they want prescribed: one priced below the reference, one at the reference price, or higher cost drugs, for which they pay more.
RBP also address medical procedures as well, establishing the standard cost that a plan will cover and allowing employees to choose other options.
RBP interests major health plans, particularly self-funded plans that cover thousands of members. By offering to pay a standard subsidy for the reference drug price, the model encourages plan members to choose lower priced drugs. For large employers, this can result in considerable savings compared to the traditional tiered model, the U.C. Berkeley study found.
"The RETA study suggests that reference pricing potentially offers meaningful savings for purchasers in the United States," Commonwealth said in its review of the U.C. Berkeley data, "Those savings, however, burdened patients with higher cost-sharing. It should be emphasized that reference pricing has several key limitations and is no panacea for the challenges of drug purchasing."
James C. Robinson, a UC Berkeley professor and director of the Berkeley Center for Health Technology at U.C. Berkeley, tells BenefitsPro the study demonstrated "that patients will switch to cheaper options when they face the appropriate incentive. By appropriate incentive we mean that the employer makes a fixed contribution towards paying for any particular type of drug or procedure; patients selecting low-priced options have little or no cost sharing, while those selecting high-priced options must pay the full extra amount themselves."
Robinson was the lead researcher on the 2017 study and primary author of the Commonwealth review. Like Henka, Robinson predicts there will be a disruption in the way employers support pharmaceutical expenditures by plan members. And that works in RBP's favor.
"The policy and purchasing world, including the Trump administration, is becoming more vocal about high drug prices," Robinson says. "There is more interest in changing purchasing to encourage drug firms to lower their prices rather than continue the present practice of setting high prices and then negotiating large rebates (which go to the employers and insurers, not to the patients). This interest in price reductions over price rebates is in the spirit of reference pricing."
RBP's uptake has been slow, for various reasons. Among them cited the researchers: The tendency for plan managers to stick with the traditional model since it's what they know; the desire for pharmaceutical makers and PBMs to stick with a system that has rewarded them well; a lack of good information on prices for similar drugs; and uncertainty about the quality of the various drugs that address the same condition.
Additionally, in the main case study in the UC Berkeley research, while the employer's average price paid for pharmaceuticals decreased by 14 period 18 months after implementing RBP, employees cost sharing actually rose 5 percent. Ideally, plan member spending would also decline as the system, and the plan member understanding of it, evolves.
ActiveRADAR's client base is composed of enterprise level employers who self insure. Because of the large number of plan members, they can switch to an RBP drug model and immediately realize savings in the 15 percent to 22 percent. But beyond the savings, RBP is designed to educate plan members so they can make choices that are better for them.
"It provides additional transparency into the PBM world, and into the actual cost that the employer is paying. What is the lowest cost drug? Our technology tells you that automatically. And in that way it changes the dynamics of the cost management program. … Reference based pricing gives employees far greater choice among available drugs. They can switch to a cheaper one, choose the reference priced drug, get an exception [in special cases] or pay more. It adds more consumerism to the equation."
What's Henka's synopsis of the U.C. Berkeley findings? "Reference-based pricing is the real deal. It's a way for health plan sponsors to proactively manage their pharmacy spend. They can see what the true costs are, and offer plan members a choice. Right now, all most of them do is pay more every year, and shift as much of the cost to the plan member as possible. And that is not a good way to design a health plan."
Read more about reference-based pricing: