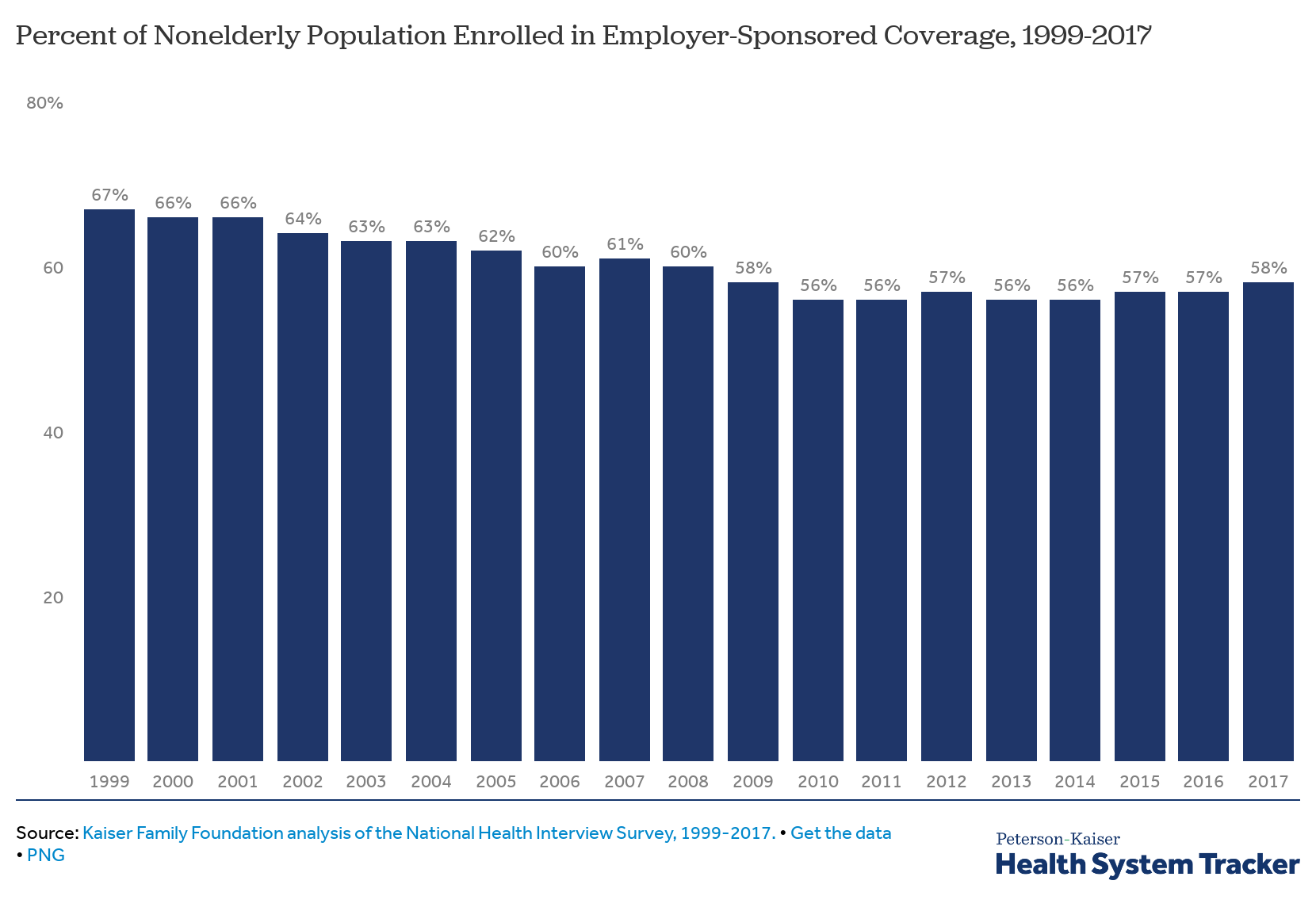 Listen up potential 2020 presidential candidates: more people now have health care coverage through their employer, and they just may want to keep it, so
About seven million more people gained employer coverage between 2013 and 2017, to total 156 million people, according to a Kaiser Family Foundation analysis. This is after a steady decline in the number of people under 65 with employer coverage between 1999 and 2010, and the turnabout is likely due to the Affordable Care Act's individual and employer mandates, coupled with a stronger economy.
Employer-based insurance is by far the single largest form of coverage, followed by Medicaid at 74 million, KFF President and CEO Drew Altman writes in his Axios column, "The quiet, steady rise of employer health coverage."
Related: How the economy affects employer-sponsored health care coverage
Since this is the largest insured group in the country, politicians thinking about a presidential run—or those already in Congress— should make sure the next wave of health reform resonates with this group's concerns, he writes.
"That's why [Calif. Democrat Senator] Kamala Harris' comment this week about doing away with private health insurance, as part of a Medicare for All plan, exposes the danger for Democrats if they don't convince people who like their private coverage that they have something better to offer," Altman writes.
The foundation has found through its surveys that people would prefer to have a national health plan that allows them to keep their private employer coverage if they choose to, much more so than having a plan that would be mandatory for everyone — as some Medicare for All plans are.
Moreover, most people that have coverage through their employer are more concerned about deductibles, drug prices, premiums and "surprise medical bills" than they are universal coverage, Altman writes.
"Whether they are Trump voters in Indiana or longtime Democrats in California, they are looking for help paying their medical bills, not big ideas they cannot connect to their everyday problems," he writes.
Altman advises would-be 2020 presidential candidates to keep such people top of mind when considering what kinds of health care reform they're going to push in their campaigns – as they are the largest share of Americans experiencing problems with health care costs.
"And as debate about Medicare for All heats up, advocates will have to deal with the love-hate relationship 156 million workers have with their employer-based coverage," he writes.
Read more: