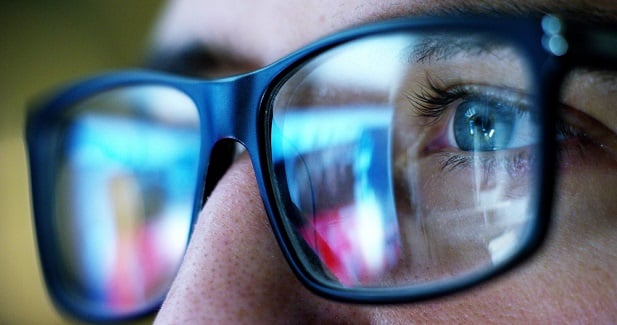 While most workers take steps to lessen problems due to digital eyestrain and light sensitivity, there is one solution many aren't trying: the right eye wear — though that could be due to their employer vision plan not covering it, according to Transitions Optical's 10th annual "Employee Perceptions of Vision Benefits" survey.
Wakefield Research surveyed 1,300 U.S. workers on behalf of Transitions Optical and found that half of the respondents experience eye fatigue and headaches at work, symptoms of either digital eyestrain or light sensitivity—or both. More than one in three workers have dry eyes and blurred vision other vision-related symptoms.
Digital eyestrain is common for a majority (six in 10) workers, and light sensitivity is experienced by more than half (54 percent)—and most of those say that it negatively impacts their ability to do their job on a regular basis.
Related: Dental and vision insurance: Wellness benefits?
The younger generations are especially prone to these problems, with one in five millennials saying they experience digital eyestrain all the time at work, and the same amount of millennials, together with Gen Zers, who say the same about light sensitivity—especially how it negatively impacts their job performance.
"Addressing digital eyestrain and light sensitivity in the workplace is becoming more important than ever for today's employers — especially with research revealing that 44 percent of employees are more concerned about light sensitivity than they have been in previous years," says Drew Smith, director, North America channels, Transitions Optical.
How, specifically, does light sensitivity and digital eyestrain impede their work? Four in 10 of all of the respondents say they are less productive than they could be; three in 10 say they are unable to focus; and a third takes more breaks throughout the day.
Most workers say they try to do something about it, including dimming the brightness on their screen, limiting their screen time and dimming lights in their workplace, according to the survey. However, most aren't wearing the right eyewear covered by many premium vision plans that could greatly help. Just one in five workers wear lenses with anti-reflective or no-glare coatings; one in 10 wear photochromic or adaptive lenses; and one in 10 wear lenses with a blue light filter.
"There are very simple steps employers can take to address these issues–with the most important one being to offer a vision benefits plan that covers eyewear options to alleviate these common visual problems, followed closely by ongoing education about the importance of sight-enhancing eyeglass lens options," Smith says.
Employers that offer premium lens options can possibly win over more talent, as 94 percent of the survey respondents say that premium lens options are important to them. They particularly would like to have scratch-resistant lenses (73 percent of respondents); anti-reflective or no-glare coatings (71 percent); photochromic lenses (43 percent); and blue light protection (35 percent).
Apparently, brand names matter: a majority (64 percent) say it's important that their vision plan covers authentic Transitions brand lenses, as opposed to other photochromic brands.
Read more: