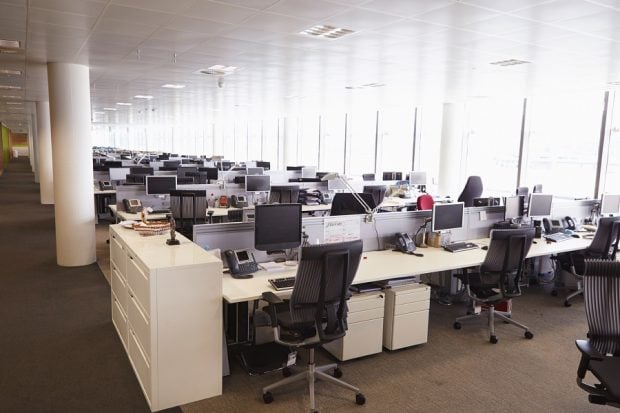 A spiffy open office design with all the latest bells and whistles isn't going to keep top employees at a company that hasn't given those employees the flexibility to decide whether they want to work in an open office—or that hasn't paid enough attention to employee wellness.
Those are among the key findings of the 2019 Staples Workplace Survey, which also reports that not only would 67 percent of employees consider leaving their job if work arrangements became more rigid—not surprising considering that 90 percent say more flexible work arrangements and schedules will increase morale—but wellness is so important to them that 41 percent said they'd take a 10 percent pay cut for a company that cared more about employee wellness.
Related: Given the choice, most workers prefer working at the office. But they still want a choice.
Oh, and about wellness—a great majority of employees (78 percent) say it's their employer's responsibility to help them stay mentally and physically well.
Incidentally, millennials are less likely to hang around anyway, with nearly a third saying that they'll be chasing higher salaries at another employer five years from now. And 41 percent of employees have seen to their own wellness by taking mental health days. Among the brave few who explicitly told their supervisors that's what they were doing, though, 92 percent said the boss was supportive about it.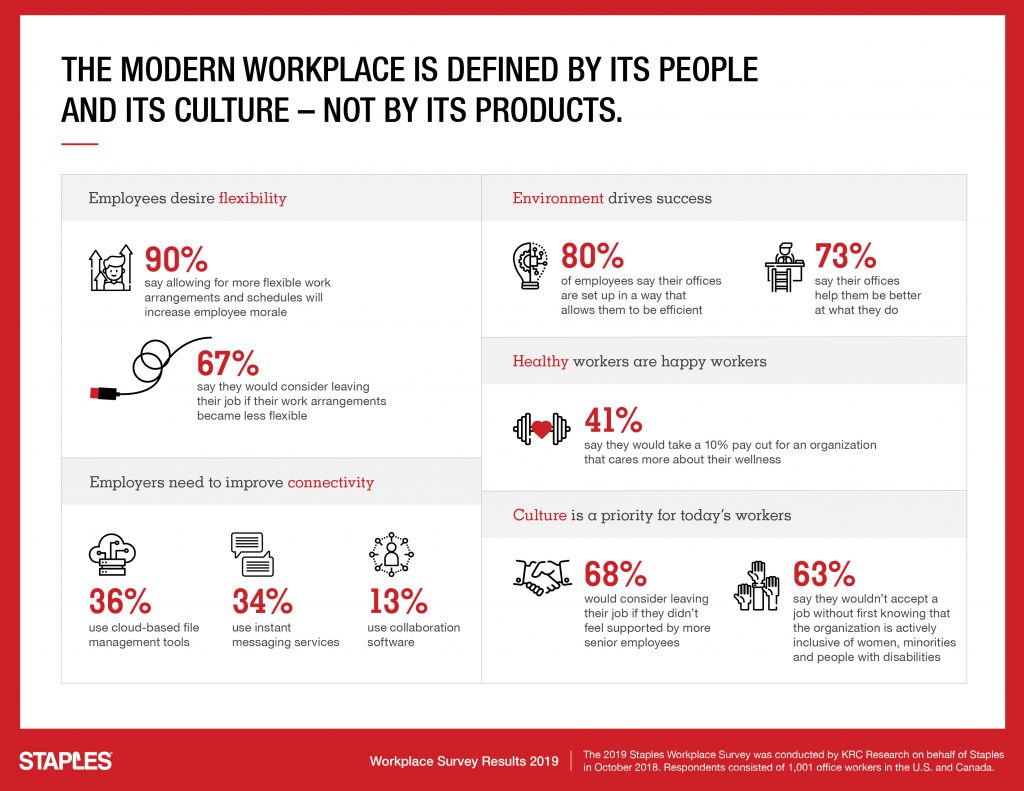 But by and large, employers, for their part, aren't getting the message. Only 34 percent of employers have a formal or informal policy in place on remote work (that flexibility issue), while 64 percent of workers say they work remotely at least part of the time. And while employers might jump on the latest office design bandwagon—open offices versus closed ones—employees aren't thrilled with that either, with 52 percent citing the distractions created by an open office layout and 40 percent saying their office space is too open.
Most companies are only given a grade of C by employees on their focus on health and wellness. Just 42 percent of respondents said their employer even offered a health and wellness program, and a scant 22 percent of workers say that the boss has a dedicated wellness room on the premises that can be used for breastfeeding or taking medication.
Employees with disabilities are particularly disappointed in how well the workplace supports their needs, with just two thirds saying their office space is physically supportive compared with 82 percent of workers with no disability. In addition, 77 percent of employees without disabilities say their office spaces enable productivity, but just 64 percent of employees with disabilities agree.
"The concept of work-life balance has given way to the simpler concept of 'work life'—one's life at work," says Chris DeMeo, vice president, Staples Brand Group. "Employees no longer embrace the traditional 9-to-5, and instead seek an environment that accommodates the fact that their needs may change day to day. The smartest employers are acknowledging this reality and offering their workers more autonomy when it comes to where, when and how they work. It may be a leap of faith for offices used to the old ways of doing things, but it's one that could yield dividends in terms of recruitment, retention and productivity."
Read more: