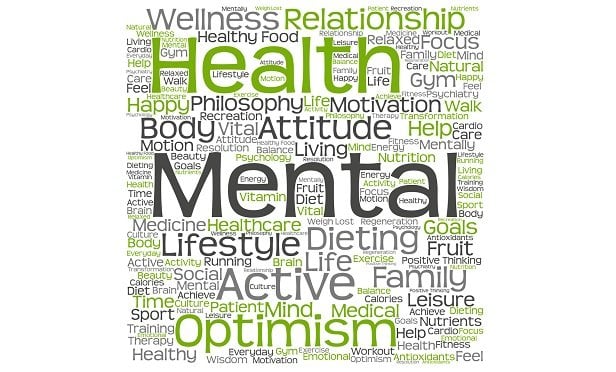 Employers are nearly unanimous in their agreement that employee's mental health has a direct impact on a company's performance. In fact, employers collectively lose somewhere around $225.8 billion annually to stress, anxiety, depression, substance abuse and other mental health issues.
So why aren't they doing more to address the issue?
In its recent 2019 National Employer Survey on Mental Health, the National Alliance of Healthcare Purchaser Coalitions took a close look at the progress employers are making and the challenges and opportunities that lie ahead.
Related: Breaking down the silos of mental and physical health care
The good news is that companies are waking up to the impact of mental health on business goals and putting programs and strategies in place to improve. The bad news is that they're overlooking one of the most crucial areas in need of improvement: the health plan.
"This is a space we haven't been addressing," Lynette Hall-Lewis, health engagement senior manager for the City of Memphis said in response to the results. "I haven't been talking to the benefits manager on ways we can integrate."
"In seeing so many answers listed as 'don't know,' I get the sense of this as a people issue versus a medical plan issue," agreed Liz Beckius, senior manager of HR rewards at Best Buy. "Who owns which programs in the sense of well-being and wellness versus medical plan? I don't own our medical plan, but I do own our wellness strategy."
Progress in company support tools
To be sure, the HR department has been doing its part to address employees' mental health. Recognizing the relationship between mental health and employee productivity, HR has invested in well-being programs, overhauling company culture to wipe out stigma and countless other mental health resources.
Campaigns to address the stigma of mental health and change the culture around it are paying off. "There are a number of leading organizations that have carried on campaigns to break that silence," Thompson said. "In every instance they have been very positively received, and it has led to a higher engagement among employees not just in talking about these issues but in engaging with the resources employers have in place."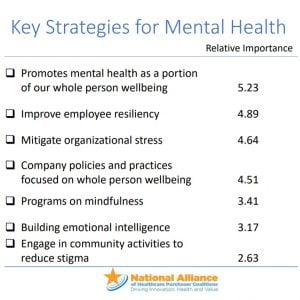 Well-being and holistic wellness programs as well are seeing significant investment by employers. "Many of us are familiar with employers starting to broaden their focus around well-being," said Michael Thompson, president and CEO at NAHPC, listing out some of the new areas employers are expanding into, including emotional intelligence and resiliency training. The latter, he says, is an area where employers' efforts might be redirected internally.
"There's a lot of discussion around resilience versus organizational stress," Thompson said. "Some research has suggested that as important as it is to help people cope with stress, the actual organizational demands and pressures are more predictive."
Despite the early tailwinds, there is still work to be done on the HR side: just 44 percent of employers have someone specifically in charge of "whole person well-being;" and 41 percent offer training on how to recognize behavioral health concerns in employees.
Continued focus on areas of well-being and the culture around mental health will not only have an ongoing impact on employee productivity, but it's good for the company image. "Employers end up being viewed as more caring by their employees when they take actions like this," Thompson said. "These issues are out there, when you break that silence, you give people permission to engage and talk about these issues, normalize this."
Failure to network
For all the wellness initiatives and support tools employers are offering, you'd think they'd know a little more about the actual mental health benefits included in their health plan. But this is where employers are coming up short.
Employers in NAHPC's survey knew surprisingly little about the mental health coverage in their health plans, in particular, the barriers to access care–64 percent think behavioral health access standards are the same for medical. "We don't see employers as activated as they could be on these issues," Thompson said. "Only one quarter employers are aware of barriers/access to network participation."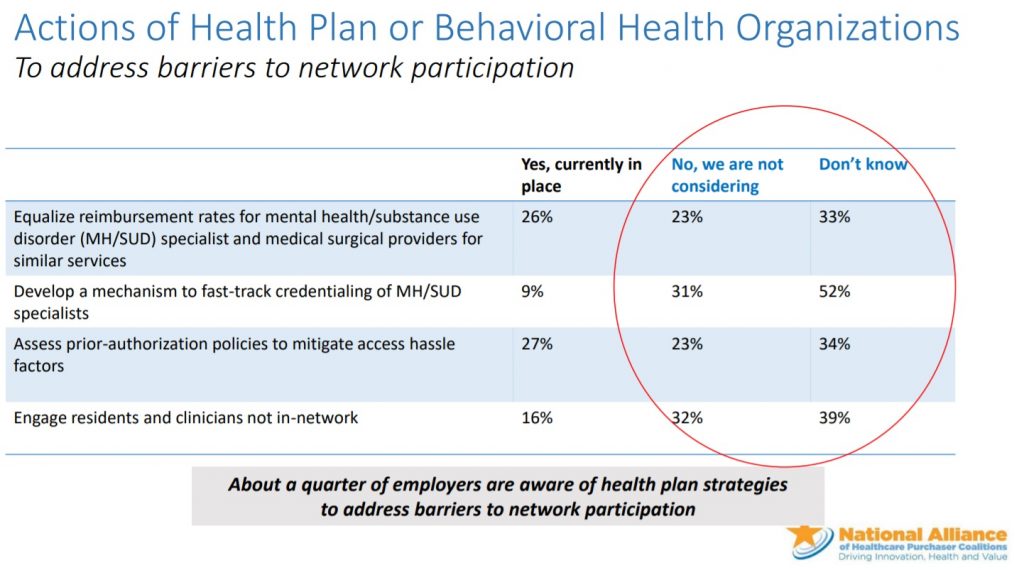 In reality, it can oftentimes be very difficult for patients to not only find in-network care providers, but find one that is accepting new patients. As Thompson explained, because many mental health providers can charge more (and deal with less paperwork) by treating non-network patients, they may decline to take new patients that are in network. "It's getting worse before it gets better," Thompson said. "Mental health professionals are retiring, and new professionals are being coached not to participate in networks."
So what can employers do? A lot, they just don't know it. Some of the strategies the NAHCP asked about included addressing reimbursement rates for mental health, fast-tracking credentialing specialists and improving prior-authorization policies–areas the majority of respondents either were either not addressing or did not know if were being addressed.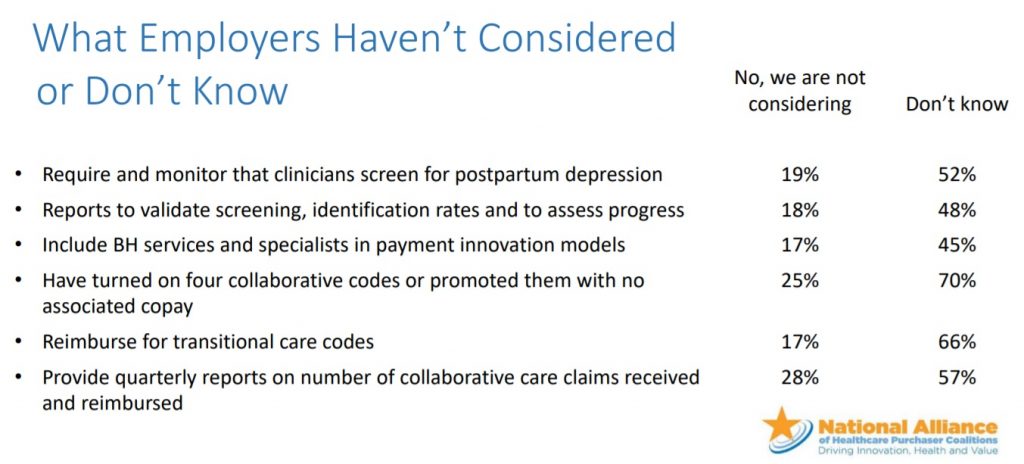 There's also the issue of medication management. Unlike other illnesses, medications for mental health issues aren't always an exact science. "Not all medications work for everybody," Thompson said. "You need to be sensitive to meeting the needs of individuals for things that are labeled as the same conditions."
When it can take weeks or months to find the right medication to help a person suffering from a mental health condition (and get them back to full productivity), there are actions employers could be taking to improve the process, such as genomic testing and measuring failure rates.
"Measurement of care should be the standard, but it's not all that common, nor is it required," Thompson said. "It's an area that I think behavioral health is behind other parts of medicine."
Some progress is being made, particularly in the area of telebehavioral health: 39 percent of respondents are promoting such services, and 23 percent are looking at doing so in the near future. Data coordination among vendors is being used by 46 percent of respondents, and half are monitoring substance abuse medication adherence.
Overall, said Thompson, the results are positive. "This is a battle we're winning. The culture on mental health and well-being is getting better every day, and one that employers are on the forefront of improving."
Read more: