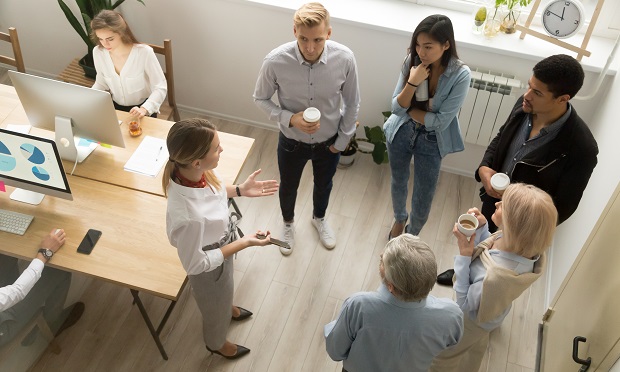 General counsel and their outside law firms have been wrestling with COVID-19 and its business and workplace disruptions for weeks now, as the novel coronavirus spread across the globe.
In early March, some employers were still skeptical of the seriousness of the threat, and some businesses were resisting government demands for "nonessential" businesses to close, lawyers said. Since then "everyone has had a Damascus road experience and now takes this seriously," said Howard Mavity, a partner at Fisher Phillips in Atlanta and a member of its COVID-19 and essential business task forces, who said the turning point came around mid-March after the NCAA college basketball finals were suddenly canceled.
"There is about as close to unanimity of agreement in the business and legal community with the exception of some outliers like Hobby Lobby. There is very much a willingness to do everything to fit into an essential business, but I've been impressed that no one is pooh-poohing things now," Mavity said.
Related: 3 FAQs about health care coverage and COVID-19
Early questions from in-house counsel at other types of employers were often about how to get designated as an essential business in order to stay open, Mavity said. Now, the questions "have shifted from how do we stay in business, to a second round of worker safety issues" prompted by findings that COVID-19 can be spread in the community by asymptomatic individuals and the number of people testing positive or getting sick.
Federal, state and local public health officials have repeatedly revised their guidance and instruction on general and worker health and safety as researchers learned more and more about the SARS-CoV-2 coronavirus, which causes COVID-19 disease, how it spreads, and how long the virus can live on surfaces. The learning curve for U.S. employers and their in-house counsel has been steep as organizations scrambled to adapt to everything from shelter-in-place and stop-work orders from state and local governments to the need for social distancing and remote work.
Now, as essential businesses such as pharmacies, food producers and distributors and retailers such as Amazon.com Inc. have continued to operate and even hired additional workers, some are facing job actions by workers claiming they are not being adequately protected from infection. Walmart Inc., for instance, has been hit with a wrongful death suit in Illinois by the family of an employee who died of COVID-19 alleging that the company failed to adequately clean the facility. Walmart said it has taken detailed safety measures.
Furthermore, everyone from doctors and nurses to postal workers, delivery people and construction workers are complaining about critical shortages of personal protective equipment, or PPE, as the global supply chain fractured under the pandemic. Some medical personnel are saying that relaxed federal government safety guidelines allowing for reuse of scarce face masks and gowns and substitutions are also putting them at risk.
Nancy Inesta, a labor and employment litigator and partner at Baker & Hostetler in Los Angeles and a chair of the firm task force on COVID-19, said, "We anticipate there could be a trend where employees who got sick or employees who got sick and passed away, their families could take actions alleging that their employers failed to take adequate action to protect them in the workplace, despite companies' attempts to comply with guidelines."
And as the crisis continues, more and more businesses are resorting to furloughs and terminations, which is creating more work for their legal departments, who have to wrestle with state and federal WARN notices and state and federal civil rights laws prohibiting discrimination against protected groups. Others are seeking guidance on how to qualify for government aid.
Grappling with changing worker health and safety rules
In a turnabout from earlier statements by the U.S. surgeon general and other health officials who in February urged the public to stop buying masks and said only medical personnel needed them, the federal government issued new guidelines in April that encourage members of the public and workers to use face coverings in order to slow the spread of infection.
On Wednesday, New York's governor said he was ordering state residents to cover their faces in public where social distancing isn't possible as did governors of New Jersey and Maryland. Earlier, Los Angeles passed an ordinance requiring all essential businesses such as food suppliers to provide employees with face coverings whether cloth or other, Inesta said.
"They are obligated to wear them while performing their jobs and employers are obligated to provide them, an absolute shift on whether employers should require employees to wear masks" in combination with social distancing, she said.
Mavity said of the cloth masks, "that is not PPE, it is crowd protection." A cloth mask is to limit the transmission of pathogens to others, not primarily to protect the wearer. Under Occupational Safety and Health Administration, a certified N95 respirator, which filters out particles, used by medical personnel and others, is treated as safety equipment and comes with employer obligations for training, he said.
Prior to the revised government guidance, some employers were discouraging public-facing employees from wearing protection for fear of putting off customers, but now more and more companies are requiring it, even where state and local laws do not mandate it, he said. Still, "we will inevitably get a question about a bandanna or a mask, when it is inflammatory or inappropriate," Mavity said. Someone who recently came in to work with a military-type balaclava with an open mouth, for instance, was sent home by a client, he said.
Inesta said that "in advising clients about masks, we are having to look at the guidance that has been promulgated by agencies like the CDC, WHO and OSHA, which by the way, has changed over time. We are not medical doctors, we are attorneys, and we rely on the agencies to provide the parameters for employers."
Because the guidance has been a moving target, she said she consults the agency web pages every day, but that some of the government's recommendations are also difficult for employers to meet.
"It is problematic," she said. "Some of the guidance is not practical and not conducive to the business environment. Ultimately, some employers are having to make significant operational changes to continue to conduct business while concurrently complying with the agency recommendations."
Figuring out what to do is a process, Mavity said. "There is a risk pyramid. Let's figure out what the risk is. For delivery drivers, or someone you are paying to shop for you, that is fairly high exposure. On the other hand, some of these other things with financial transactions over the phone, they have precious little exposure. In weighing that out, you would say, 'What is the minimum [protection] we've got to have?' Disposable gloves would be necessary and if you have someone shopping in a grocery store for someone, that may warrant masks or something else. Worst-case scenario, if you cannot adequately protect your employees, you wouldn't be able to put them in those roles. Employers might literally be faced with having to say, we just can't do that."
Employers do have some legal cover, however, for making tough choices so long as they are following agency guidelines, Mavity said.
"Under our law, workers' compensation is the sole remedy for an injured employee, but the injured or killed person doesn't have the right to sue for other damages," he said. "It is pretty much the same in all 50 states that the only time an employee can sue beyond that, and in order to get past the exclusive remedy bar, they have to prove that it was almost an intentional bad act by the employer of exposing employees to a situation a reasonable person would deem hazardous and not following CDC and OSHA guidelines."
Communicating about changes in agency regulations
OSHA has put out three notices relaxing rules about PPE, Mavity said. In the context of N95 respirators, "OSHA has broken down and relaxed their use of these because not a day has passed that we didn't hear from construction workers and others that they can't get them," Mavity said. "Temporarily you can use them longer, et cetera, because if you keep a mask too long it becomes a transmitter itself."
Ogletree, Deakins, Nash, Smoak & Stewart shareholder and litigator John F. Martin, who serves as OSHA counsel for three publicly traded companies, said OSHA "also recently approved the use of PPE certified in other countries during the health emergency. The agency recently issued another memorandum that it is permissible to order non-NIOSH equipment from overseas certified in other countries like EU certification, Korea, Japan, Mexico, Australia, Brazil and China" but China " only as a last resort." He said that is because although China has its own certifying agency, Europeans reported problems with counterfeit and substandard products.
OSHA also is allowing employers to use expired respirators because of the supply shortage. More recently, OSHA dropped a regulation requiring annual fit-testing of PPE for leakage in order to conserve scarce equipment.
"In terms of liability, I don't think we have had a situation where there was such a shortage of safety products that you couldn't protect everyone. Under that state of affairs, the best an employer can do is listen very carefully to what federal and state governments are saying and following them as best they can," Martin said.
All the lawyers said the best guidance for employers' in-house counsel is to keep checking the official government websites every day and check in with their outside counsel. "If you are a business with employees, the priority is the OSHA website. I would be surprised if they issued any guidance without preclearance from the CDC," Martin said.
"We tell employers to track OSHA and CDC guidance as much as possible, but it is guidance and not prescriptive," Mavity said. "Every employer has some duty to protect its people and it will be evaluated in the absence of specific OSHA standards in the circumstances at the time."
Some health care and other employees are reporting that they've been terminated or suspended for complaining about their employers not providing adequate PPE or expired or substandard PPE. Mavity said that is not advised.
"I've not personally counseled employers this round who discharged someone for complaining. That is black-and-white: Don't do it," he said.
Coping with labor shortages
Fisher Phillips' Mavity said some employers are struggling with labor shortages from the pandemic as more and more workers are quarantined or sent home because of an exposure to someone else with COVID-19, compounding the difficulty of remaining in operation. For instance, several meat processors, including pork producer Smithfield Foods, have temporarily closed plants on account of coronavirus outbreaks among workers.
"It was easy to send people home for 14 days when this wasn't happening much, but now it is enough to shut the business down, even if you are an essential business." Mavity said that now employers are "wrestling with what to do when you have to send a person home every other day and there is no bright-line test. There are a lot of judgment calls. And the other is six feet of separation. In some instances, six feet is impossible. What do you do then? It may be a choice of choosing the least bad option."
Mavity said that in hard-hit areas like New York City, some employers are already struggling with employees who are not ill but who are afraid to return to the workplace, a problem that might soon affect more employers as the federal and state governments move closer to trying to "reopen" the economy.
Another issue for employers is whether or not they need to report an employee's case of COVID-19 to OSHA. "Employers were tearing their hair out trying to figure out if an employee testing positive COVID-19 was 'work-related,'" Martin said.
"Under new guidance from the Occupational Safety and Health Administration, most employers should not consider COVID-19 cases to be reportable or recordable unless there is evidence that the case was related to work. This guidance is significant for employers, as it presumes that COVID-19 cases are not work-related unless there is objective evidence," he said.
Planning ahead for resuming operations
Some companies such as Starbucks Corp. are reported to be planning already to reopen as soon as government shelter-in-place orders are lifted. But the lawyers we interviewed had varied responses on whether their clients were similarly engaged.
"It's too early," Martin said. "My clients are still in the here and now. Some have had to close all operations and are still trying to figure out the leave issues with the congressional acts and furloughs and laid-off employees and just trying to get through that. I don't think employers can think about reopening until the government makes a decision on that and until somebody starts providing some sort of timetable. The federal and state governments have competing thoughts on that. I think the states were taking the lead on closing things down, and will take the lead on opening them up."
But Inesta said some of her clients are already forging ahead. "I am already in strategy with several companies and we are anticipating that these concepts of providing social distancing, and face masks will likely follow into a reopening in similar ways that they are being applied now. We are advising that employers take note of that, to the extent that they have to find face masks, sufficient cleaning products and antibacterial hand sanitizers. They should already be seeking to buy this equipment because we expect a lot of that to be required," she said.
Editor's note: This story is a condensed version of the full story from Corporate Counsel. The full story can be found here.
Read more: