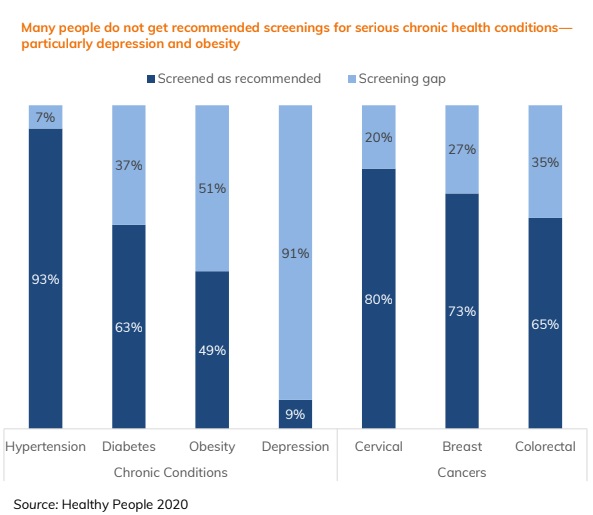 It pays to get employees screened for chronic diseases and cancer, especially as many have pushed off preventative medical appointments during the COVID-19 pandemic.
That's the conclusion of a report out this month by the Integrated Benefits Institute, which tracked the cost savings that preventative screenings have for employers. Some experts predict that employees, many of whom are too afraid to go to the doctor during the COVID-19 pandemic, will not return to normal screenings for another two years.
Related: When it comes to preventive care, consumers aren't getting the message
"What has happened now is COVID has already taken a problematic issue for employers and just compounded it 100 fold," said Kelly McDevitt, president of IBI, a nonprofit research organization. "Employees aren't going to get preventive care because they're afraid of getting COVID. Employees have to get them the education and information to get back on track."
The report found that, although depression is a chronic condition for only 13% of the workforce, about 91% of employees did not get screened for it. That's an "abysmal" rate, McDevitt said, given that one in eight employees end up with depression. It's also problematic during the COVID-19 pandemic, which she said could increase rates of depression.
"Depression and obesity are two we saw not screened before; now, we're hearing stories with people delaying and canceling care," McDevitt said.
According to a Health System Tracker compiled by the Peterson Center on Health Care and the Kaiser Family Foundation, spending in June plummeted on physician services (5%), hospitals (13%) and dental services (34%), when compared to the same month last year. That's slightly better than April 2020 but close to the same figures in March, when the COVID-19 pandemic first hit.
IBI's report suggested employers use positive messaging and financial incentives to encourage employees to get preventative screenings, particularly for chronic illnesses, the most common of which is hypertension, which, when caught in its mildest form, results in 52% less in disability costs.
The report calculated costs to include both direct medical expenses and indirect absenteeism from work, which reduces productivity.
The research, completed just as the COVID-19 pandemic hit, also identified the cost savings in getting screened for certain types of cancer. The cost savings for cancer were greater for younger employees, who take less time away from work for treatment.
But the research found productivity was especially hurt with depression. Depression accounts for $17 in disability wage replacement costs per employee annually, compared to $2 for diabetes, the next highest chronic condition, which affects 16% of the workforce.
"Cancers are more expensive to treat, but depression is the highest cost from a productivity standpoint," McDermitt said.
Read more: