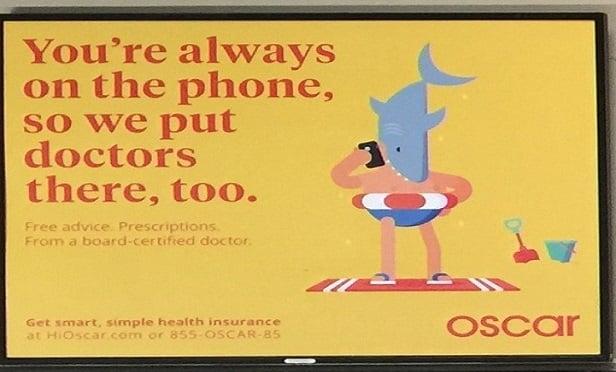 Managers of Oscar Health Inc. have tried to take an innovative approach to designing and marketing health insurance — and they're telling potential investors that one key to their success will be to attract insurance brokers.
The New York-based company last week filed a registration statement that could lead to the company selling shares of the company's stock to the public, through an initial public offering of common stock, or IPO.
Oscar warned in the registration statement that one of the risk factors it faces is the possibility that it might have trouble with brokers.
Resources
Oscar could have trouble growing its member base if "insurance brokers that we rely on to build our member base are unable to market our insurance products effectively, or if we fail to attract brokers to sell our insurance products, or lose important broker relationships to our competitors or otherwise," the company said.
In another part of the registration statement, Oscar said, "The commissions we offer to brokers could also increase significantly as we compete to attract new members."
Oscar Health
Oscar was founded in 2012 by Joshua Kushner and Mario Schlosser. Kushner is the brother of Jared Kushner, the son-in-law of former President Donald Trump.
The founders started by focusing on the market for individual major medical insurance. Since then, the company has branched out to add small-group health coverage and Medicare Advantage plans.
Oscar offers small group coverage through an alliance with Cigna Corp., and it offers the Medicare Advantage plans through alliances with hospital-led health care systems.
The company now has about 1,800 employees.
IT now has 529,000 enrollees in 18 states. It ended 2020 providing individual and small group coverage for about 400,000 people, and Medicare Advantage plan coverage for 1,924 people.
About three-quarters of the company's enrollees are in California, Florida and Texas.
Oscar has a care team to provide and coordinate care for each enrollee, and it says enrollee interactions with the care team help increase enrollee retention.
The IPO
Oscar has left key parts of the current version of the registration statement blank or put in what are believed to be temporary, "placeholder" figures.
The IPO could raise at least $100 million. Shares would trade on the New York Stock Exchange, with the stock symbol "OSCR." Goldman Sachs would lead the list of underwriters.
Registration statement details
For Alphabet Holdings LLC and other Oscar investors, the IPO would create a chance to cash out.
For agents and brokers, the IPO is a chance to learn a little about what's happening inside a company that, at this point, is focused mainly on the individual and small group commercial health insurance markets.
Today, the biggest publicly traded health insurers — Anthem Inc., Centene Corp., Cigna Corp., CVS Aetna, Humana Inc., Molina Healthcare Inc. and UnitedHealth Group Inc. — are focused mainly on the Medicaid, Medicare or large employer markets, or on activities other than providing health insurance.
Oscar's reports might give outsiders a better picture of what's happening in the individual and small group markets.
Here are some details from the registration statement:
Results: Oscar reported a $406 million net loss for 2020 on $463 million in revenue, compared with a $261 million net loss on $488 million in revenue for 2019. The company produced $223 million in positive net cash flow in 2020, up from $165 million in negative cash flow in 2019.
Reinsurance: In some ways, Oscar may be more like a health insurance distributor that retains some risk than an insurer. In 2020, it retained only 23% of the risk associated with the health insurance it sold. It passed 32% of the risk to AXA France Vie through one reinsurance arrangement, and 45% to Berkshire Hathaway Specialty Insurance Company through another reinsurance arrangement.
Affordable Care Act Premium Tax Credits: Oscar sells much of its coverage through the ACA public exchange system, to people who qualify for ACA premium tax credits. About 60% of the direct policy premiums Oscar collected in 2020 came in from the Centers for Medicare and Medicaid Services, in the form of advance premium tax credits.