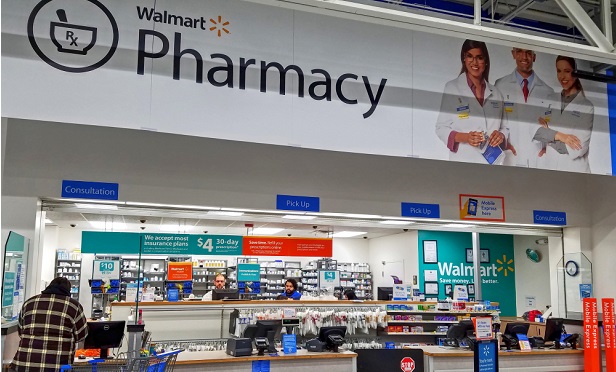 Both Amazon and Walmart announced plans this week to offer discounted prescriptions to consumers — effectively encouraging them to forego their existing health insurance benefits.
As Bloomberg.com reports, Amazon now offers six-month prescriptions starting at $6 for medications that treat common ailments. Because most insurance companies don't cover six-month prescriptions, the move is considered a way to attract uninsured customers, as well as those with plans that include high out-of-pocket prescription costs.
Related: Move over Amazon, Walmart's entering the telehealth game
Amazon Prime members will receive additional savings when paying without insurance, including a $1 per month price tag for select medications that treat diabetes and blood pressure, according to Reuters.com — which also notes Amazon may open brick-and-mortar pharmacy stores in the United States.
Meanwhile, Walmart+ — a membership-based service that includes such benefits as free shipping on all orders and has been described by company officials as "the ultimate life hack for our customers" — now offers exclusive savings on thousands of commonly prescribed medications through a new members-only prescription savings program called Walmart+ Rx for less.
The program includes medications for a variety of needs, including heart health, mental health, antibiotics, allergies and diabetes management. According to a statement from Walmart, Walmart+ members can access select medications at zero cost, plus thousands of additional prescription medications at a discount of up to 85%.
Walmart+ members can choose to use the prescription discount program instead of their insurance benefits by presenting their pharmacy savings card along with a valid prescription at any Walmart Pharmacy location. Walmart+ member discounts can also be applied to e-prescriptions provided from a prescriber and transferred to the Walmart Pharmacy. The prescription savings program is administered by MedImpact, a pharmacy benefits management company.
Since 2006, Walmart Pharmacy patients have saved on prescriptions through the retailer's industry-changing $4 generics program. "As a company, we're on a journey to make health care more accessible and affordable with our pharmacists providing their clinical expertise to our customers," Cheryl Pegus, executive vice president of Health and Wellness for Walmart U.S., said in a statement.
Read more: