Forty-three percent of Americans cited achieving better overall health as the primary reason to participate in a wellness program, according to the latest Principal Financial Well-Being Index. Reducing personal health care costs was the top influences for 33 percent of respondents while 31 percent of respondents said it was to lead a longer and healthier life.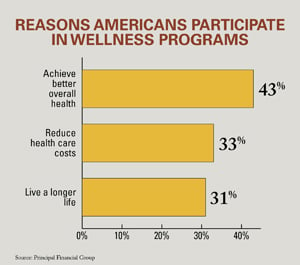 The index, which surveyed American workers at growing businesses with 10-1,000 workers, also found 53 percent of workers use weight management programs offered by their employers, a 25 percent increase over 2010. Additionally, 68 percent of respondents use personalized action plans for high-risk conditions, a 21 percent jump, and 84 percent use blood sugar screening, up 18 percent.
"This dramatic increase in workers taking advantage of these wellness benefits is indicative of Americans' greater sense of personal responsibility towards their own health," says Lee Dukes, president of Principal Wellness Company, a subsidiary of the Principal Financial Group. "With health care costs on the rise and increasing public awareness of illnesses like diabetes and heart disease, Americans are ready to take action. Workplace wellness gives employees a convenient, simple way to get started."
Though employee participation is driven by a sense of personal responsibility, 43 percent of respondents said wellness benefits motivate them to work harder and perform better. In fact, 28 percent of respondents believe their participation has caused them to miss fewer days of work, and 38 percent of workers credited wellness programs to improved energy and productivity at work.
"Employers who invest in their workers' wellness will see returns beyond a physically healthier employee," says Amy Friedrich, vice president of specialty benefits for The Principal. "By offering workers the means and the educational tools to take control of their wellness, you promote a healthier, more productive work environment."