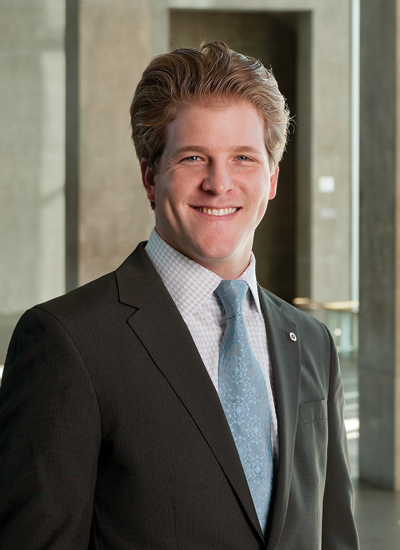 Photo by Jim Olvera
Family gatherings with Matt Stadler's family are interesting to him, though they admittedly bore his wife, Katie. At holidays, the senior vice president of Dallas-based Frost Insurance talks about regulations, insurance trends and which direction the market is going with the other Stadlers—his dad Mark, and his brother, Adam, who happen to work at the same self-funding group (which Matt does business with, too).
"We'll have a lot of disagreements on what's a 'next practice' or a 'best practice.' Insurance companies provide a lot of great products, but the delivery in our business—as a consultant, as a broker, as an adviser, whatever you consider yourself—is our place to shine. We talk about how do we deliver something better than what it is right now."
"Whether we agree or disagree, it's fun," he says. "They've sharpened the tool set I have, offering challenges and conversation I may not get elsewhere."
Despite insurance being in his blood, anyone who knows the youngest Stadler probably will agree he's successfully paved his own path. At just 29, Stadler is what colleague Brian Latkowski calls one of the most gifted benefits advisers in the country.
That's because of his "ongoing commitment to gathering industry knowledge and providing innovative solutions," a glaring example, Latkowski says, "of what most our customers are looking for in a partner, a true business adviser."
For his part, Stadler is quick to give credit to Frost, an organization, he says, based on high ethical standards, a rarity in most businesses today.
"It's something a lot of people have on a piece of paper," he says. "They have a mission statement because everyone else does. I think ours is more reflective of who we are and not the opposite."
It's the kind of company people are actually excited about, Stadler promises, himself included.
And this is what works for him—treating each client as his most important, making them trust him, giving employers advice based on what they need, not on what they want to hear or on what he wants to sell. It's what keeps his clients coming back to him. It's what has helped him exceed sales goals by 25 percent in 2008, 120 percent in 2009, 270 percent in 2010 and 250 percent in 2011. Though for him, it's not just about the numbers.
Instead, Stadler is all about the relationships. It's a concept he learned growing up in Chicago, communicating with his father and his father's friends who were salesmen, too. He got a good grasp of relationships in textbook format, when he studied communication sciences and disorders at Texas Christian University. And he practiced it firsthand before committing himself into the health care industry (beginning as a sales executive at Great-West Healthcare) when he worked as a financial adviser for two years at Smith and Associates in Fort Worth, Texas.
"That financial background allowed me to get a grasp of companies' financials quicker," Stadler says. "It was the product I understood quickly, and I became an asset to brokers at that time, calling on them to understand employers meet their bottom line reads."
That, he says, helped him find a niche—a salesperson who understood both the value of the product and the value of the employer's bottom line.
Ask him if he's worried about health care reform or unemployment numbers or the state of the economy, and he'll tell you no. It excites him, and it makes him an expert on subjects that frankly scare other people. These "challenges," he claims, gives him an opportunity to work with people on an entirely different level.
Plus, it gives him another opportunity to think ahead. Stadler's strategy is thinking long-term: Nothing, he tells employers, can be done without a roadmap. Planning is how employers will get to the point of offering "something unique other employers aren't offering."
"[Employers] need to be preparing for their future financially," Stadler says. "If you aren't planning long-term in today's culture with working with benefits and working with employees, you've already missed the ship."
Benefits Selling: How's business going? With the economy the way it is, and health reform ramping up, how are people reacting?
Matt Stadler: It's an interesting time. Clients and employers see a major fork in the road with health care reform. The big question is where are we going from here and what are we doing, because health care reform will always be a part of our landscape and our future. So what I tell clients and prospects is they want to set rules. They understand they're paying a lot of money for benefits these days, they're shelling out cash for it and they want to be sure their employees are really receiving a benefit that they're helping frame and control how they're being used on a day-to-day basis.
You've got multiple generations working for these companies and they all interpret data differently and purchase benefits differently. And with health reform looming, it's important.
For these companies they're competing for the best employees and providing outstanding benefits. Others say they don't think they're able to do that much longer, so we help them develop an exit strategy and help their employees transition, or come up with a compensation strategy.
BS: Dropping benefits scares a lot of people. How much of that are you seeing?
MS: I wouldn't say a tremendous amount, but in the back of employers' minds, [they're thinking] what's the best option for my company, my financial situation and how do we put ourselves in the best light in 2014 and going forward? Whether they're going to keep benefits or drop them, everybody's having that conversation at least on some level. And they need to be.
[Read "Survey: Employers will drop coverage if competition does"]
BS: With this double whammy of hits for your business—and for employers—does either hurt you more?
MS: There are a lot of opinions on health reform and the economy. A lot of people say the economy is just killing us, people are laying off employees and it's hurting us financially. And I hear people say health reform will kill this business, and that's a sad thing to hear. What I see is actually the opposite, that it creates opportunity for you to be an adviser to your client and your marketplace. It gives an opportunity for people to look at you like an expert. Rather than focusing on commission dollars, focus on your clients.
For example I have a client who's hurting financially. They've got problems with revenue coming in, they can't keep employees on staff because they can't afford to pay them and they were getting hit hard by a big renewal this year. At Frost, we have priorities—that we are a safe and sound place to do business, and everybody is significant. I told them offering a full-blown benefits plan might not be something you can do, because if an employee is looking at their benefits or their job, they need their job. And as a broker, that's money directly off what we're making. But we're doing the right thing for the client and it makes me into adviser capacity, and for them, that client will come back.
BS: You've touched on relationships, and you've earned your degree in communications studies—just how important are relationships?
MS: Trust is a big factor in this business. This is not a product-based business; it's a relationship-based business. It's one where if you can get engrained into the culture of your clients, you can understand their needs better, you can fit solutions that fit better within their systems.
BS: Tell me a little about Frost and what makes it different.
MS: Frost is unique in its culture. We've got something called a blue book engrained in our system as a new hire. Our CEO…comes to each location and that's what he talks about. The blue book outlines what kind of character we have… We treat everyone as significant and that goes from the top down. There are a lot of great brokers and consultants out there as individuals who are doing fantastic things, but what sets us a part is us together.
BS: You have some great sales numbers. How do you do it?
MS: It's not showing up to a client once a year or twice a year and saying 'Here's what your renewal looks like.' It's developing a relationship with them and their needs. How's your payroll? Do you have a wellness program? Would you like one? If you go out and talk about best practices today, you're behind the curve. You need to be talking about next practices. I think my success is directly tied to looking at things a little bit differently, bringing solutions to the table, being proactive and not reactive. Also it's an emphasis on who I work for—Frost has fantastic market recognition.
BS: You talk about next practices versus best practices. What's the difference?
MS: Best practices are finding financially strong insurance companies and products to disperse to your clients. It's doing enrollment meetings and your best to educate them in that context. It's talking about wellness programs as how they used to be or how they are.
Next practices are diving in, finding out how to streamline HR services, how to develop more significant communication channels and streams to your employees, how to develop an insurance or health care program around what your employees are actually using rather than just picking benefits out of a box and handing them out. It's developing on-site health clinics, telemedicine clinics—something I think will be great for satellite locations, and that's where you are speaking virtually to your doctor via a television set, essentially. I think those are things that will be cost effective, ways to create benefits to your employees. It's about looking at new ways to deliver care, analyze data and deliver benefits and new ways to take that communication campaign to every employee and how they use benefits specifically.
BS: What do your clients connect to?
MS: A different response. Everybody has the same question about how they want better benefits at a better price. It's a great goal and attainable in some situations, but I think they're looking for a partner in some sense who will not give them a cookie cutter response about how things are. I think they want someone who's gonna say 'Let's talk about who you are as a company; let's talk about where the market is going, what health care reform is doing and what the Supreme Court will decide and how that will affect your company's situation. And let's prepare for how that will affect you today so that tomorrow we aren't looking back saying 'what's going on, what happened?''
BS: Trends to watch this year in health care?
MS: Supreme Court ruling on the individual mandate. One of the first questions I get when I meet with clients is 'What's happening with health reform?' They always want an update. I tell them to plan for health reform being a part of our landscape, because it will be. Plan ahead, then you don't have to worry. Make sound financial decisions for your business now that will still be sound in five years. And, how do we communicate with different generations and how do we deliver health care at a favorable price? I also see wellness programs, technologies and self-funding growing in the next couple years.
BS: Speaking of challenges, you're a younger broker in a business made up of mostly older generations. Is that a good place to be, and why don't younger people get into this business more often than they do?
MS: The average age of a broker is about 55 years old—and that's very apparent to me as I go to different conventions or meet my peers. And I think that does present a great opportunity for young people to bring a new message, to bring energy to the business, to come in and look at things a little different. If everyone built a ship the exact same way in 1800 and no one came along and said maybe there was a better way to do this, then we wouldn't be where we are today. That's the same thing with benefits. There are unique ideas out there from brokers of all ages, but we young brokers look at things differently, we interpret what a benefit is differently, and we look to deliver that differently. So for young people looking into getting into the business, now is the perfect time. There is absolutely a generational gap with the average age of brokers and myself, for example. And how we bridge that gap and how we change health care over the next 10 years is gonna impact how we operate in this business 50 years from now. We also understand technology in different lights.
BS: Where do you see the broker business going from here?
MS: My wife asked me if I was going to still have a job in five years. I told her absolutely. I think if you aren't changing the way you do business today, you won't be around in five years. How do you develop that partnership around creating solutions for employees rather than just selling products? Because in five years, companies are still going to be hiring employees. We're still going to be needing cars and batteries and desks and computers. Benefits, brokers and how we work in this space is going to change. And our capacity to change with it—that's going to make a difference. We are still going to offer benefits to employees because we still have to attract the right people. You still have to retain important people. Let's look at the total package here. How do we offer something unique here that other companies aren't offering? How do we compensate our employees? That's significant.
Read "A look at the next generation of brokers"]
BS: What's life outside of work like for you?
MS: I don't let work define me. I let my family define me, and my faith. Part of that is being involved with other people's lives. If I had one goal, it would be to have an impact on someone else in a positive way [Stadler is involved in a list of volunteer organizations, such as Habitat for Humanity and the Down Syndrome Partnership of Tarrant County]. Life outside of work is just as busy as life inside work. I got two kids, one coming; I got my wife, Katie, and I try to be active in every way in their life. I like being involved in building a community. I want to make sure that my kids in 30 years have the same opportunities that I do.