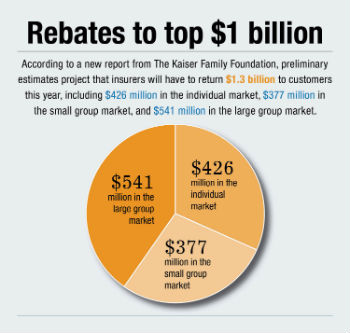 Experts are gathering more evidence that health insurer rebates this year will top $1 billion. Consumers and businesses can expect to receive notices of their rebates by August.
Rebates are required by new rules governing the medical loss ratio (MLR) for health insurers. Under this health reform policy, health insurers offering coverage to individuals and small businesses must spend at least 80 percent of their premium income on claims and quality improvement activities, and 20 percent or less must be reserved for administrative expenses. The MLR threshold is higher for large group plans, which have to spend at least 85 percent of premium income on claims and quality improvement.
Insurers that don't meet these standards are required to issue rebates to their customers.
According to a new report from The Kaiser Family Foundation, preliminary estimates project that insurers will have to return $1.3 billion to customers this year, including $426 million in the individual market, $377 million in the small group market, and $541 million in the large group market.
Earlier this month, The Commonwealth Fund released its own estimates of rebates based on 2010 marketplace data. If the medical loss ratio rules were enacted then, insurers would have to give back roughly $2 billion to customers, with Texas issuing the highest amount at $255 million in rebates.
Kaiser's analysis does not include the state of California, where many plans are regulated by the state Department of Managed Health Care and the data is not yet available. The figures, however, almost parallel estimates from the Department of Health and Human Services, which predicts that up to 9 million Americans could be eligible for rebates worth up to $1.4 billion.
Average rebates per person could total $164 in the individual market, according to HHS. That's slightly higher than the average $127 Kaiser is predicting.
Kaiser also says the average rebates for individual purchasers range from just a few dollars in some states to as much as an average of $305 in Alaska, $294 in Maryland, $243 in Pennsylvania, $241 in Idaho, and $236 in Mississippi.
Rebates are expected to go to almost one-third (31 percent) of consumers in the individual market, Kaiser reports. Among employers, about one-quarter (28 percent) of the small group market and 19 percent of the large group market is projected to receive rebates. The share of consumers in the individual insurance market expected to receive rebates ranges from near zero in several states to as high as 86 percent in Oklahoma and 92 percent in Texas.
The Obama administration has allowed special consideration for particular market situations. In the individual market, Health and Human Services Secretary Kathleen Sebelius can adjust the MLR standard for a state if it's determined that meeting that standard may destabilize the state's individual insurance market.
By February, the department had reviewed 18 states that requested an adjustment to the medical loss ratio rules. Wisconsin, for example, requested the 80 percent standard be changed to 71 percent, 74 percent, and 77 percent for the reporting years 2011, 2012, and 2013, respectively.
Seven states have received federal waivers from MLR requirements. However, along with 10 other state requests, Wisconsin's adjustment was denied. HHS says the move will put another $323 million back into the pockets of health insurance customers.
How will consumers receive rebates?
Rebates will be issued in several ways. Some consumers will see an actual check, and some may receive their rebate in the form of a discount on future premiums.
Rebates in the group market will generally be provided to employers and in some cases, Kaiser reports, these will be passed on to employees as well.
For people enrolled in only part of the year, rebates will be prorated.
Insurers must send notices to consumers informing them of the rebate and how it will be paid.
By the Numbers: Rebate estimates in the individual, small group, and large group markets
(Source: Kaiser Family Foundation)
Individual
$426 million – Amount that individual market insurers are expected to rebate
215 – Number of insurance plans nationwide that expect to issue a rebate
3.4 million – Number of covered persons in insurance plans that will issue rebates
$127 – Average rebate amount per person
Small Group
$377 million – Estimated total amount of rebates
146 – Number of small group plans nationwide that expect to pay a rebate
4.9 million – Number of enrollees expected to get rebates this year
$21 – Rebate amount expected to be paid to employers and workers when averaged over all enrollees in the small group market

Large Group
$541 million – Total reported rebates
125 – Number of insurers that are expecting to issue rebates
7.5 million – Number of enrollees expected to get rebates this year
$14 – Rebate amount expected to be paid to employers and workers when averaged over all enrollees in the large group market *Note: Insurers offering coverage to large businesses in 14 states report that they do not expect to issue rebates this year.

Editor's note: The Kaiser Family Foundation data for the insurance rebates are based on estimates provided by insurers in filings to the National Association of Insurance Commissioners in the 2011 Supplemental Health Care Exhibit. The source of the data was the Health Coverage Portal TM, a market database maintained by Mark Farrah Associates, which includes information from the NAIC. Actual rebates will be based on reports insurers submit to the federal government later this year.