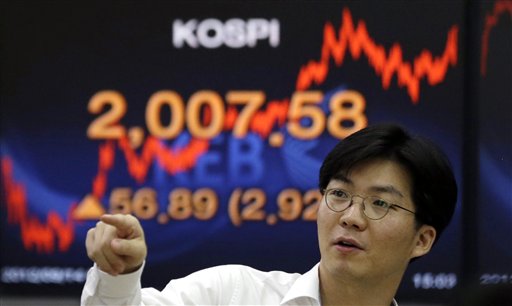 MILAN (AP) — World stock markets shot higher Friday after the Federal Reserve met investor expectations by giving the green light to big asset purchases to boost the U.S. economy.
"What wasn't expected – and explains the particularly exuberant reaction by markets – was the open-ended nature of the latest plan, with the U.S. committing to buy bonds until the economy improves.," said David Jones, IG chief market strategist. "All of this has raised hopes of providing a shot in the arm for the global economy."
European stocks surged. Britain's FTSE 100 rose 1.5 percent to 5,910.95. Germany's DAX gained 1.37 percent to 7,410.65 and France's CAC-40 added 1.98 percent to 3,571.27. And Wall Street opened higher, on track to record one of the best weeks since June. The Dow Jones Industrial was up 65 points to 13,605, the S&P was up seven points at 1,467, and the Nasdaq composite index was up 21 at 3,177.
The euro currency edged higher to $1.3147 from $1.2985 late Thursday in New York. The dollar rose to 78.08 yen from 77.45 yen
Oil prices rose above $100 for the first time since May, pushed up by the Fed's moves as well as tension in the Middle East and Africa, before dipping below. It was up $1.35 for the day at $99.65.
Europe's rally was on top of big rallies in Asia, where Hong Kong's Hang Seng rose 2.9 percent to 20,629.78, a level it hasn't seen since early May. Japan's Nikkei 225 index jumped 1.8 percent to 9,159.39 and South Korea's Kospi vaulted 2.9 percent to 2,007.58.
The Fed's pledge Thursday to buy $40 billion of mortgage securities a month until the economy improves comes a week after the European Central Bank announced its most ambitious plan yet to ease Europe's financial crisis by buying unlimited amounts of government bonds to help countries manage their debts..
European finance ministers were meeting Friday in Cyprus. Greece's creditors indicated it may give it more time to cut its budget, and Spain appeared to inch closer to making a formal request for financial assistance — adding to the upbeat mood.
The Fed has been under pressure to act because the U.S. economy is still growing too slowly to reduce high unemployment. The unemployment rate has topped 8 percent every month since the recession officially ended more than three years ago.
In August, job growth slowed sharply. Employers added just 96,000 jobs, down from 141,000 in July and well below what is needed to bring relief to the more than 12 million who are unemployed.
The unemployment rate did fall to 8.1 percent from 8.3 percent. But that was because many Americans stopped looking for work, so they were no longer counted as unemployed.
Analysts said economy-bolstering moves by authorities in the U.S., Europe and China bode well for markets at least in the short-term.
"It certainly seems like sentiment is largely positive now," said Stan Shamu of IG Markets in Melbourne, Australia. "I think everyone will be much happier knowing the Fed will support a recovery."