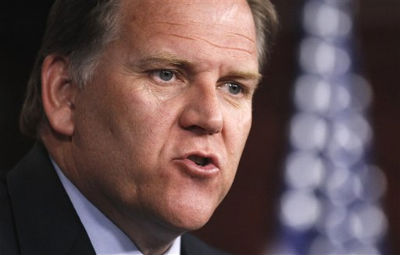 The House Energy and Commerce Committee passed a bill Thursday to exempt insurance agents' commissions from the medical loss ratio calculation in President Obama's Patient Protection and Affordable Care Act.
The 26-14 vote most fell along party lines, with the exception of Rep. John Barrow, D-Ga., who's sponsoring the bill along with Rep. Mike Rogers, R-Mich.
Republicans supported the bill, saying it would protect the jobs of agents and brokers, while Democrats argue it would weaken an important consumer protection. The bill, H.R. 1206, was introduced last March.
The PPACA requires insurance companies to spend 80 percent or 85 percent of their premiums on health care costs, leaving only the remaining 15 percent or 20 percent for profit and administrative expenses.
The committee decision was one the broker community wanted to hear.
The National Association of Health Underwriters praised the decision, saying the MLR requirements have a "devastating financial impact" on health insurance agents and brokers.
"While we agree with the goal of providing consumers with more value for health care dollars spent, the PPACA MLR requirements significantly and negatively impact access to health insurance agents and brokers, at the very time our economy and health care consumers need the most help," NAHU CEO Janet Trautwein said in a statement.
Danielle Kunkle, a Medicare adviser at Boomer Benefits in Fort Worth, Texas, says the legislation could be the ticket for providing employment to hundreds of thousands of health insurance agents across the nation.
"The agents I know work very hard to earn their commissions, and most of their clients would be lost without their guidance. [They] deserve to have a continued career in their chosen field, one in which they can still feed their families on what they earn delivering the exemplary service to their clients," she says. "Considering the dismal unemployment numbers we've grown so used to seeing, this bill could have a huge impact on job growth in the insurance sector."
Still, the controversial issue isn't through, yet.
While the House passed the bill, its future in the more evenly-divided Senate later this year may prove problematic, some analysts say.
Democrats have had their own fuel for stopping the bill, in part due to a report released just last week by the Department of Health and Human Services that said the MLR rule saved consumers about $1 billion.
"The health care law is holding insurance companies accountable and saving billions of dollars for families across the country," HHS Secretary Kathleen Sebelius said in a statement. "Thanks to the law, our health care system is more transparent and more competitive, and that's saving Americans real money."
Democrats on the House Energy and Commerce Committee also said in a brief that while the MLR has been in effect, the number of jobs in the agent and broker field has increased not decreased.