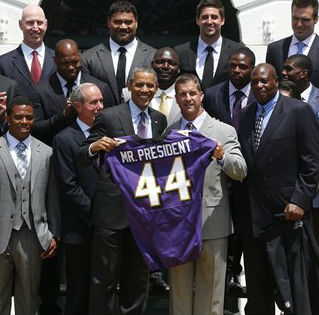 The National Football League has nixed a U.S. Department of Health and Human Services proposal to help promote Obamacare.
HHS Secretary Kathleen Sebelius had approached the NFL and other professional sports organizations to help spread the word and encourage implementation of the Patient Protection and Affordable Care Act.
Opposed to the idea, U.S. Sens. Mitch McConnell, R-Ky. and John Cornyn, R-Texas, wrote a letter to six major sports organizations, including the NFL and Major League Baseball.
"It is difficult to understand why an organization like yours would risk damaging its inclusive and apolitical brand by lending its name to its promotion," McConnell and Cornyn wrote.
Whether the NFL agreed with that sentiment was unclear, but NFL spokesman Greg Aiello said the league has no plans to help promote the PPACA during televised events or at sporting events.
"We have responded to the letters we received from members of Congress to inform them we currently have no plans to engage in this area and have had no substantive contact with the administration about (the health-care law's) implementation," Aiello said in an email to news outlets.
In an effort to help educate the public about the benefits of the PPACA and to engage a greater number of young people, the Obama administration had been trying to recruit the NFL and other professional sports organizations. Young, healthy people are needed in the PPACA process if premiums and medical costs are to be contained.
The precedent for this had been set by Massachusetts in 2007 when the Boston Red Sox was enlisted by the state government to encourage residents to sign up for the state's health insurance plan.
McConnell and Cornyn took issue with that initiative in their letter, saying: "The Massachusetts law was adopted by large bi-partisan majorities in a Democratic legislature and signed by a Republican governor. 'Obamacare' was passed on a party-line vote, using extraordinary legislative gimmicks and widely ridiculed political favors to win passage."
As many as 7 million people are expected to sign up for coverage in the new PPACA exchanges by the end of 2014. But in order for that to happen, Americans first need to know about them, and an outreach plan is critical. In addition to sports organizations, Sebelius has said the administration also is looking to everyone from religious groups and community organizations to help with promotion of the PPACA.