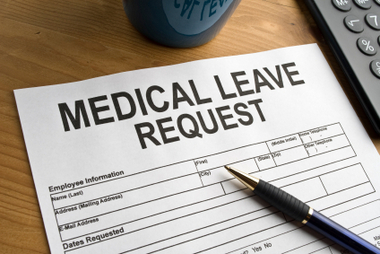 Employers who think they're complying with the Family and Medical Leave Act could be overlooking tie-ins or overlaps with other complex laws, such as the amended Americans with Disability Act.
If a worker suffers from depression and takes FMLA leave, for instance, the American with Disabilities Act could kick in with additional unpaid leave as an ADA-defined reasonable accommodation.
In fact, nearly 80 percent of short-term disability claimants have a concurrent FMLA claim, according to a study conducted earlier this year by Integrated Benefits Institute.
That leaves employers struggling to manage leave, or uncertain how to comply with federal and state laws in the face of FMLA abuse.
That's where brokers come in.
Because of these legal complexities, employers are relying more on brokers for advice than ever before to predict future disability claims, according to Gary Kirkner, senior vice president of sales for Cigna.
Employees on FMLA leave have been shown to be five times more likely to have a subsequent short term disability claim compared with those who aren't, he says.
"Brokers need to become more consultative and really understand these laws," Kirkner says. "Most employers want to be in compliance with the law — that's their biggest fear. But we have employers who never refuse an FMLA request, and that's obviously problematic. Others feel they're using FMLA and ADA inconsistently."
More than three-quarters of employers feel challenged by administration, while 69 percent struggle with managing intermittent leave, according to a study by human resources consulting firm Watson Wyatt Worldwide.
Dean Rocco, a California attorney and adviser to the National Human Resources Association, says most employers don't have a solid grasp on how leave absence for pregnancy disability, workplace injury, mental health and other disabilities can overlap under federal or state laws.
Bottom line? They need a lot of guidance from carriers and brokers.
"What employers struggle with first is understanding whether or not an individual presenting a need for leave or request for time off qualifies, and whether they should be checking boxes for multiple, concurrent, or one set of statutes," he says. "There's also the misunderstanding that, after 12 weeks or a certain amount of leave, FMLA is the end of the equation. They may say that it's not possible to hold their position, but there are other considerations. We like to refer to it as a Bermuda Triangle of HR."
In addition to the legal hurdles, there's also a lot of pressure on HR executives coming from the operations side of the business, particularly with chronic, non-life threatening issues such as back injuries.
"The bottom line is, though the operational side wants regularly attending employees, if this person meets a threshold level of a test, they're entitled to some sort of protection," Rocco says.
Many employers are beginning to take on the time and expense to get a second opinion, often by a certified HR practitioner.
Also read: 6 ways to prep for FMLA cases
Partnering with carriers
Cigna's Kirkner says many companies also are taking a holistic approach, pairing up with carriers to provide health promotion programs, vocational counselors and clinical expertise.
"We're able to validate the problems or reasons as part of the law, and are able to refer them to behavioral management programs, for instance, which could involve financial advice or refer them to facilities that may be helpful," he says. "By doing that, we find that in most cases they can stay at work longer, be more productive, and on the whole combine using absence management productively and keeping people at work, which of course makes the employee happy as well as the employer."
Cigna, for one, says it works hard to "arm brokers with the resources needed to offer sound advice and solutions" to HR personnel. The carrier also launched an online resource for brokers regarding FMLA and ADA called "Absence Matters," that includes information and best strategies for helping clients.
While it's tricky enough to deal with legitimate cases, Rocco says there are always "the people who want to work the system so to speak and will use the laws around mental conditions, and torture the employer with them. They want a three-day weekend, so they say they have a mental issue, and that is tough for employers who feel that legally they may not be able to ask questions or push back."
Having a certified HR practitioner can help, as well as insisting on and documenting medical certifications as much as the law will allow.
Marc Freedman, executive director of labor law policy for the U.S. Chamber of Commerce, says use of medical leave in an unscheduled way or in small increments is one of the biggest problems for employers under FMLA.
"We see that employees are taking advantage of this leave in ways that are not consistent with the original intent of the law," Freedman says. "Employers understand the need for time for family. It's not about employers trying to be mean, overbearing, nasty or uncaring of employees' needs. It's about the employers' interests, to have their employees at the time they need them. You can't make a business go without employees you need to do that work. Ironically, the people who bear the brunt are the other employees who often have to cover for those who aren't there, and they know often times when an employee is using FMLA improperly. That creates morale and tension issues."
One of the biggest mistakes an employer can make is granting leave to ineligible employees, or misunderstanding what qualifies someone for leave, Kirkner says.
"There has to be consistency, and if there is that, then I think at the end of the day people will be compliant," he says. "I do believe FMLA can really trigger a lot of good things for employees, particularly if they can get when they need from it, to keep them at work and keep them productive."