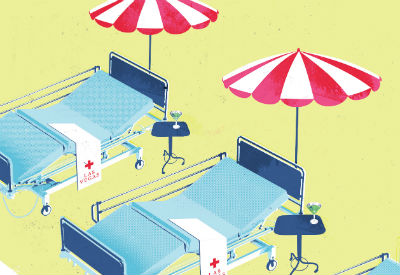 Dr. Geoffrey Sher says he's responsible for the births of at least 17,000 babies around the world, though he hasn't had to travel very far to make that happen.
About 85 percent of his clients have journeyed from out of state or overseas for his in vitro services, while about 3,000 people visit his website each day, perhaps planning their own pilgrimage of sorts for artificial insemination, genetic testing or egg freezing.
So where is this fertility treatment mecca, where hopeful couples must settle in for half a month to commit to a long string of consultations and treatments?
It's a city not associated as often with medicine as it is with luck.
Las Vegas is seeing patients from around the world flock to the city for spinal care, cancer treatments, research of Alzheimer's and Parkinson's diseases, obesity surgeries and cosmetic procedures — so much so that the city has recently made medical tourism one of its top priorities.
While slots or cabarets might not be at the forefront of one's mind when planning a time-consuming and costly medical procedure, doctors and city officials say Sin City is ripe for international recognition as a health hub.
"Las Vegas is an attractive place — there is easy entertainment, it is a relatively inexpensive destination, and it's just a fun city for people to stay for two weeks, especially when for instance what we do does not incapacitate them," says Dr. Sher. "They can go out and play and enjoy themselves, rather than sitting in a hotel room worrying or waiting. In these fields of niche care, boutique medical centers can offer unique services, and in a fun environment."
Read: 8 most popular medical tourism destinations
Perhaps the best sign that Las Vegas is being taken seriously by the medical community is the fact that it will host the World Medical Tourism and Global Health care Conference in November. The event, to be held at Caesars Palace and hosted by the Medical Tourism Association, will bring together about 2,000 medical directors, doctors and decision makers to brainstorm on topics including communication with global health insurers, or transparency in total pricing for overseas patients.
"We saw Las Vegas as a good place to hold the event this year as medical tourism there is growing hugely at the moment, and there seems to be opportunity there for it to expand," says Jean Rodriguez, marketing and engagement coordinator for the association, which is based in Palm Beach Gardens, Fla.
So will what happens in Vegas, stay in Vegas?
A big economic driver
When Carolyn Goodman was elected mayor in 2011, she pushed for medical tourism in her first two state of the city addresses, promising that it could become one of the city's biggest economic drivers in a bid to revive the city's image and to diversify its industry.
While Las Vegas has always been a destination for cosmetic surgery, Goodman saw the state-of-the-art Cleveland Clinic Lou Ruvo Center for Brain Health, which opened in 2009, as an anchor for the city's serious credentials for top-tier medical tourism.
A medical wellness and tourism manager was appointed to the Las Vegas Convention and Visitors Authority, which also put out a 176-page Health and Wellness Destination Guide with a list of treatment centers and details for how much visitors should plan to spend on their trip (about $2,400 in addition to their procedure).
"People are initially surprised because historically Las Vegas has not promoted itself as a destination for health and wellness," says Cheryl Smith, hired last year to look at ways to blend health care with the city's $45 billion tourism industry.
The LVCVA partnered last year with the Las Vegas Spa Association, and with Las Vegas HEALS, formerly known as the Southern Nevada Medical Industry Coalition, a nonprofit organization with more than 600 health care professionals.
Doug Geinzer, the chief executive of HEALS, says it will take some time before Las Vegas is seen as a medical hub. But it does have a few things on its side, including the fact that its grasp on hospitality is difficult to match.
"We have the top hospitality universities in the world, and what we can learn from that, we hope we can deliver to patients — exceptional customer service, something that Las Vegas has always excelled at," Geinzer says. "We hope we could develop a reputation for delivering that same kind of expertise in the health care space. We firmly understand that we're not going to be a transplant capital of the world, but we do have core competencies in areas such as bariatrics and brain health, and with 41 million annual visitors we have the capacity in terms of rooms, entertainment, dining or shopping."
Geinzer says local experts are working together to determine how best to take advantage of the high concentration of spas on The Strip, which in total can see up to 1,000 patients an hour and offer a diverse menu of therapy treatments ranging from Turkish to Indian to Brazilian.
"How can doctors collaborate with those therapists — for example, orthopedics?" he says. "They're looking at bundled payment models and how that can be applied to other areas of expertise."
Battling skin cancer for the past two decades himself, Geinzer says there is also a great advantage to having a fully exposed body for an hour during a massage. A dermatologist could be on hand to offer preventative checks.
Promoting prevention
In fact, Las Vegas could be a base for preventative health measures for fast-moving businessmen who travel often and have little time to make such appointments back home. Holding 22,000 conventions just last year, "we could easily take advantage of those folks regularly coming to Las Vegas once or twice a year for annual check-ups, scheduled around their meetings," Geinzer says.
There are doubters, however. Jim Rogers, former chancellor of the Nevada System of Higher Education, has been one of the industry's biggest critics.
"There is a very serious question about the quality of practice of medicine in this city or part of the state, whether doctors are working together, and why the medical school is 40 years behind its counterparts in Arizona, Utah and New Mexico," he says. "There is no cohesion in the medical community, and in fact there is the backstabbing and handling of competitors that is so very common in this town."
The University of Nevada School of Medicine only graduates 50 students a year, 45 of which leave the state because it has no sufficient residency programs for doctors, Rogers says.
"Until they get their act together, medical care is not going to improve here," he says. "And if people think that all they have to do is provide entertainment or things to do instead of sitting in the waiting room, I'm not sure that is the right attitude to take when it comes to quality of care."
Dr. Nicholas Vogelzang, an expert in prostate, kidney, bladder and testicular cancers, disagrees, saying that in the 10 years that he has been practicing in the state he has seen support from the city and from other medical professionals.
He says people will travel to Nevada for care for several reasons. In his case, patients often come for the sought-after Cyberknife technology he uses for treating cancer. But he believes it is also a place that is accessible to people with modest means or constrictive insurance plans.
"Not everyone can afford to go to the spas or spend thousands at the casinos, but flights are affordable and plentiful, there's lots of choice for hotel, the airport is close and it's easy to get around," Vogelzang says. "For advanced cancer patients the treatments are frequent, and toxic. These patients don't mind having a comfortable experience.
"At the same time, when it comes to medical care, of course people love their home doctors and prefer to stay in their hometowns. Why would they leave for medical care? They don't have the expertise, that's really the reason."
Dr. Vogelzang, who is now in private practice, says he left his base in Chicago to run the Comprehensive Cancer Centers of Nevada with promise that it would soon become a destination cancer center.
"That was always part of the plan, but we did not have the funding to keep it alive," he says. "But that does not blunt the idea. We have world-class surgeons and experts here who have come together, who have created a medical community here."
Having published 450 papers on cancer research, he has seen patients from around the world. But does he believe Las Vegas will become more renowned for its operation tables than for its poker tables?
"Las Vegas is always going to be Las Vegas, it's never going to become Houston or New York," he says. "There will always be that aura of gambling or relaxation, but, there are good reasons to come for medical care, and people can then relax and not feel like they're going to an out-of-the-way joint. But are we better than UCLA or University of Colorado? Of course not. We're in the same league at some levels, and not at other levels."
Also read: 8 most popular medical tourism destinations