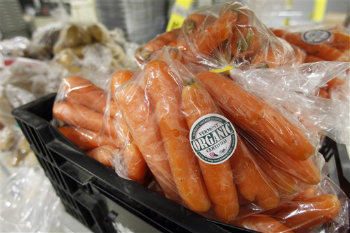 Wellness programs are more popular than ever.
But while more and more companies are stepping up campaigns to encourage exercise and healthy diets, many are finding that penalties are possibly the best prescription for wellness success.
Seven in 10 U.S. companies say that developing a workplace culture where employees are responsible for their health is necessary, a recent survey found. Employers are increasing use of financial incentives, specifically penalties and outcome-based incentives, to improve health outcomes.
In 2014, nearly four in 10 American companies will use penalties — such as premium and deductible increases for individuals who don't complete certain health management activities — and that figure is expected to jump to 61 percent for 2015-2016, according to global consulting firm Towers Watson.
Outcome-based incentives that reward or penalize employees based on tobacco use will grow from 54 percent next year to 71 percent. Rewards or penalties for other biometric outcomes, such as body mass index, blood pressure or cholesterol level, will jump dramatically from about a quarter in 2014 to 68 percent.
But what works better — the carrot (financial incentives) or the stick (penalties)?
Health care incentive expert Francois de Brantes says most individuals feel losses greater than they appreciate gains.
"Individuals get very tired very quickly of the carrots," he says. "Unless you constantly up the ante, and constantly offer an additional carrot, it's completely ineffective."
A good example, he says, is the industry's reaction to the wide availability of generic prescriptions in the 1990s.
"The average clients wanted brand-name drugs, and the shift rate to a generic substitute was about 30 percent," he said. "Now, there is a plan design that, if there is a generic substitute, the plan member must pay the difference beyond the cost of the generic. Once that was instituted and the penalty was phenomenally high, the shift rate was suddenly 90 percent."
But companies that have moved forward with financial penalties to encourage participation have felt the backlash.
In July, Pennsylvania State University told its employees and their spouses that they'd face a $100 monthly surcharge unless they completed a biometric screening and an online wellness profile. They also had to certify they've had — or planned to have — a physical.
CVS Caremark introduced a similar program earlier this year, saying employees who received an annual health screening would avoid paying an additional $600 in the plan year. Both Penn State and CVS stressed they wouldn't have access to the health screening results.
Cincinnati-based Western and Southern Financial charges health-care-premium surcharges to employees with high body mass indices. Midwestern hospital chain Indiana University Health, formerly Clarian Health, announced several years ago that it would deduct money from employees' paychecks for unhealthy behavior, such as being overweight.
In all cases, employees have protested — but that's a good sign, de Brantes says.
"You can give the $50 reward or a membership to the gym, and it will attract those who wanted to do it anyway and see it as free money," he says. "The reason we're hearing so much screaming about this is that it is going to force people to change a behavior, or pay the price, and they resent that. But in the end, compliance toward the desired behavior is far greater."
Studies published by the Association of Psychological Science found that employees felt threatened by wellness programs with penalties, and preferred incentive-based policies.
But both are becoming increasingly widespread, partially because the Patient Protection and Affordable Care Act offers greater incentives for healthy employees.
While more organizations are rewarding rather than punishing, that could begin to change, says Roy Buchinsky, director of wellness for University Hospitals in Cleveland.
"If you can prevent your employees from requiring care, you can save money," he said. "They will do what they need to for people who are less motivated, and that may mean lighting a fire underneath them."
But while employers institute wellness programs to comply with the Patient Protection and Affordable Care Act, they might run afoul of other federal laws, notes Susan Lessack, a partner at law firm Pepper Hamilton. The Equal Employment Opportunity Commission has yet to issue any guidance under the Americans with Disabilities Act on whether, and to what extent, participation rewards — or penalties for non-participation — are lawful.
Also read: