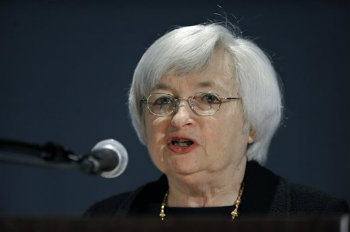 April 9 (Bloomberg) — A welcome relief from rising health care costs for consumers is being less warmly received at the Federal Reserve.
The slowdown is frustrating the efforts of Chair Janet Yellen and her colleagues to lift inflation out of the doldrums, suggesting they will need to press on with record-low interest rates.
Price increases, not counting volatile food and energy costs, decelerated to a 1.1 percent year-over year pace in February from 2 percent two years earlier, with medical goods and health-care services accounting for almost a third of the slowdown, according to data compiled by Bloomberg based on the government's personal consumption expenditures price index.
The cost of health-care services rose just 0.8 percent in February from a year earlier, compared with an average 2.6 percent pace in the prior 10 years. Prices of medical goods such as prescription drugs rose 2.2 percent, down from the 10-year average of 2.7 percent.
Behind the slowdown in medical costs: cuts in Medicare reimbursements under last year's budget sequestration, and an influx of cheaper generic drugs as patents expired on brand-name prescription medications. Downward pressure on health costs will ease this year with fewer patent expirations and no repeat of sequestration. Still, that won't be enough to lift overall price increases to the Fed's 2 percent goal.
"It's going to be a slow grind for medical care this year overall," said Omair Sharif, an economist at RBS Securities Inc. in Stamford, Connecticut. Health-care inflation levels are "not going back to the pre-recession days."
Volcker, Yellen
The Fed, which conquered runaway inflation in the 1980s under Paul Volcker's chairmanship, is now trying under Yellen to head off the opposite problem, persistent disinflation. Yellen has said policy makers are aware that a lack of inflation could "pose risks to economic performance." Low inflation makes it harder for borrowers to pay off debts and for businesses to boost profits.
Investors are showing doubts about whether the Fed will succeed in rekindling inflation and are moving money out of exchange-traded funds tracking U.S. inflation. Traders pulled $524.6 million in the five days ended April 7 from the iShares TIPS ETF, the largest fund tracking Treasury Inflation Protected Securities. That erased all of the inflation bets accumulated in March, when the fund saw inflows of $326.8 million.
February reading
February's 1.1 percent core PCE reading matched January's as the lowest since March 2011. Including volatile food and energy costs, PCE inflation, the Fed's preferred gauge, was even weaker, slowing to a 0.9 percent year-over-year pace, less than half the Fed's 2 percent goal.
"If inflation is persistently running below our 2 percent objective, that is a very good reason to hold the funds rate at its present range for longer," Yellen said at a March 19 press conference.
The Fed's target for the federal funds rate has been at zero to 0.25 percent since December 2008. The central bank won't raise its benchmark interest rate until the third quarter of 2015, according to the median estimate of 65 economists in a Bloomberg survey conducted March 7-12.
Slow course
Health-care costs, which make up almost a quarter of the core PCE gauge, will stay on a slow course this year, according to Bloomberg survey of 24 economists conducted April 1-3. That'll make it even tougher for inflation figures to justify tightening monetary policy.
Sixty-three percent of the economists surveyed see health inflation rising in 2014 at a pace that's short of historical averages, with an additional 8 percent projecting health-care costs will come down.
Price increases for medical services, which make up the biggest share of health costs, have eased in the past two years. Physician fees rose 0.2 percent in the year ended in February, down from 1.6 percent in February 2012, and the expense of nursing home care increased 0.3 percent, compared with 1.8 percent two years earlier.
Economists have yet to see the impact on inflation from the Affordable Care Act, which aims to reduce the number of uninsured Americans while controlling the rise in medical costs. While the measure's employer mandate taking effect next year will expand the number of insured individuals seeking health- care services, that increase in demand may be counterbalanced by any success the law has in keeping a lid on costs.
Lifting demand
"We're covering more people with insurance, and therefore presumably lifting the demand for health care, and there's no corresponding rise in the supply of health care," said Dean Maki, chief U.S. economist for Barclays Plc in New York and a former Fed economist. While that's a "modest positive" for medical inflation, he said, "what's more difficult is to weigh the broader impact of the Affordable Care Act."
Sequestration's impact on medical costs last year has had a ripple effect throughout the health-care system. A 2 percent across-the-board cut to Medicare provider claims took effect in April 2013. That month, core inflation plunged to a two-year low of 1.2 percent year-over-year as cost increases for health-care services decelerated to 1.3 percent from 1.9 percent the previous month.
Following Medicare
"Medicare has been an industry leader for price-setting for reimbursement rates, so when they're forced to cut by 2 percent at the start of the year, insurance firms follow suit and what you end up seeing is lower reimbursement rates to hospitals and physicians for all kinds of health-care procedures," Sharif said. "To me, that's been the biggest aspect of the slowing pace, at least in 2013."
Also weighing on health-care costs is a surge in patent expirations for brand-name prescription drugs that has led to a flood of generics entering the market and driving down prices.
In 2012 alone, drug sales lost due to expiring patent protection totaled $24 billion, almost 10 times the amount in the prior year, according to data from eight major drugmakers compiled by Bloomberg Industries. This year those companies are projected to lose another $14 billion in sales to generic competition.
Consumers see the impact in lower copays as generics are substituted for name-brand drugs. The copay for a typical generic drug is $10 a month, while its brand-name counterpart costs $50 a month, according to the Foundation for Advanced Education in the Sciences at the National Institutes of Health.
Generic substitutes
The share of prescriptions filled with generic drugs has increased to 82 percent in the last three months of 2013 from 60 percent in the first quarter of 2007, data from Bloomberg Industries show. CVS Caremark Corp., the largest provider of prescription drugs in the U.S., sees that rate rising to 85 percent by 2016.
Prescription drug prices rose 2.7 percent in February from a year earlier, down from 4.3 percent in the same month in 2012.
While patent expirations peaked in 2012, the trend toward heavier use of generic drugs continues to keep downward pressure on inflation, said Jason McGorman, a health-care analyst at Bloomberg Industries in Princeton, New Jersey.
AstraZeneca Plc loses U.S. patent protection in May for its acid-reflux medicine Nexium. At that point, Ranbaxy Laboratories Ltd., India's largest drugmaker, is set to have six months of exclusive rights to produce a competing generic before more are allowed to flood the market, according to an e-mailed statement from Vanessa Rhodes, a spokeswoman for London-based AstraZeneca.
Nexium sales
Nexium generated $3.9 billion in sales last year as AstraZeneca's second best-selling drug.
Global spending on drugs will continue a shift toward generics, which will rise to 36 percent of total sales by 2017 from 27 percent in 2012, according to data from the Danbury, Connecticut-based IMS Institute for Healthcare Informatics.
Economists in the Bloomberg survey see the Affordable Care Act taking over as the most important influence in pushing down prices in the year ahead as the effects of Medicare cuts and expiring drug patents recede. Thirteen of the 24 economists surveyed said the law will play a primary role in reducing the prices insurers pay health-care providers.
"Even if there's a rise in cost, I don't think it'll be very large," McGorman said. "They'll be trying to do everything they can to keep those costs down."
With assistance from Catarina Saraiva, Chris Middleton and Jeff Kearns in Washington and Allison Connolly in London.