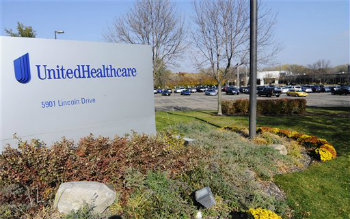 (Bloomberg) — UnitedHealth Group Inc., the biggest health insurer by sales, beat analyst earnings estimates as revenue grew from its technology and consulting unit that helped fix the Patient Protection and Affordable Care Act insurance website.
Net income was $1.41 billion, or $1.42 a share, down from $1.44 billion, or $1.40 a share, a year earlier, the Minnetonka, Minnesota-based company said today in a statement. Earnings per share beat by 16 cents the $1.26 per share average estimate of 22 analysts combined by Bloomberg.
Revenue rose 7 percent to $32.6 billion, led by an increase in customers in Medicaid, the administrator of U.S. health benefits for the poor, and a 28 percent boost in sales for the company's technology, consulting and prescription drugs unit, known as Optum. UnitedHealth is the first of the large health insurers to report second-quarter results.
"I think generally the results will be viewed positively for the group," said Brian Wright, an analyst with Sterne Agee & Leach Inc.
UnitedHealth shares rose less than 1 percent to $84.34 at 9:30 a.m. in New York trading. It had gained 27 percent over the past 12 months as of yesterday. WellPoint Inc., the second largest health insurer, also rose less than 1 percent to $112.52 and Aetna Inc. rose less than 1 percent to $82.29.
See also: Lack of competition drove up PPACA costs
Sales for Optum grew $2.6 billion. The business manages drug benefits and works with hospitals, employers and governments to lower health costs. It's also been credited with helping to fix the U.S. website for people to enroll in insurance under PPACA. It has since been hired by several states to aid their online enrollment.
PPACA effect
UnitedHealth said that PPACA's requirements and fees cut profit by about 0.9 percentage points. The law also grew the company's business in Medicaid, which was expanded under PPACA. This year, the insurer added 650,000 people through the program, Stephen Hemsley, UnitedHealth's chief executive office, said on a call with analysts today.
See also: The UnitedHealth exchange effect
"We see the next 18 months as important, given that by January, 2016, the ACA will largely be in place and we will be entering an election cycle that will set the stage for shaping the next phases of health reform," he said. "In the individual market, we plan to grow next year, as we expand our offerings to as many as two dozen state exchanges."
The company reported lower expenses than analysts were expecting, helping them beat earnings expectations, said Wright.
"Given the challenging first quarter, they were probably very focused on managing their operating-expense line," he said. "It was an underwhelming first quarter and a much better second quarter."
Forecast raised
The company raised the bottom end of its full-year earnings forecast, saying it expects profits per share of $5.50 to $5.60 a share in 2014, up from $5.40 to $5.60 per share. The company expects revenue this year of $130 billion, an increase of as much as $20 billion from its previous estimate.
"Our focus on executing on fundamental details, delivering innovative and responsive services that consumers value and building deeper relationships is creating stronger momentum and improving our outlook," said Stephen J. Hemsley, UnitedHealth's president and chief executive officer in the statement.
The company added 270,000 customers in the quarter with most coming from government and senior insurance plans and its expansion outside the U.S.
Revenue from its Medicare and retirement plans grew 7 percent to $11.8 billion. The company saw a decrease in revenue from its U.S. commercial division, which provides coverage to individuals and employers.
See also: