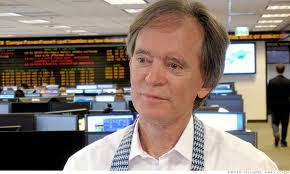 Sept. 24 (Bloomberg) — Bill Gross's Pimco Total Return ETF is being investigated by the U.S. Securities and Exchange Commission over whether it artificially inflated asset prices to boost returns, according to the Wall Street Journal.
The issues being probed by the SEC include whether the $3.6 billion exchange-traded fund bought investments at discounted prices while relying on higher valuations for the assets when the fund calculated the value of its holdings, the newspaper reported yesterday, citing unidentified people familiar with the matter.
"Pimco has been cooperating with the SEC in this non- public matter, and we take our regulatory obligations and responsibilities to our clients very seriously," Mark Porterfield, a spokesman for Newport Beach, California-based Pimco, said in an e-mailed statement. "We believe our pricing procedures are entirely appropriate and in keeping with industry best-practices."
Gross's exchange-traded fund, which employs a strategy similar to his $221.6 billion Pimco Total Return mutual fund, was started in March 2012 to attract what the firm described at the time as "mom-and-pop investors." Since March 1, 2012, the Pimco Total Return ETF has returned 16 percent, compared with the 9.1 increase for the mutual fund and 5.6 percent return in the Barclays U.S. Aggregate Index for bonds, according to data compiled by Bloomberg. This year, Pimco Total Return ETF has advanced 5 percent, compared with 3.6 percent for the mutual fund and 4.1 percent for the index.
The SEC's probe into pricing issues at Pimco has been going on for months, according to the Wall Street Journal report, which also said Gross has been interviewed by SEC investigators.
Calls to the agency after normal business hours weren't immediately returned.
Pimco Redemptions
ETFs, which have turned into one of the most popular investing vehicles over the past decade, trade on an exchange and can be bought and sold like stocks. While the majority of them mimic broad market indexes, some like Gross's Total Return ETF employ an active strategy in which the manager selects securities.
Gross, 70, is a co-founder and chief investment officer of Pimco, which manages about $1.97 trillion in assets. His Pimco Total Return mutual fund has suffered 16 straight months of redemptions as returns have trailed rivals and investors have turned away from traditional fixed-income strategies in anticipation of rising interest rates. Investors pulled a record $41.1 billion from the fund in 2013, and an additional $24.8 billion this year through August, according to estimates by Morningstar Inc. in Chicago.