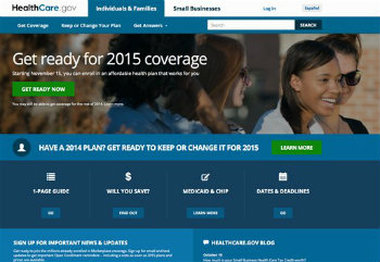 With the second annual open enrollment period for Obamacare now underway, many uninsured Americans are still unaware that they can now go online to get health insurance. And about four in 10 say they will remain uninsured because they don't think they can afford coverage, despite the generous subsidies offered by the program.
The latest Kaiser Health Tracking Poll revealed these and other truths about health insurance in America. The poll was done just prior to the opening of the enrollment period, and found that 49 percent of those without insurance at present believe they will be able to obtain coverage this year. Of the 41 percent who said they'll probably go another year without insurance, 24 percent said they didn't think they'd be able to find a plan they could afford.
For the uninsured who believe they will get insurance at last, 25 percent said they would do so because they felt they really needed health coverage. Only 13 percent cited the mandate to obtain coverage or the penalty portion of the mandate as they reason they would seek coverage.
Other details from the poll of uninsured Americans:
77 percent said they did not know when the open enrollment period began;
10 percent thought open enrollment begins in January;
18 percent had a health insurance professional contact them about coverage;
70 percent believe they need health insurance;
30 percent said they were healthy enough not to need insurance;
38 percent are under the age of 30;
63 percent have an annual family income of less than $30,000;
33 percent self-identified as Hispanic.
"Opinion on the law remains similar to past months — 46 percent say they have an unfavorable view of the law and 37 percent say they have a favorable view," Kaiser Health said. "Americans are divided as to what Congress should do next on the law — 29 percent say they support repealing the law entirely, 17 percent say they support scaling back what the law does, 20 percent support moving ahead with the law as is, and 22 percent feel that the law should be expanded."