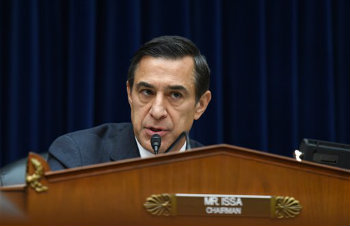 (Bloomberg) — Republicans in the U.S. House of Representatives subpoenaed an
MIT economist
to demand records of his work on Obamacare for federal and state governments that they say will shed light on how the law was passed.
The Massachusetts Institute of Technology economist, Jonathan Gruber, appeared before the Oversight and Government Reform Committee on Dec. 9 and in several contentious exchanges with Republicans refused to disclose how much he was paid for work on behalf of the Obama administration. Republicans have accused the executive branch of hiding details of the law's creation and implementation, and see Gruber as holding answers.
"He is in a unique position to shed light on the 'lack of transparency' surrounding the passage of the president's health care law," the oversight panel's chairman, Republican Darrell Issa of California, said in a statement today.
At the Dec. 9 hearing, the panel asked Gruber to testify about public appearances in which he
belittled voters
and suggested that Democrats passed the Patient Protection and Affordable Care Act in 2010 by deceiving the public.
Gruber downplayed his role and apologized for his past remarks, calling them "
uninformed and glib.
" In some cases, he said, "I simply made insulting and mean comments that are totally uncalled for in any situation."
The subpoena asks for all of Gruber's communications with federal, state and local government employees, any records of funding for his work from government agencies, and his work products, including economic models he built for the administration to predict the effects of the Affordable Care Act.
Gruber was a consultant to the Health and Human Services Department as the law was under development. The Obama administration paid him about $483,000 in 2009 and 2010, according to data compiled by Bloomberg Government.
"Dr. Gruber repeatedly refused to answer several key questions, including the amount of taxpayer funds he received for his work on Obamacare," Issa said. "The American people deserve not just an apology, but a full accounting, which Dr. Gruber must provide."
Gruber said in an e-mail that he had no comment on the subpoena.