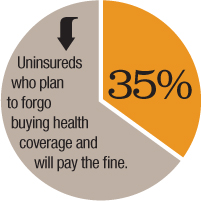 About 35 percent of the uninsureds plan to forgo buying health coverage under the Patient Protection and Affordable Care Act and instead pay the fine mandated by the law, according to a Gallup poll.
The number of people defying the individual mandate under the PPACA has increased 6 percentage points in the last year, despite an increasing fine for not having insurance. Those without coverage face a fine of $325 per person or 2 percent of income, whichever is larger. Last year, the fine was $95 or 1 percent of household income.
Nearly 30 percent said they were not aware they must have insurance or pay a fine at the time of the Gallup polling period, Oct. 22 through Nov. 12.
"This suggests that more than a year after the health care exchanges opened and more than four years after the health care law was passed, challenges remain in regards to educating uninsured Americans about the new requirements," Gallup wrote.
Gallup also found that the uninsureds' familiarity with the exchanges continues to lag, with 46 percent saying they are "not familiar at all" with the exchanges, and another 19 percent claiming they are "not too familiar" with the exchanges. Eight percent say they are "very familiar" and 22 percent are "somewhat familiar."
Open enrollment runs through Feb. 15.
Meanwhile, 55 percent of uninsured do plan to get health insurance, while another 10 percent said they weren't sure or had no opinion. Though the number, Gallup said, is "an encouraging sign that more progress will be made toward the Affordable Care Act's major goal of reducing the uninsured rate," more people still may not follow through with their intentions of purchasing insurance due to barriers to getting it.
The nation's uninsured rate currently sits at about 13.4 percent.
"HSA plans are increasingly becoming an important and valuable coverage option for consumers and employers," AHIP President and CEO Karen Ignagni said. "HSA plans provide important tools to support consumers and families in their health care decisions and to help them save for future medical expenses."