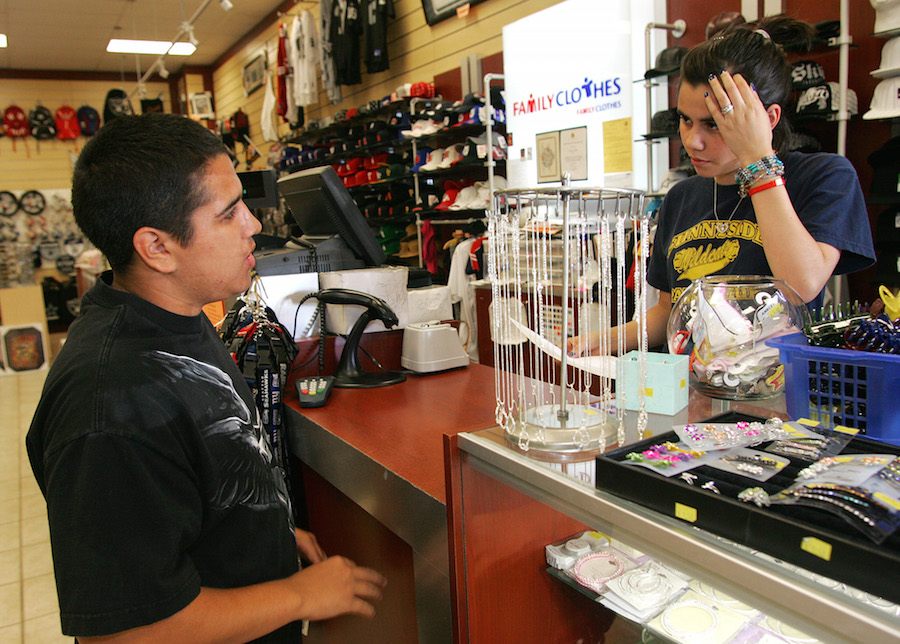 (Bloomberg Business) — For teenagers, a summer job is a rite of passage. They learn the freedom that comes with earning their own money — along with the misery and boredom of the daily grind. But until recently it's been nearly impossible for most teens to find work. Even as the economy improved, the unemployment rate for 16-to-19 year olds hovered around 25 percent for years.
This could be the best summer for teen jobs since at least 2008. In the last several months, the teen unemployment rate dipped below 18 percent — a big improvement, even if it's still triple the rate for the general population.
But even if the economy keeps improving, don't expect a return to the heyday of the summer job.
Most teens aren't counted in the unemployment rate because they aren't bothering to look for work. And the disappearance of teens from the workforce is a long-term trend that started even before the recession of 2007-to-2009. As recently as 2000, more than half of teenagers were in the workforce, as measured by the the labor force participation rate for 16-to-19 year olds. Today, it's less than a third.
One theory is that teens are just too busy these days with other activities. They're studying for SATs, training for fall sports, going away to enrichment camps and doing volunteer work that will look good on college applications, says Andrew Challenger, vice president of staffing firm Challenger, Gray & Christmas. They're also recovering from busy school years.
"Kids are getting worked so much harder in school these days," Challenger says. "By the time summer rolls around, they really do need that summer break."
Another explanation for the shrinking teen workforce is economic. Even before the recession, the labor market wasn't perfect. As wages stagnated in the 2000s, adults have been taking low-wage, low-skill jobs traditionally reserved for teenagers.
To add to the trouble, teens are rarely savvy job hunters. They don't always know where to look for jobs, and they give up easily. Social media and Google searches are often less helpful than old-fashioned networking.
"You can't find a job sitting behind a computer," Challenger says.
This summer, a teen's job outlook may depend on where he or she lives. Minnesota has the fifth-lowest unemployment rate. Oriane Casale, who tracks local job trends for the Minnesota Department of Employment and Economic Development, expects teens there to have a much easier time finding jobs this summer. Fast food restaurants in the Twin Cities seem desperate for workers, she says.
Plentiful jobs wouldn't just give teens some extra pocket money. Many studies show that summer jobs pay off long-term, boosting school attendance, lowering crime rates and setting teens up for career success later on. For college-bound kids, these advantages may be less crucial— especially if they're using their summers productively. But for teens not planning to go to college, a little job experience is vital to understanding what employers want.
"You're not born knowing how to put together a resume," Casale says.