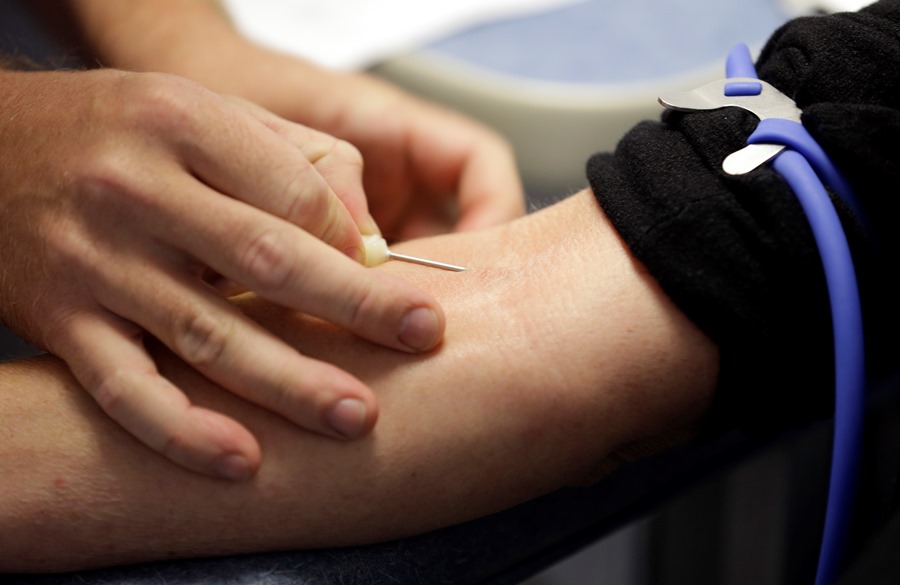 (Bloomberg) — Theranos Inc., the heralded Silicon Valley blood-testing startup facing scrutiny over the accuracy of its technology, said it has scaled back the use of proprietary finger-pricking technique to a single test out of the 200 it offers.
The decision limits the use of a technology that has helped Theranos raise venture-capital funding at a valuation of about $10 billion and has drawn interest from high-profile partners.
Now Theranos is using the same blood-testing equipment as competitors it's attempting to challenge, such as Quest Diagnostics Inc. and Laboratory Corp. of America Holdings.
Read: Insured are willing to get routine blood tests
The move is temporary and is part of a plan to get U.S. regulators to review its offerings one by one, Chief Executive Officer Elizabeth Holmes said in an interview. The company said it will expand the use of its technology, which it has claimed can perform accurate tests with only few drops of blood, once the U.S. Food and Drug Administration clears additional tests.
Theranos started voluntarily limiting its technology to a single test–for herpes–this year, according to the company.
Holmes and Theranos are under fire after an article in the Wall Street Journal questioned the accuracy of its technology.
Holmes said Thursday that Theranos's services are ''accurate and reliable," while calling the Journal's story "factually and scientifically erroneous."
The Wall Street Journal stands by its story, said Colleen Schwartz, a spokeswoman for the newspaper.
Holmes's comments in the interview with Bloomberg News were the first time she has disclosed that Theranos had temporarily stopped using its proprietary technology for all but one of its tests.
The company had previously said it was doing some traditional blood draws from the vein in addition to its finger- stick method because it decided to add other specialty tests to its menu.
Venture-capital backers
Theranos's venture-capital backers include DFJ, ATA Ventures and billionaire Larry Ellison's Tako Ventures. DFJ and ATA didn't immediately reply to requests for comment Friday, and Tako Ventures couldn't immediately be reached. Holmes, 31, has a net worth of $5 billion, according the Bloomberg Billionaires Index.
Theranos has sought to challenge competitors Quest and LabCorp by offering lower prices and promising quicker results.
The startup lists its prices online at what it says are steep discounts to competitors, seeking to let individuals order tests without needing insurance coverage. The herpes test costs $9.07, according to the company's website.
Holmes said she's confident Theranos will live up to its promise. "Every time you do something innovative, people want to knock you down because they built you up. They say it's crazy, it could never be done, and eventually you change the world."
Theranos has 130 more tests waiting for FDA clearance. The company hadn't previously disclosed how many tests were using traditional blood test technology, rather than the company's new method, because the situation was fluid, Holmes said.
"We've been transitioning to the FDA system voluntarily," Holmes said.
FDA report
In a separate article late Thursday, the Journal said that the FDA recently visited Theranos for an unannounced inspection and concluded that the data the company had submitted for many of its tests was insufficient.
The Journal said Theranos had dialed back use of its tests at the FDA's behest. Theranos didn't immediately respond to calls seeking comment on the Thursday article.
The FDA declined to comment.
For now, most blood tests going through Theranos are being run on non-Theranos devices. Holmes said.
"We do two things: We have the Theranos system, our proprietary devices, and then we use conventional, FDA-cleared devices that are used in accordance with the manufacturers' instructions to run the test," Holmes said.
'Gold standard'
While the FDA hasn't required review of such diagnostic tests, the agency is attempting to increase its oversight of them as startups entering diagnostics and DNA analysis launch new businesses. Holmes previously said criticism by competitors that her company hadn't published data on how the tests work is a "red herring."
"They haven't filed any of their lab tests with the FDA, and we're trying to create a model with the FDA being the gold standard," she said in July.
The company has announced deals with insurers and health- care providers including Capital BlueCross, AmeriHealth Caritas and the Cleveland Clinic to promote Theranos blood tests. Theranos also has a partnership with Walgreens Boots Alliance Inc., the biggest drugstore chain in the U.S.
"Capital BlueCross has a strong strategic partnership with Theranos and we expect that to continue to develop and grow," said Joe Butera, a spokesman for the health insurance company. Since Capital BlueCross began a partnership with Theranos in July, "we have not heard of any customer or physician concerns about the test results," he said in an e-mail.
AmeriHealth Caritas and the Cleveland Clinic aren't currently using Theranos's technology, said Amy Knapp, an AmeriHealth spokeswoman, and Eileen Sheil, a Cleveland Clinic spokeswoman.
"We are in the initial stages of reviewing the framework to deploy our strategy," Knapp wrote in an e-mail. "We are committed to ensuring our members have access to quality health care and service and that our service providers meet regulatory requirements."
Theranos's partnership with the Cleveland Clinic "is about putting a long-term relationship in place" and the clinic advises Theranos on how to run clinical studies on its tests, Holmes said. The company wants to work with AmeriHealth on expanding to Medicaid patients in the future, she said.