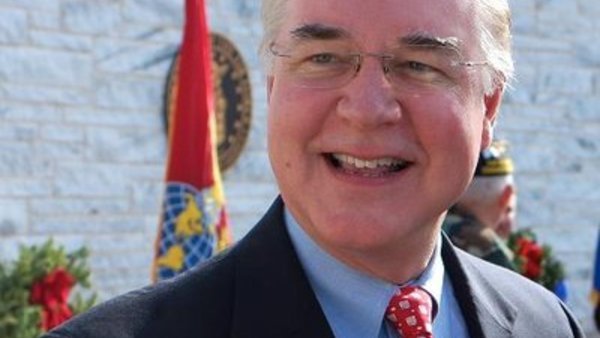 The U.S. Senate opened debate on confirming Republican congressman Tom Price as secretary of Health and Human Services, with the Democrats focusing their opposition Wednesday evening on the nominee's plan to overhaul Obamacare as well as on the ethics of his past stock trading.
Price is an orthopedic surgeon from Georgia who was first elected to the U.S. House in 2004. As President Donald Trump's HHS secretary, he'd be charged with coordinating Republican efforts to repeal and replace the Affordable Care Act.
Price proposed a replacement plan in 2015 that featured tax credits to help people buy insurance on the private market, the use of health savings accounts, and giving states federal funds to create high-risk pools to cover the very sick and those with pre-existing conditions.
Oregon Senator Ron Wyden, the ranking Democrat on the Senate Finance Committee, described Price's plan in opening remarks of Wednesday evening's debate as "repeal and run." Though Republicans may not adopt Price's 2015 plan in its entirety, he will have enormous influence over whatever plan is passed, Wyden said.
"Make no mistake about it. If confirmed, Congressman Price will be the captain of the Trump administration's health team," Wyden said. "His proposals matter."
Health-care stocks
Wyden, the sole speaker on Wednesday evening, also raised concerns about Price's past stock trading. Democrats have criticized Price for purchasing stock in health-care companies while helping develop or voting on legislation that could have benefited those investments. Price has said most of the trades were made independently by his financial adviser.
Price also has come under fire for investing in Innate Immunotherapeutics Ltd., a decision that he said he made personally after learning about the Australian biotechnology firm from fellow Republican Representative Chris Collins, who sits on the company's board. Price received a discount on the stock in a special offering of the shares, though he's said he was unaware of that at the time of the purchase.
Republicans have stood behind the nominee, even as Democrats have requested more information and called for the Securities and Exchange Commission to investigate the stock purchases.
"I think the Finance Committee regrettably has an ethical double standard now," Wyden said, referring to President Barack Obama's nominee for HHS secretary in 2009, former Senate Democratic leader Tom Daschle, who withdrew his name under pressure from Republicans on the committee over his belated payment of some taxes. "Now when a glaring issue comes up that undeniably needs investigation, they are moving towards confirmation. I think this is sending a dangerous message to nominees in the future."
Republicans hold a 51-seat majority in the Senate after Wednesday's confirmation of Jeff Sessions as attorney general, meaning that Democrats can't block Price's confirmation if GOP senators vote along party lines. The Senate adjourned after Wyden's remarks until Thursday at 10 a.m., when debate on Price will resume.