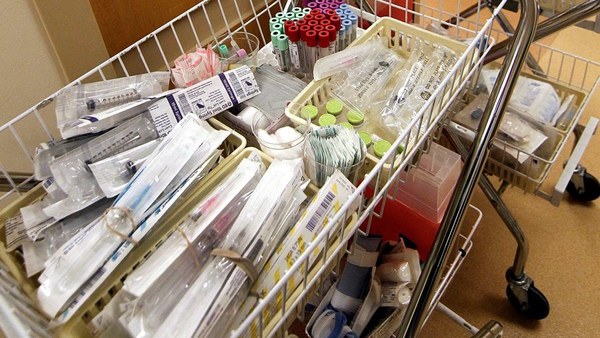 Nearly a third of all drugs approved in the last decade by the U.S. Food and Drug Administration subsequently had "postmarket safety events," which included boxed warnings, safety communications and/or withdrawal of the products, according to a study by researchers at the Yale School of Medicine published on the American Medical Association's JAMA Network.
Among 222 "novel therapeutics" approved by the FDA from 2001 through 2010, 32 percent were affected by a postmarket safety event, according to the study. Biologics, psychiatric therapeutics, and accelerated and near–regulatory deadline approval were statistically significantly associated with higher rates of events.
"Postmarket safety events are common after FDA approval, highlighting the importance of continuous monitoring of the safety of novel therapeutics throughout their life cycle," the authors wrote.
In an interview with Kaiser Health News, Yale researcher Dr. Joseph Ross said he was particularly concerned with FDA's accelerated approval process. Former President Barack Obama in December signed into law The 21st Century Cures Act, which allows the FDA to consider alternative evidence beyond the three phases of traditional clinical trials to expedite drug approval, among other things. According to Ross, the FDA is now under pressure from President Donald Trump's administration to approve drugs faster.
"While the administration pushes for less regulation and faster approvals, those decisions have consequences," Ross told KHN.
FDA spokeswoman Angela Hoague told KHN the Yale study is being reviewed by the agency.
"In general, the FDA does not comment on specific studies, but evaluates them as part of the body of evidence to further our understanding about a particular issue and assist in our mission to protect public health," Hoague said.
Is the percentage of postmarket events reasonable or alarming?
"That's the million-dollar question: What's the right amount? What's the appropriate level of safety concerns to have identified only once the product is out of the gate?" Dr. Caleb Alexander, co-director of the Johns Hopkins Center for Drug Safety and Effectiveness said in an interview with KHN.
"All too often, patients and clinicians mistakenly view FDA approval as [an] indication that a product is fully safe and effective," Alexander said. "Nothing could be further from the truth. We learn tremendous amounts about a product only once it's on the market and only after use among a broad population."