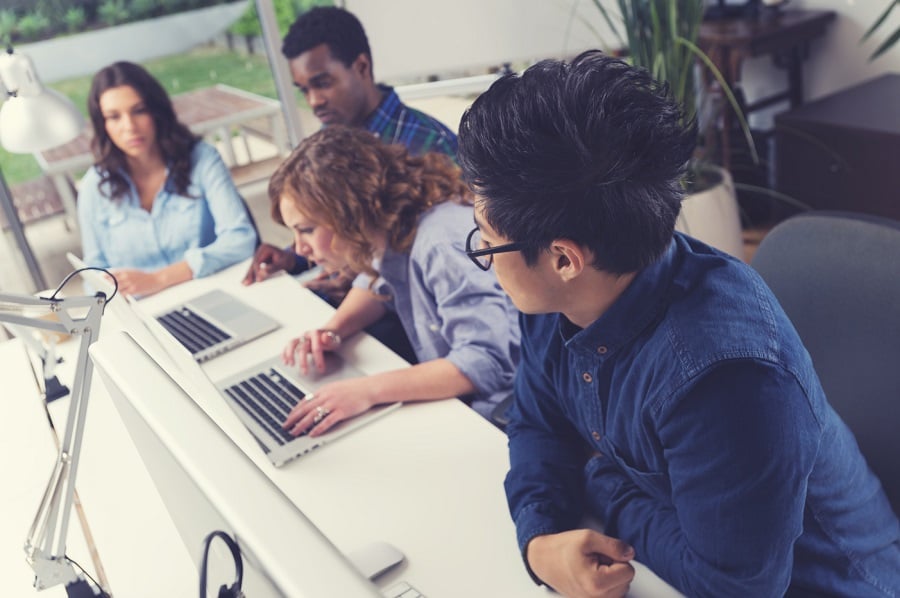 There may be more perks at a midsize or large company, but the rewards of working for a small business are evidently better at keeping employees happy.
That's according to Aflac's 2017 Small Business Happiness Report, which finds that 84 percent of small-business employees say they're happy with their current job. Close to half of those employees credit their contentment to the fact that they work for a small business.
Employees at small businesses feel more in touch with what's going on, with 86 percent saying that they know how their job fits into their employer's long-term plans.
In addition, 67 percent say that one of the biggest benefits of working for a small employer is feeling more appreciated.
Interestingly, while 75 percent of employees say they're either very or extremely satisfied working for a small employer, older people are even more so; 89 percent of respondents ages 71 and over report being very or extremely satisfied, compared with 70 percent of respondents ages 18 to 36.
But how do small companies score when it comes to benefits? That's one area where there's considerable room for improvement, with just 33 percent saying they're "satisfied" and 20 percent that they're "disappointed." Just 13 percent say they're "happy," while 3 percent are actually "angry" about the benefits they get.
And since 50 percent of survey respondents say that having a benefits package is either extremely or very important to their happiness, small businesses can't rely on employees feeling appreciated as enough to keep them there.
In fact, 72 percent of small-business employees say an improvement in their benefits offerings would make them even happier. And 26 percent would jump ship to a larger company if it meant better benefits offerings.
According to Matthew Owenby, senior vice president and chief human resources officer at Aflac, "nearly one third (31 percent) of employees felt that health benefits were missing from their current benefits offering and nearly one quarter (22 percent) of employees wanted a broader range of offerings."
Owenby said in an e-mail interview that the particular type of benefit desired depends on the employee demographic.
For instance, entry-level employees are more likely to be happy to have accident insurance, since they tend to lead more active lifestyles, and hospitalization, thanks to student debt or too short a time in the workplace to build up an emergency fund.
Lacking the means to cover a hospital stay—with the average stay, Owenby says, possibly exceeding $10,000—would mean that an employee without hospitalization coverage could face years of debt.
Midlevel employees, he says, are more likely to need life insurance, since they're often married, raising children or even caring for aging parents. And employees nearing retirement could need short-term disability to protect their savings from medical costs in the event of illness or injury.
So what are some of the other things they do like about working for a small business?
Well, 59 percent say that what they respect most about their employer is that they provide a pleasant work environment. Twenty-seven percent of respondents said that flexible scheduling is the best part, compared with 23 percent who say that seeing the fruits of their labor is the best part.
And they're optimistic, with 56 percent of respondents saying they feel that way about the future of small business. Younger employees are even more so, with those ages 18–36 the most positive, at 62 percent.