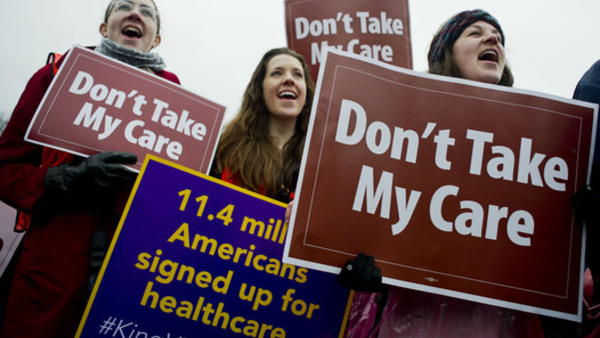 (Bloomberg View) — History is said to repeat itself, the first time as tragedy, the second time as farce.
In the case of the Republican efforts to repeal and replace Obamacare, last night was the low comedy portion of the proceedings.
Though truthfully, the whole process reads less like a saga than a Christopher Buckley novel. You have a neophyte president who doesn't know how Washington works, and doesn't care to learn, and therefore provides none of the leadership that is normally necessary to get a major policy bill through Congress.
You have a Republican caucus that spent six years promising to repeal Obamacare without bothering to make plans for, or get a consensus on, how they would actually do so.
And thus we were repeatedly treated to the incredible sight of bills that literally no one in the legislature actually wanted, even as they were voting to move them forward.
The only way people could bring themselves to cast that "Aye" was by nervously assuring each other that somewhere down the line, someone would come to their senses and stop this thing from actually becoming the law of the land — the Senate, or the conference committee, or in the most desperate scenario, perhaps the president could … well, I'm sure the conference committee will come up with something we can actually like.
Which is what brought us to the wee small hours of this morning.
The Senate had indeed, to the relief of the House of Representatives, refused to endorse what the House passed a few months ago.
They put together their own bill, which died a lonely and unmourned death when Senators Mike Lee of Utah and Jerry Moran of Kansas announced that they would not vote for it.
"Well, that's that," I said to myself, but Senate Majority Leader Mitch McConnell put together a brave last stand: "skinny repeal," which would get rid of Obamacare's individual mandate and make a few other tweaks, but otherwise leave the law untouched.
As a policy matter, skinny repeal didn't look great, but then, you could say that about any of the health-care bills that have originated from this Congress.
For that matter, you could also say that about the program they were trying to reform, and indeed I have, many times. Politically, skinny repeal didn't look like such a winner either, since it seemed likely that eliminating the mandate would cause premiums to rise.
But the skinny version abandoned the efforts at Medicaid reform that had made Senate moderates nervous, and the hope was that its lean, minimalist aesthetic would prove inoffensive enough to squeak by.
The reasons for hope were, admittedly, as skinny as the bill.
Months ago, legislators might have put on a too-bright smile and talked about their great hopes for Republican health-care reform.
By this week, the best they could do was a wan, exhausted air as they once again recited the litany of Obamacare's problems. "I know that this bill is terrible," their expressions seemed to say. "You know this bill is terrible. Obamacare is also terrible, and there we are: Everything is terrible. Why belabor the point?"
This is not exactly the missionary zeal that one wants to see if one is hoping to pass a controversial bill on narrow legislative margins.
Senator McConnell may have hoped to minimize the number of these weary exchanges when he unveiled the "skinny repeal" bill last night, and announced that they would be voting on it scant hours later.
Bathrobe-clad and yawning, half of Washington glued themselves to CSPAN while a familiar ritual unfolded: Democrats denounced the bill, the process and the Republican Party — and Republicans denounced Obamacare.
No one could figure out why this was happening — not even, it often seemed, the participants themselves.
Skinny repeal might be able to pass, but what was the point when it offered Republicans nothing they wanted, not even the chance to reform Medicaid or set up the budget baseline for tax reform?
When it wouldn't fix the gaping problems with Obamacare? Or appeal to voters, either? There was a riveting purity to it, this legislating entirely for the sake of legislation.
But like most such performance art, it was also deeply baffling.
But one of the speeches last night was genuinely interesting: that of Chuck Schumer, who abandoned the rote denunciations in favor of what seemed to be a direct plea to John McCain.
He admitted that Democrats had made bad mistakes when passing Obamacare, and most surprisingly, he abandoned the long-cherished Democratic talking point that they had really tried to make the process "bipartisan."
Essentially he told his longtime colleague: We were wrong to ram this thing through on party lines, not just because it was mean, but because it created a program with large and (so far) unfixable problems. I get why you guys are mad, and would like to give back as good as you got. But please don't do unto us as we've done unto you, because it's bad for the country.
It was tantamount to a public apology, the sort that will probably be needed from both sides if we're going to end the increasingly destructive tit-for-tat games that have roiled Congress in recent decades.
And then came the tense wait. Would the Schumer gambit work?
Democrats had offered a motion to send the bill back to committee, which failed to get McCain's support, or pass; McConnell held the vote open anyway, a sure sign that he didn't yet have enough votes to move his own bill forward.
Viewers at home clutched the lapels of their bathrobes and anxiously followed the reporters on the scene who were tweeting the off-camera play-by-play.
McCain was talking to Pence, then to Democrats. Lip reading was attempted; Talmudic interpretations of body language offered.
Finally, they called the vote, McCain voted no, and that was that.
If this was McCain's last major act as a senator, he went out in style: as the crucial vote on the biggest policy fight of the last decade. Farce this may be, but at least we got a swelling, triumphant ending.
Unfortunately, we're not living in a movie, or a novel; we cannot simply fade to black in the expectation that a brighter sun will rise tomorrow.
I've seen some suggestion that now Republicans will have to do something with Democrats, but if it was hard to see how Republicans could hold their own caucus together to pass something, it's almost impossible to see how they do so with Democrats.
Either within or between the parties, there is no visible coalition that spans both chambers to do anything: repeal Obamacare, replace Obamacare, or fix it.
Proverb is silent on what comes after you've had the tragedy and the farce without resolving the basic conflict. But I suspect that we're about to find out.
This column does not necessarily reflect the opinion of the editorial board or Bloomberg LP and its owners.