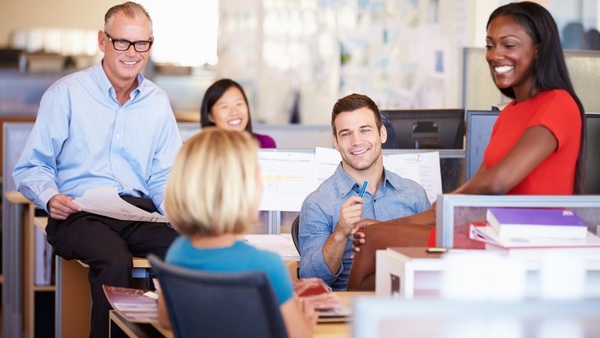 In 2017, job candidates are not just interested in salary amounts, but also the benefits accompanying it. We are now looking to large, well-known companies for direction in offering top benefits for employees. For example, Microsoft recently updated its policy to offer its workforce four weeks of paid leave with an additional eight weeks of unpaid time to take care of a sick relative.
Of course, for many companies, a Microsoft-style additional eight weeks of leave may not be logistically plausible. However, this is where the technological revolution comes in. Startups, apps, institutions and innovative technologies are making their way into workplace wellness initiatives. This movement makes providing employees with access to medical and financial advice/recommendations more affordable and attainable. With benefits programs often strongly influencing employee wellness, it's vital for companies to understand that happier, healthier employees lead to higher retention rates and productivity.
Anyone ingrained in the HR world is most likely familiar with the shift in corporate wellness over the past decade. In the past, many companies would focus on physical health benefits such as weight loss programs or smoking cessation incentives for a competitive edge. But now, the future of benefits is taking a sharp turn toward mental health, financial wellness and family-friendly options. Prospective employees, primarily millennials, are looking for employers who will support them beyond traditional benefits, moving into overall empathy-based wellness.
The role of empathy
The key to the future of workplace wellness relies heavily on empathy stemming from the employer. According to a recent study from Businessolver, 80 percent of employees said they are willing to work longer hours, and 60 percent said they would take slightly less pay to work for an empathetic employer.
A large part of establishing empathy within the workplace has to do with the benefits. It means knowing that each of your employees has a different background and different needs, and they want to know you're in their corner. You may have some staff with young children, or kids on the way. Or, perhaps you have employees in need of financial direction, both individually and for their families. Benefits programs don't come in a one-size-fits-all box for the corporate world. Take the time to understand each of the individuals making up your staff, and discern which offerings would be most effective for their overall wellbeing and productivity in the workplace.
The current trend in benefits packages is leaning toward individualized, DIY, family-style wellness, offering employees support while still allowing them to be in control of their own lives. The good news is that modern employers essentially have a buffet of new technologies, apps and systems in front of them at all times. If you're looking to expand your benefits program to meet the new standard, a good place to start is finding a balance of family health and financial wellness.
Family health benefits
Health benefits are generally viewed as one of the most valued aspects of an organization by employees, especially with the persistent increase in costs throughout the health care industry. As the cost of premiums continue to increase every year, both employers and employees are paying more. The amplified expenses make digital health platforms even more valuable, allowing employees to forego a doctor's visit for both themselves and their families, and instead have their health questions answered through an app or remote service.
Costs are not the only reasons companies should consider offering digital health platforms as part of employee benefits package. There's an ever-increasing problem in the health care industry that's seeping into the corporate world: a physician shortage. It's getting harder and harder for employees to book doctor's appointments, especially for specialists. If someone on your staff is having a child or coming back to work after maternity or paternity leave, chances are they will be in need of several appointments. While they may have a set doctor for routine visits, specialists for issues like behavioral health or specific disorders may be more difficult to come by.
For non-general health concerns surrounding family planning, pregnancies and parenting, limited access to doctors can be scary for employees, and can lead to decreased productivity and motivation at work. However, with the recent technology-based shift in corporate wellness, there are now resources and apps to help alleviate the physician shortage gap and help employees and their families get the care they need.
For instance, there are programs which can provide supplementary maternity-related resources for your staff without the need for a trip to the doctor. When it comes to post-pregnancy matters, working parents may be stressed about their child's health, particularly when they're just returning to the workforce. You can also support them as they monitor their child's development remotely through screening technologies that can identify children at high risk for a developmental delay and cut down wait times to see a specialist.
Financial wellness
This has become quite the buzzword in the HR and benefits world, and with good reason. In addition to family health matters, another growing source of stress for the workforce is based on our financial future. From managing a 401(k) to budgeting expenses, a lack of financial guidance could mean a heavy impact on work performance, particularly for younger employees and those starting families.
Money struggles are fairly universal, making this aspect of a benefits program very relatable for management. If you haven't already established a strong contact within your third-party financial management programs, that should be the first step. Make sure your staff is informed about who they can talk to about various accounts they've established within the company, and set up quarterly or annual workshops to establish clarity around the offerings. There are also strategic financial planning technologies and support systems universally available, such as financial wellness platforms that give employees personalized, step-by-step guidance to make smart money decisions.
We're living in an exciting time when it comes to benefits in the workplace, and the shift is tangible. We've gone from basic screenings and health programs to well-rounded, overall support for each and every employee. While the need for employer-based empathy is on the rise, there has also been an increase in available options. The next step is to reduce the stigma around general wellness in the workplace, and start making these family-friendly benefits the norm.