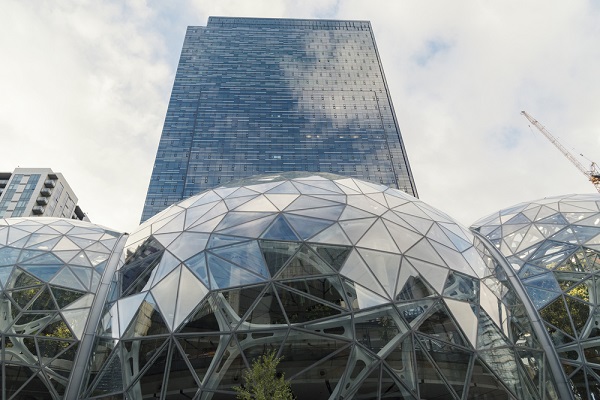 Last month, Amazon received more than 200 proposals from cities across the country vying to become home to the company's covetous second headquarters, an honor that will bring a $5 billion facility and 50,000 jobs.
Though Amazon's conservative benefit offerings have set it apart from others in the tech industry offering trendy benefits such as free food of laundry services, its Seattle campus is a legendary example of corporate culture, boasting rooftop gardens, biospheres, and flexible, pet-friendly office spaces. What city wouldn't want to welcome Amazon's second headquarters?
Cities' bids included everything from the sensible–outlines of transportation and infrastructure and myriad tax incentives—to the absurd—Stonecrest, Georgia, offered to rename itself Amazon, and Birmingham, Alabama placed giant Amazon boxes throughout the city to promote its bid.
Related: How to influence employee behavior with the benefits you offer
In an editorial published on Huffington Post, however, public health policy expert Brian Castrucci makes an appeal directly to Amazon founder Jeff Bezos to put one factor ahead of the rest as the company evaluates the bids: Health policy.
"You can't divorce the health of your company from that of the surrounding community where your employees will live, raise their families, and educate their children," he writes, asking of Amazon's courting cities, "Did any of them discuss their success in reducing absenteeism from illness, or how their investment in their community's health might help lower your health insurance premiums?"
When so many businesses are focusing on implementing incentives and programs to improve employee wellbeing and lower health care costs for themselves and their employees, Amazon is in a unique position to nip such issues in the bud from the get-go.
Castrucci, whose background includes years working with state and local health departments, implores Bezos to draw on a set of recommended policies drafted by the de Meaumont Foundation known as CityHealth aimed at helping people live longer and healthier lives. In his letter to Bezos, Castrucci outlines several of the nine policies his foundation considers critical to peoples' wellbeing and quality of life, including:
Paid sick leave: According to Castrucci, there is a significant disparity between paid sick leave offered to people in management positions and those working in the service industry. "These are the folks we interact with every day, the wait staff at lunch, the grocery clerk, those with whom your employees will share public transportation," he writes. "If they are sick at work, they can make your employees sick."
Complete streets: This policy point encourages cities to consider the various modes of transportation available to residents, including cars, public transit, bike and foot traffic. "Complete streets policies also keep people active, which, ultimately, will mean lower health care costs for you," says Castrucci.
High-quality, universal pre-kindergarten: This particular policy takes aim at long-term community improvement, connecting investment in education to better, higher-paying jobs later in life.
Other policies addressed include inclusionary zoning regulations, the sale of alcohol, efforts to curb tobacco use, access to healthy food and air quality standards. "Ultimately, we know that a healthy workforce is more productive workforce and has fewer absences," writes Castrucci. "It is undeniable that employee health is indelibly tied to the health of the community.
"Mr. Bezos, you changed how we buy and sell products," Castrucci writes in his final plea, "By including the presence of specific policies that are business-friendly and that support health in your decision-making process, you have an opportunity to set a new standard for how businesses interact with and influence the communities where they are located; how businesses can impact and improve the health of the nation.