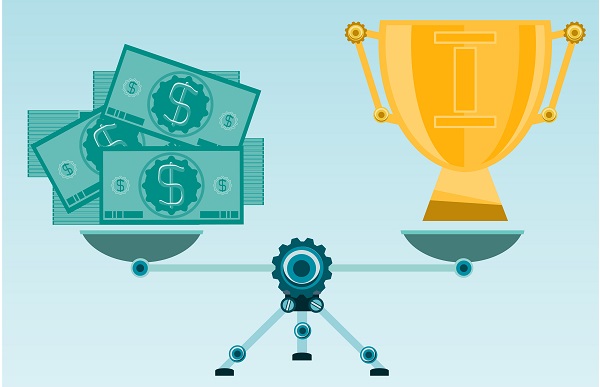 Having a purpose at work – and being validated for that by both managers and peers – trumps even pay in the minds and hearts of workers, according to a report from Globoforce's WorkHuman Research Institute, "Bringing More Humanity to Recognition, Performance, and Life at Work."
The institute surveyed 2,703 employed people and found that having a personal sense of meaning in one's work is even more important to respondents than compensation — salary, benefits, and other perks, which ranked as the third most important reason for staying. Also ranked above pay: serving on a team with members who are enjoyable to work with.
But workers need to be validated for their efforts – and often: the more recently someone has been recognized, the more likely they are to see the meaning and purpose in their work, according to the survey. Those recognized in the last month are 29 percent more likely to agree with the statement, "The work we do at my organization has meaning and purpose for me," compared to those who have never been recognized.
"For people to find meaning in their work, they need frequent validation and recognition that what they do day-to-day matters in the context of the greater goals of the organization," the authors write.
However, nearly half (45 percent) of workers have not been recognized in six months or more, and 16 percent have never been recognized at work.
"Workers feeling stagnant in their careers or underappreciated for their efforts have more opportunities than ever to leave companies for a better fit," the authors write.
The survey also found that the best ROI can be generated by giving "values-based recognition," in which each award is given based on an employee demonstrating a core value of the organization. Nearly all (93 percent) of those surveyed at companies with recognition programs tied to core values agree the work they do has meaning and purpose. At companies with no formal recognition program, only 81 percent of workers agree the work they do has meaning and purpose.
Such programs also involve empowering peers to also give recognition – and in the moment, as soon as quality work is noticed.
"In organizations with values-based recognition programs, employees are nearly twice as likely to believe passionately in their company's core values," the authors write. "Because the values are reinforced and broadcast in real time through recognition, organizations with values-based recognition are much less likely to have employees who are unaware of core values or find them meaningless or unrealistic."
One way to receive recognition from a broader spectrum of people within the workplace is to use a crowdsourcing tool that enables continuous feedback. According to the survey, feedback crowdsourced from both managers and peers is more likely to improve work performance than feedback that is just delivered by managers (56 percent, compared to 48 percent).
Moreover, when performance management is a continuous process, employees are more trusting of their managers (41 percent versus 34 percent) and perceive them to be better coaches and partners (78 percent versus 64 percent), compared to employees in organizations with annual reviews.
"Workers are much more likely to be engaged, to love their jobs, to recommend your company to a friend, and to work harder when their work culture is grounded in appreciation – and when recognition, performance conversations, and life events become crowdsourced moments of social connection across the organization," the authors write.
The survey also found that diversity and inclusion initiatives at organizations are likely to be much more effective if outcomes are linked to "belonging and respect," as opposed to D&I programs designed to simply mitigate risk.
"Moving forward, this will be the only way to build trust and unleash the full potential of your workforce," the authors write.